"Now they tell me: Oh, you played for Atleti ..."
He returned to Brazil to fulfill his dream of playing for Flamengo. Spectator of the Copa América, Felipe Luis attends Ace to talk about the tournament, the Atlético title ...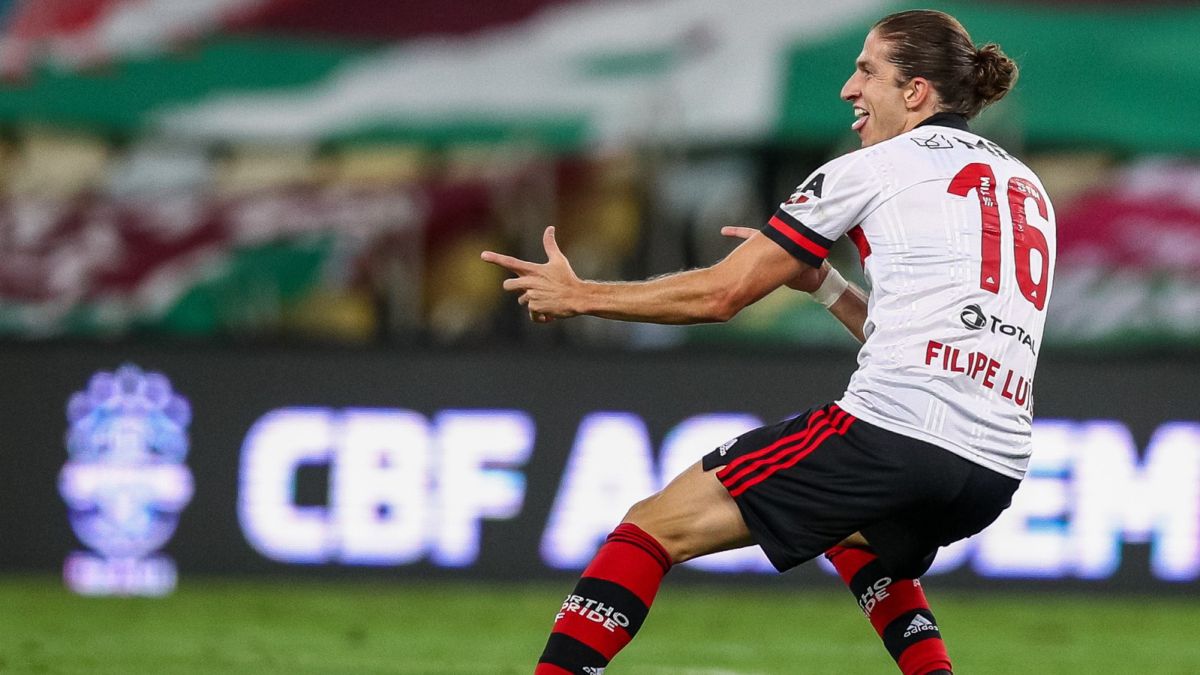 Filipe Luis (Jaraguá do Sul, Brazil, 1985) is in Brazil enjoying the Copa América, a trophy that he himself won in 2019 and for which his team is the great favorite. It can be a double of celebrations, after having celebrated the Atlético League from his native country. The historic full-back attends As and shows his pride for having worn the red-and-white jersey, in addition to analyzing the South American tournament and talking about his career in Brazil.
— How is Filipe Luis?
— Good, very good. At a wonderful time in my career. When I decided to come to Brazil I had many doubts, because Flamengo was a dream I had as a child, but the South American is a very difficult football. I felt that it was time. I won practically everything and I feel very important.
— How was the change from Madrid to Rio de Janeiro?
— Luckily, my family wanted to come to Brazil. It was going to be difficult for me because I had been in Europe for 15 years, most of it in Spain. In Madrid I have many friends and colleagues, and the club loves me, I felt that. But when I arrived, I was very prepared after the negative Chelsea experience.
— How did the Atlético League live? Did you suffer a lot? 444 444
— Very happy. I have many friends there and there came a time when I doubted because Atleti almost lost the League. I talk a lot with Cholo, whenever I can I write to him, he has been a very important person in my life and it was a tremendous joy to see him conquer the League again and see Atleti grow every day. As I told Gil Marín, I am proud to have played for Atlético and to see how he is doing now.
— What is the challenge now?
— Being at Atlético is very difficult, whoever comes to the club is chosen among many, the best go. It is so difficult for Atleti to choose a footballer because of the demands they have that makes my step value even more. "Oh, you played for Atlético," they tell me. I am very proud of everything that is happening, that Cholo is a daily example for me. Sometimes I am discouraged or sad, I think that Cholo always wants to win and always works, that is the path of success.
— Not only Cholo, but he knows almost all the players. Who were you most glad for? Who Surprised You?
— Seeing people like Savic, who has been a team and dressing room leader, triumph is impressive. And finally Correa has been the boom of the team, the great explosion. I was always in love with his football but this year, with criticism and with everything, it seems that he let go and said: "I'm going to win for you." Llorente also surprised me. He is an animal, a player that every coach wants on his team. Every day I admire his attitude more, he is the type of footballer that I like and I don't see a ceiling for him.
— Did you notice a lack of maturity in some young players who came to Atlético?
— We had Caio Henrique when he was 18 years old and he obviously wasn't ready. He had to go back to Brazil, play a few more seasons and now he is doing well in Europe. European clubs do not want to wait and they take them as soon as possible in case other teams take them, they give in to those players and they do not mature. For example, Neymar went the opposite, he played in Santos, won the Libertadores, many years in Brazil, playing and maturing and when he went to Barcelona he was already Neymar, a name and a player consecrated in Brazil, because he decided to stay and finish maturing here. I believe that the players leave Brazil and Argentina very quickly and this weakens us as championships.
— You played for Deportivo, how do you experience this difficult time at the club?
— It makes me want to go help. I see the team suffering and players who do not succeed and do not know what that club represents for the city and at the same time suffering for others who do know and want to give their all, but there are no conditions to bring players that are needed to go up. I know how important the club is to the city and what people want from their team. We need Depor to be in the First Division, it is very sad to see such a historic player.
— How do you see the Copa América?
— I see Brazil as far superior. It is a very solid team that does not make mistakes and to score a goal is difficult, it is well placed. Neymar, when he wants, is an incredible player and now it seems that he wants to. He dribbles against whoever gets ahead of him and he has no limits, but the rivals hit him, they drive him crazy and everything will depend on his head.
— By the way, what about your future?
— I'm not thinking about it right now. I have a contract until the end of the year. Let's talk now and with my age we have to go from year to year. I want to play as much as I can, I'm 36 years old and I want to go to 40. That will depend on my performance, my body, but I want to play as much as possible.
— Would you like to be a coach?
— I'd love to, but I don't know if I'll be worth it. I will try in the future.

Photos from as.com