The sorrowful zigzagging of the giant Eros Poli
The Tour was contesting its 15th stage, 231 km between Montpellier and Carpentras, which climbed Mont Ventoux. The highest of the Tour won the day of Mont Ventoux: Eros Poli.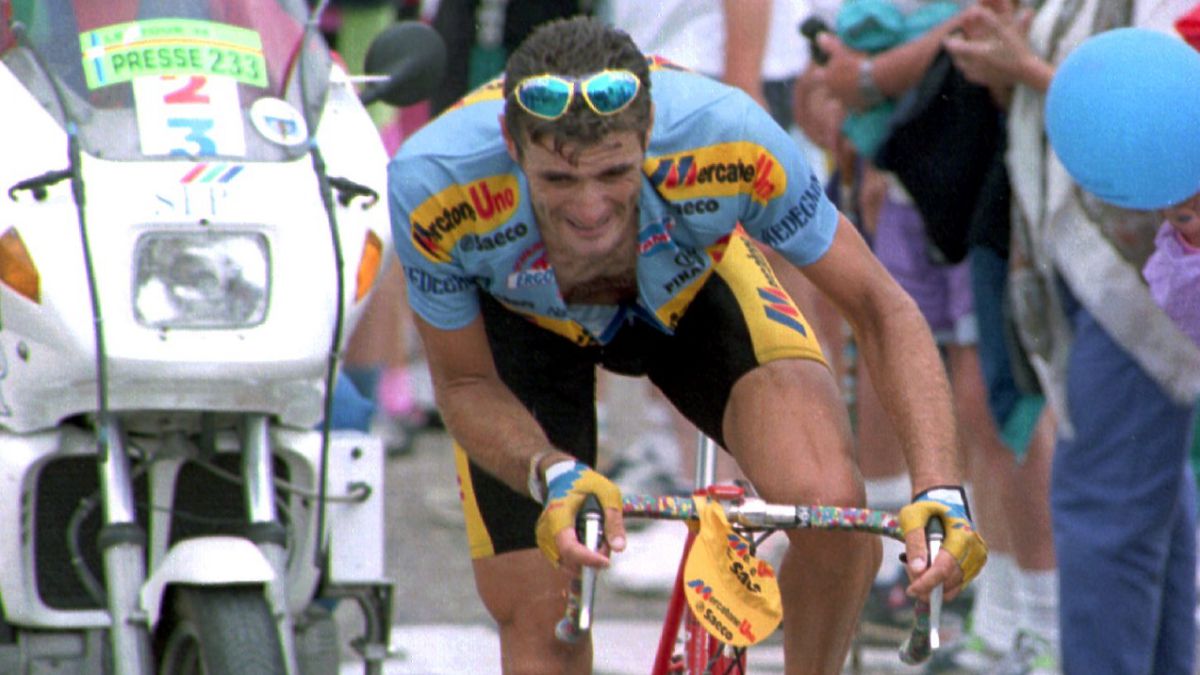 Eros Poli was 1.94 meters tall and weighed 84 kilos. That is why it was not surprising that in that 1994 Tour he emerged as the tallest and the heaviest of the peloton. It used to be like this. With those dimensions, his role in the Mercatone Uno was to protect the leaders and sprint to the sprinters. Poli was a member of Mario Cipollini's train, but Il Bello did not run that year because he had suffered a terrible fall in Salamanca in the Vuelta, caused by his own teammate Adriano Baffi. With neither of them on the Tour, Silvio Martinello took on the role, but did not go beyond third place. That gave Poli some freedom, who took advantage of it in the most unexpected place ...
The Tour was contesting its 15th stage, 231 km between Montpellier and Carpentras, which climbed Mont Ventoux. It formed, along with four days in the Alps, the final fireworks to Paris. Miguel Indurain led the general with solvency, but the heat was raging. The day before, 18 runners had withdrawn. So the platoon took it easy and loosed the adventurers. One was Poli, who went on the run for revenge. The Italian came out for Rolf Jaermann, who was racing in his previous team, GB-MG, and who in turn had worked against him at Futuroscope.
Poli attacked alone and began to make his way. According to his calculations, if he arrived with more than 20 minutes at the foot of the Giant of Provence, he could keep the rent. He was not a climber, but the clock controlled it well in the passes, because he was one of those in charge of directing the group of stragglers so as not to get out of control in the mountain stages. He was also a brilliant long-distance wheeler, with the experience of being part of the Italian quartets that won Olympic gold at Los Angeles 1984 and world gold at Villach 1987. "I can ride alone at 40 or 45 km / h for quite some time." , he explained.
Poli fulfilled the plan. He began to climb Mont Ventoux with 23:45 minutes and crowned it with 4:31 on his compatriot Marco Pantani. The Pirate's flight contrasted with the regretful zigzagging of the giant Eros. Two worlds. The adventurer kept the advantage on the 20 km descent to Malaucène: "My weight does help me on the descents." And then in the remaining 20 until Carpentras. He won with 3:39. The least expected day.
Photos from as.com