The future of the Wolves: Towns, Edwards ... And who else?
After a difficult season, and with little salary margin, Minnesota must begin to think about the present. Its pillars are clear; the rest in the air.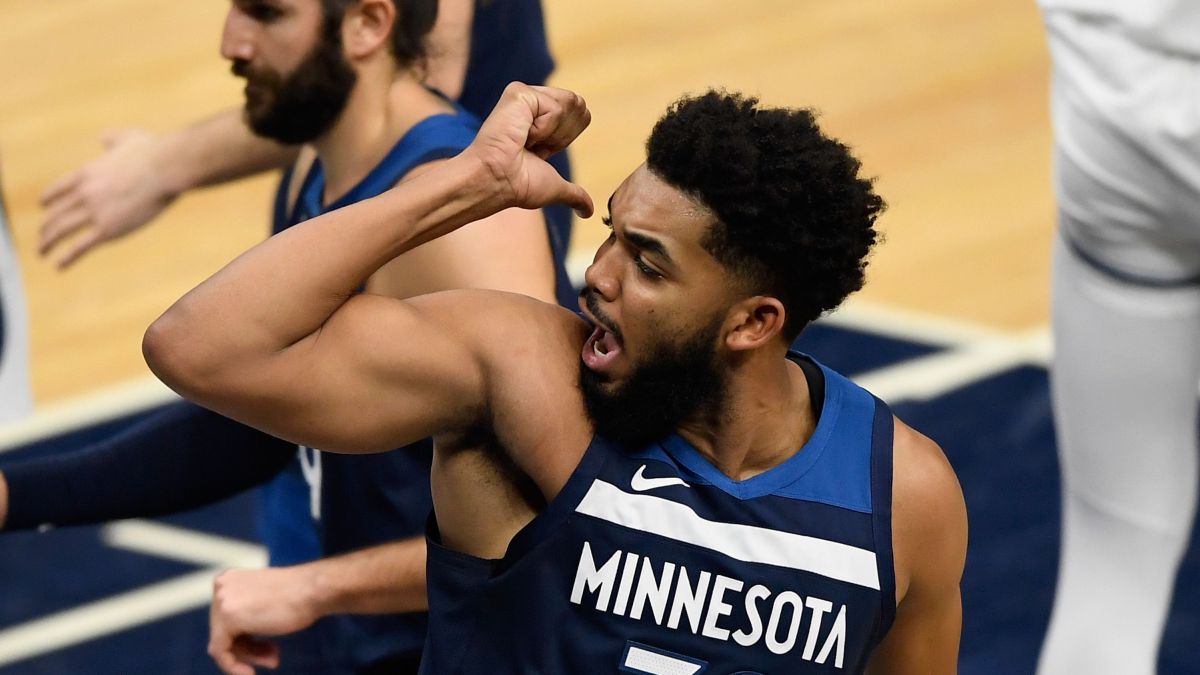 There are times when, even if you want to, maintaining the illusion is very complicated. Especially when, again and again, the realities escape when they seem closer. That may be the feeling that somehow has lingered in the bodies of several Minnesota Timberwolves fans. The franchise, for the umpteenth time, has been left out of the playoff spots. In the last seventeen years, wolves have only howled once among real beasts, and very timidly, falling in the first round. It was in 2017, by the hand of Tom Thibodeau and a squad that, to this day, only supports one of its players. The player, to be exact: Karl-Anthony Towns. Along with him, Jimmy Butler, Justin Patton, Jamal Crawford, Andrew Wiggins, Derrick Rose ... A mirage in the middle of nowhere. The golden age of the franchise, with Flip Saunders on the bench, is far behind. Between 1996 and 2004, just eight years after the organization's inception, the team was a subscriber to the postseason - eight straight appearances with the 2004 Conference Finals at its peak. Kevin Garnett, Sam Cassell, Latrell Sprewell, etc. If the previous names seemed far away, these ...
A past excessively blurred, and empty, as if to cling to; and a future that cannot wait any longer. Since 2007, the Wolves have been the franchise with the worst accumulated record in the competition. A martyrdom, a slab, an enormous weight that, among one thing and another, has already had to bear several generations. It will cost to get rid of it, but you could be on the way to do it. At least, that was the shared belief at the start of this season. Again, wrong, but with grays that deserve special attention. Minnesota's campaign has been bad, very bad; but also complicated, very complicated. It came with the fresh air that obtaining number one in the Draft always brings, with the opportunity to start a course, initially, with D'Angelo Russell and Towns, with the return of Ricky Rubio, with, with, with ... And, in the end, without, without, without? Door open when closing, as almost always. In between, realities to cling to; but that, again, they have moved away. Illusion lost in eternity, where it usually gets rid of its meaning.
Victory vs. Denver Nuggets and Utah Jazz to start. To add another two, eleven defeats in between. Like a needle in a haystack, rare manual warning, even in danger of extinction. Behind, many problems, not to sin in reductionism, but an early setback that already prevented any initial sprint attempt, to generate a positive dynamic. Something as intangible and difficult to measure as, in the end, true in any sport: winning, normally, invites you to win. Of the 24 initial matches, KAT could only play four, with two victories and two defeats, 50% in the individual locker light years away from the collective. The injuries, the damn injuries. This year, less excuse than ever, for the cruel general trend, but no less remarkable for that. At the end of the season, 52 games for him, 42 for D'Lo or 37 for Malik Beasley. Along with Anthony Edwards, surely, the four most important pieces of the puzzle. Along with Jaden McDaniels, also in probable terms, the five struts of a structure under construction. Gersson Rosas, director of operations of the franchise, could refer to them, without going any further, when, at the campaign closing press conference, he pointed out that "right now we are at five o'clock" .
Rosas, like any executive in this part of the year, has a world of decisions ahead of him. Somehow, with advance work; even more so, with what has been seen so far, in the middle of a practically unparalleled dance of coaches. In February, Ryan Saunders left the bench. Away from the legacy of his father, Flip, left with only seven wins in 31 games this season and 17-25 in the previous one, after taking over from Thibodeau. The story was perfect, but the ending couldn't be on his level. "I am very proud of my time in Minnesota, of my time with this group and of having been part of this organization. Seeing their process, how they have recovered from setbacks, how Towns and Russell understand each other now that they can share minutes. It is something that I love to see ", declared Ryan, a short time later, for AS. A job well done (valued, at least, by almost all players), many times, and against that happily extended mantra, is not always enough. Not with such a narrative behind.
And now that? Russell, Ricky ...
With Chris Finch began to cut back in times that, facing the next course, will trap many franchises. He had the opportunity to begin to establish his mechanisms and, with them, in addition, the situation improved. His personal record was 16-25, but with a 9-7 to finish that invites optimism; above all, after the 7-24 of which it was arrived. In that period, they reached eighth place in terms of offensive efficiency and, as anticipated in the words of Saunders, players like D'Angelo and KAT were able to share the time on the court that, for much of the course, setbacks had denied them. . Pieces of that cool team, capable of turning around the desperate recent history, which was expected before the start of the season.
Towns, again, will be the cornerstone of the project. One that, as Rosas warns, aspires to be a winner. "We want to be a winning program. We want to be a successful program. That is not going to be an on-off switch this summer and preseason. We are building our identity, building our culture, building our habits," he added to the shared words. previously. KAT (still 25 years old) has the potential to lead a high aspirations proposition. And he wants to do it. On many occasions, he has declared his willingness to write pages and pages in the organization. "I hope to have a career like Kobe's, with a team. Like Tim (Duncan) and Kobe, with a team and trying to bring in as many championships as possible," he went on to say. One Club Man's intentions that, at all times, are just that, as the current situation of Damian Lillard is showing, paradigmatic in every way. Currently, he has a contract until 2024, with more than 100 million until then. Barring earthquake, the man to hug.
Alongside him will be Edwards, second in the rookie of the year votes. He has shown himself to have the necessary conditions to become a star, at the very least, to be the compulsive scorer that he already is. In addition, with a notable improvement in his decisions, he progresses with the team's tempo. In the last 22 games of the season, he averaged 23.3 points on 17.5 shots, 58.6% in true-shooting that puts him ahead of almost 300 league players in the section. Among them, Bradley Beal, Jrue Holiday, Luka Doncic, Joe Ingles, LeBron James or Devin Booker; very confident players. A before and after in its evolution, explosive from the beginning, with two nights of 42 points and 19 over 25, but, at its start, with too high a price to pay. McDaniels, also in its first year, has shown, without being at that height, to be an option for the future and in which confidence is placed and Beasley, despite his many extra-sports problems, is another of the talents with present and projection; the roadmap constant. From there, the paths multiply; but with several other certainties. After what was shown at Barcelona, Leandro Bolmaro will take the first steps of his NBA career in the franchise; predictably, with an important role from the bench.
In economic terms, the organization is in an overly committed point according to its sports results: only $ 5.4 million below the luxury tax. In this sense, then, multiple considerations must be taken into account, as pointed out by the American journalist Bobby Marks, from ESPN. Jaylen Nowell, Naz Reid, Ed Davis, Jarred Vanderbilt and Jordan McLaughlin are not guaranteed their continuity in the team. In the first two cases, with unsecured contracts; in the rest, with retention options in free agency. Ricky Rubio, Juancho Hernangómez, Jake Layman and Josh Okogie, meanwhile, will enter their last year of guaranteed bonding. In the case of Juancho, with a team option for the 2022-23.
season
In total, 35 million in contracts that expire at the end of the next academic year. In Ricky's case, under the umbrella of his great relationship with the franchise, inherited from his first stage in the team, he would be safeguarded from movements as desperate as those experienced in the past market. "Rubio is eligible for an extension, but it is unlikely that he will receive a new contract," says Marks himself. Rosas, for his part, in a recent videoconference, highlighted the value of Ricky's figure in the team, adding that "adding more veterans will help us win sooner." His name, however, along with Juancho's, is associated with a possible move by Ben Simmons. In the case of the Spanish power forward, in addition, with the unknown about how they can have repercussions and what the strange movements of the franchise hide with respect to their presence in the Tokyo Olympic Games.
The map of a franchise that, although with future aspirations, must already think in the present. In all this, Russell's physical continuity can play a key role, with 61 million until 2023, but with the possibility of an extension of three additional seasons and up to 118 million, with a deadline until October 18 for ratification. Except for surprise, one of the five pieces, already mentioned, elementary of the project; but with a certain range of possibilities in the market, although, right now, it is on the downside. With his arrival, by the way, the first round that, now, the Golden State Warriors owns, with the seventh shift on Draft night left. With her, Wiggins left, a member of that 2017 squad of which, to this day, only Towns remains. The man. Now alongside Edwards.
Photos from as.com