The Curse of Missed Opportunity: Chris Paul and the Suns
The point guard loses the opportunity of his life and the Suns are left without their first ring. In an NBA that waits for no one, Paul and the Suns are still cursed.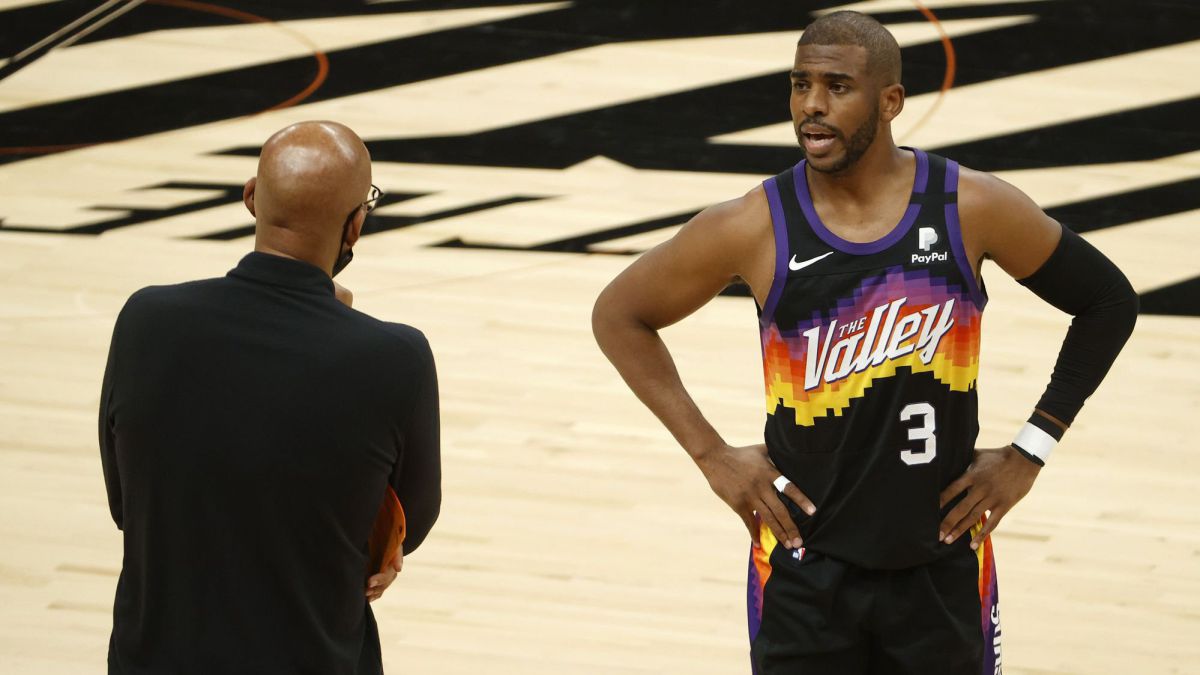 In the NBA there have always been curses. They affect players and teams, entities and coaches. And they do not understand classes or estates, harming established stars or projects that have been perfectly worked. And, of course, they always have something to do with the fight for the ring, that long-awaited legacy that everyone looks for sooner or later in a competition that awaits no one. Where Charles Barkley failed, Stockton and Malone did; also franchises like the Clippers, in their eternal chain of bad decisions, with the tight-fisted Donald Sterling at the helm, until the comebacks suffered in their most glorious stage. The inability of a good guy like Doc Rivers to carry out the qualifying rounds he faces, the inability of the Sixers to go back to their glory days or the failure of iconic squads like Webber's Kings, Bibby, Divac, Stojakovic ... all of them have been cursed by a fictional spell that prevents them from advancing, becoming strong, reaching glory or touching it again, as the case may be.The best League in the world has an almost polyhedral structure, with a base that prevents universal compensation, that tries to give everyone options, but that demands that those opportunities be taken advantage of which, once lost, do not have to come back. Since the Warriors ended their particular dynasty, there have been three different champions, something that shows that anyone can achieve what almost no one does. In 2016, the Cavaliers won the first ring in their history, something the Raptors repeated in 2019. In this season, it was the Bucks who ended a 40-year drought, when with Kareem (then Lew Alcindor) and Oscar Robertson touched the sky in the prehistory of the League. And the Suns have been finalists for the third time in their existence, in a way that is as unexpected as it is deserved, after a historic basketball course that has been resolved just like the two Finals that the franchise had played: 4-2.
When Chris Paul arrived in Arizona there was, first, a very large hint of Spanishism to criticize the entity's lack of commitment to Ricky Rubio. And then, an almost ancestral recognition of one of the best point guards of all time. But also, to a player persecuted by an eternal curse, an innate disability, by his own demerits, injuries or a lot of bad luck, which has prevented him from putting the finishing touch to a career that is legendary without it, but that remains lame without that ring that Paul longs for and has never got. What's more, in 16 NBA seasons he has only made it past the conference semifinals twice; In 2018, the best player who had ever reached that round was removed, but he was injured in it and saw from the bench that seventh game of 27 consecutive triples missed by the Harden Rockets, who were very close to give the machado before the Warriors dynasty. And in 2021, three years later and with 36 springs, in an enviable physical shape and with a very alive talent, when he has agreed to his first Finals ... to be defeated. Again, that eternal curse. The one with missed opportunities.
Chris Paul and the Suns have a big time difference, but not when it comes to results. Phoenix has always been a small market, a very large desert that does not attract high-caliber free agents and is forced to take advantage of those historic seasons in which they have some ring option. In 1976, they lost 4-2 to the Celtics, a Finals forgotten in a decade of much more talent than people remember, but immersed in the NBA's struggle with the ABA, in the decline of television audiences that resurrected Magic and Bird (and David Stern, of course) and in the longing for heroes of the past, such as Chamberlain, Russell, Jerry West or Elgin Baylor. In 1993, with Barkley as MVP, they started with a certain favoritism against Jordan, but fell before his most divine version (41 average points) and with a superlative inability to win in Arizona, where they lost all three games they played in that series. History has been repeated with the top of the two victories this year, despite starting 2-0. And with four consecutive defeats that leave a bitter aftertaste and that feeling, again, of the lost opportunity. Of curse.
From history to hysteria
Monty Williams told Chris Paul not to hold back, that he was going to play in the Finals, in Game 6 of the Conference finals against the Clippers. What the Suns were doing was history and it is what they have done. But it has turned into hysteria in the face of lack of solutions and morale sapped by the energy, heart and grit of its rivals. The third game was completely dominated by Giannis and company, but the fourth, fifth and sixth have been resolved by 6, 4 and 7 points respectively. Tight endings that they have not managed to manage and a total absence of reaction capacity, especially to the spider web of the Bucks defense, which prevented the triples from the corners and that the game started directly from Chris Paul, who has averaged 21 , 8 points and 8.2 assists, but he has lost more than 3 balls per game, has dropped from 93 (season record) to 75% in free throws and has had less time on the ball in his hands, without being also key in tight endings.
Paul's season has been majestic: 16.4 points, 4.5 rebounds and 8.9 assists with 36 years, playing the All Star and leading the Suns to the playoffs for the first time in 10 years. But it has failed, as always, that ending in which something always happens and that has ended with Monty Williams almost crying at a press conference and the base himself leaving without saying hello, to show off that player who has generated many antipathies with his behavior , an attitude diametrically opposed to his quality as a basketball player, undoubtedly. The Suns have been fifth in 3-point percentage, sixth in offensive rebounds, fourth in assists, seventh in points, fifth in steals and first in blocks. But the rise of Cameron Payne was short-lived and lasted what it took Paul to return from his injury in the series against the Lakers, Ayton has taken giant steps forward but has been diluted in the Finals, surpassed by a Giannis capable of defending anyone, the team's constancy has been truncated and they have gone to peaks, a dynamic contrary to the Bucks, who were the ones who were pulling streaks, and Monty Williams has not been to blame but he has not had brilliant solutions either. Especially, again, in tight ends.
Having seen what we have seen, the future is uncertain. Chris Paul will turn 37 next season, he has a player option of 44 million dollars that he already said he did not want to give up in the past, but some minority voices put him out of the team, while Magic has already pushed to sign for the Lakers. And yes, they have been finalists and they have wickedness and youth for the future ... but they have beaten the Lakers in the first round in the infield, in the second round the Nuggets without Jamal Murray and in the Western finals the Clippers without Kawhi. Two very good teams have met for the title, but injuries (to the Nets on the other side) and the epidemiological situation have resulted in two unexpected finalists. And you do not live with the conditions (those who arrive are, that year, the best), but precisely for that reason you have to win when you can, a mantra that has become a tradition for that NBA that no one expects.
With 2-2, it was known that the defeated would always be left with the bitter memory of the lost opportunity, with two franchises that had a historic juncture before them. And the case of Giannis, comparable to that of Paul and sentenced by public opinion with 24 years (elevated, now with 26, to Olympus), had a whole career ahead of him to win the title. Paul, for his part, had before him the occasion of his life. A fantastic future was predicted for the 2012 Thunder, and they did not make the Finals again, despite always being at the bottom of the canyon. The Suns may find themselves in the same situation: because yes, Booker has no roof, Ayton will presumably continue with his upward dynamic, and people like Cameron Payne, Cameron Johnson or Mikal Bridges have a very promising future. But it is time to make decisions in the form of renovations, there is no money for everyone and Paul's star, sooner or later, will come to an end, in Phoenix or elsewhere. A star that has shone steadily, but is gradually fading as the opportunity for the ring fades. The Suns and Chris Paul are cursed. A constant trend in an NBA in which you have to win when you can. If the opposite happens, the memory will haunt you as always. And it is not a pleasant memory. It never is.
Photos from as.com