The Amorebieta starts a dream year in Second
First training session of the season for the Biscayan team, which will play LaLiga SmartBank for the first time in its history. There are 18 players from last year, there are 6 signings and San José will arrive.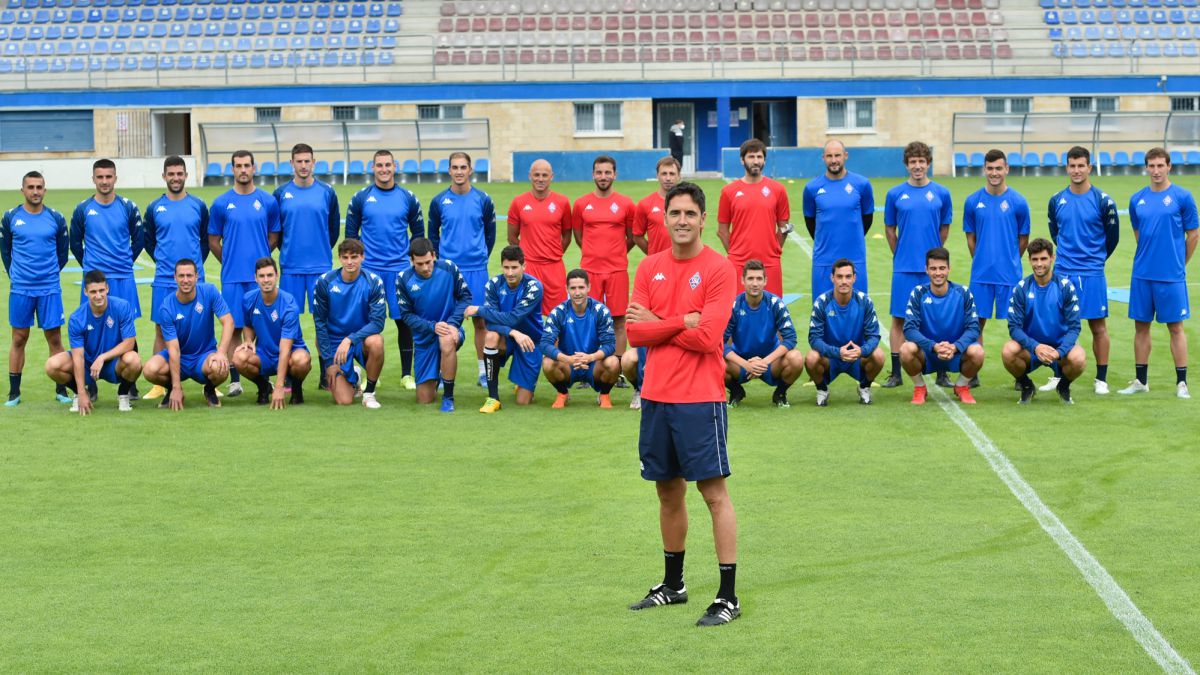 The Amorebieta Sports Society is already underway. He has started the most exciting preseason in his history, in which for the first time he will compete in Second, the rung before the elite. The Blues are still rubbing their eyes after culminating a surprise for eternity in the promotion playoff held in Badajoz. Iñigo Vélez de Mendizabal, the godfather of the miracle, faces his fourth consecutive year at the head of the Biscayan team. The sights are set on August 14, the day on which Amore will visit Girona at 7:30 p.m. on the first league match day.
In the first working session, many players from last year who remain in LaLiga SmartBank were present, up to 18, although Goiria advanced that "there may still be departures and arrivals": goalkeepers Mikel Saizar and Unai Marino; defenders Iker Seguín, Aitor Arregi, Mikel Zarrabeitia, Aitor Aldalur, Aimar Sagastibeltza, Beñat Garro, Jon Irazabal, Beñat Leiza and Unai Uberuaga; the media Mikel Álvaro, Iker Bilbao, Gorka Larrucea and Asier Etxaburu; and forwards Iñigo Orozko, Koldo Obieta and Iker Unzueta.
And little by little new faces are arriving. This is the case of the zornotzarra defender Oier Luengo (Bilbao Athletic), the midfielder Markel Lozano (RC Celta B) and the attacker Iker Amorrortu (CD Calahorra), all of them with past at Amore. Along with them, defender Óscar Gil (Racing), left-back Josu Ozkoidi (Sabadell) and midfielder Lander Olaetxea (UD Logroñés) have arrived. San José will be confirmed shortly, a hiring of bells, a news advanced by AS. "I think there will be no problem, in a few hours we can take the joy that Mikel is here with us," said sports director Asier Goiria, convinced that the versatile Navarrese footballer "is going to give a lot" to Amorebieta. "He has done a lot on his part to reach an agreement, it is important for everyone that Mikel is with us," he added.In the coaching staff, Aritz Mujika (second coach), Xanti Pérez (physical trainer), Rufino Lekue (goalkeeping coach) and Zigor Egiarte (psychologist) continue. Álex González (retrainer), Jon Basterretxea (head of physiotherapists), Juan Sebastián Conde (physiotherapist), Danel Etxebarria (physiotherapist), Markel Arregi (doctor) and Mikel Arregi (delegate) join.
The zornotzarras will play several friendly matches over the next few weeks. The first of them will be against Burgos in Urritxe next Wednesday, July 14, at 6:00 p.m. The matches against Alavés (July 17, Ibaia), UD Logroñés (July 24, Urritxe), Calahorra (July 31, La Planilla) and Eibar (August 4, Urritxe) are also confirmed for the moment. The club hurried to convince LaLiga that Urritxe was the best place to play the matches, but neither by deadlines for the works nor by operation did the idea prosper. After a debate between Lezama and Barakaldo and finally he has opted for the Athletic facilities, something that has been supported by the body that presides over Tebas.
Goiria, however, is clear that, as "the preseason has just started", from now on "there will be new faces for sure". "We are working so that they arrive, that they are competitive and give us what we want because we are clear about what type of player we want and we are working on that," he said. The sports director zornotzarra admits that the market "is always complicated" and that "there are people who look at Amorebieta as the humble team and it costs a bit" to convince who they want to sign. Although he also congratulates himself that "when you show your project, people are connecting" .
For his part, the coach, Vélez de Mendizabal, who also remains in the position after achieving promotion, advanced that the "objective" with which they start in progress is to "make the preseason the best possible because a long-term objective is not watch". He advanced that Amore will undertake the season with "respect for everyone" because "La Segunda has very big clubs and they are going to be very demanding matches", but it is also clear that sometimes "the illusion of doing things well can be more than that vertigo ".
The Amorebieta starts with a great harmony with Athletic, from which they hope to make a final arrival. "From minute 1 we were clear about what we wanted. When we go to ask for something we are clear about what we want and we exposed our names to them. They have their rhythms, but we will continue talking to them. We have a very good tune and little by little we will see each other. things, "explained Goiria.
Photos from as.com