Scariolo's options after Juancho's injury
Sergio Scariolo is forced to rethink the team after the blow from the Madrid's injury. This Saturday, match against France (8:30 pm, Four).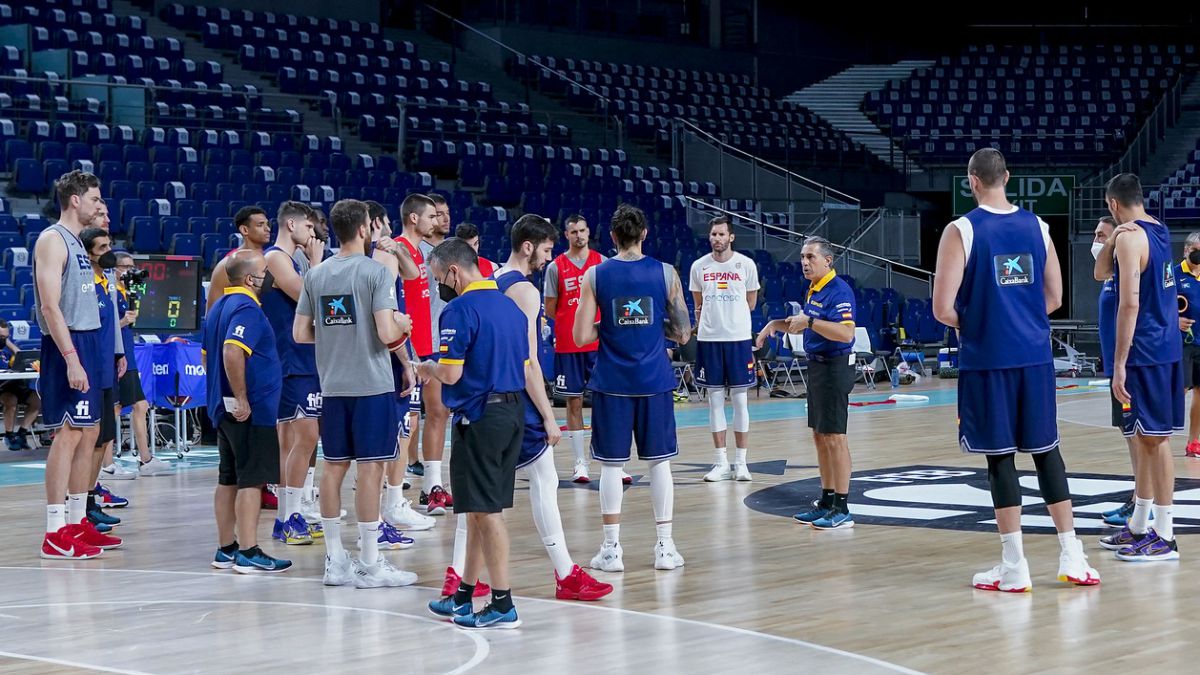 The team's trip to Paris was hard. Along the way, in Malaga, Juancho Hernangómez had fallen. An injury on the road that recalled those of Raül López in Estepona; Fran Vázquez for low back pain before the 2006 World Cup; or that of Llull in 2017 in Tenerife. Juancho was already more than a player on Scariolo's team. In addition to its value on the track, it transmits positive energy. He lives basketball with enthusiasm and it was already a great counterweight for the veterans in the Games. "The preparation for the European 2022 begins with your recovery (...), you have many games left with this shirt," Sergio Scariolo tried to encourage him. It is the Hernangómez, in the background, who will be obliged to take the lead from the leadership of all the veterans who are going to leave after Tokyo.
So Scariolo and his group of assistants already started thinking about which player will be number 12 who will travel to Tokyo yesterday. The presence of Alberto Abalde and Usman Garuba was practically taken for granted. Juancho's discharge opens a door.
Arostegui and Brizuela
It could be thought that Pierre Oriola is the favorite. The Barça captain had positive one-off appearances at the World Cup in China, he is used to high-level matches and specialist roles. But their presence could overpopulate the inner game, in which Marc, Pau, Willy (who has tried four), Garuba and Claver are already there. Therefore, the possibility remains open for López-Arostegui or Brizuela to enter the final list. In fact, Scariolo's plan at this time, as he made public in Malaga, is for more than twelve players to travel to Las Vegas. You also have to watch out for Abrines' discomfort, who finds it difficult to play when he doesn't feel the best vibrations.
Whoever is chosen, their role in the tournament will be residual. For Scariolo, the big question, however, is that he will have to modify the first established roles. Juancho was destined to be a starter in the same way that he already was in Beijing. Versatile, athletic player, capable of doing many things on the court, he does not have a clear replacement. So the Brescia coach will have to modify some of the game's automatisms and distribute the tasks that Juancho had among the rest. Obviously, players like Claver and Garuba are destined to do more things. Abalde came to play four in Madrid this season at very specific moments, but that scenario had to do with the multiplication of injuries in Madrid and does not seem like a plan for Tokyo.
At the moment, what does seem clear is that 14 players will fly to Las Vegas to prevent more accidents and to finish fine-tuning the National Team's plan, which without Juancho has been sad.Pau Gasol did not travel to Paris for rest
Pau Gasol did not travel with the National Team to play tonight (8:30 pm, Four) against France in the return of the visit to Malaga of the bleus. There is, however, no cause for concern. Pau agreed with Scariolo his rest. He saved the trip to Paris, he will deal with his physios and he will fly to Las Vegas one hundred percent. The center of Sant Boi is transmitting fantastic sensations and, as he himself says, enjoying a gift that he thought would no longer reach him.
Gasol will not be the only absence from the National Team tonight in Paris. Abrines also stayed home recovering from some physical discomfort. However, his presence on the trip to the United States is not in jeopardy. The game takes more interest to observe what nuances Scariolo introduces in the team after Juancho's injury, which will force a change in the style of play.

Photos from as.com