Roma: "The first objective is to win, then we will see ..."
The Catalan returns to the BRX in which he was fifth in the Dakar before switching to a new model with which they hope to be "more competitive".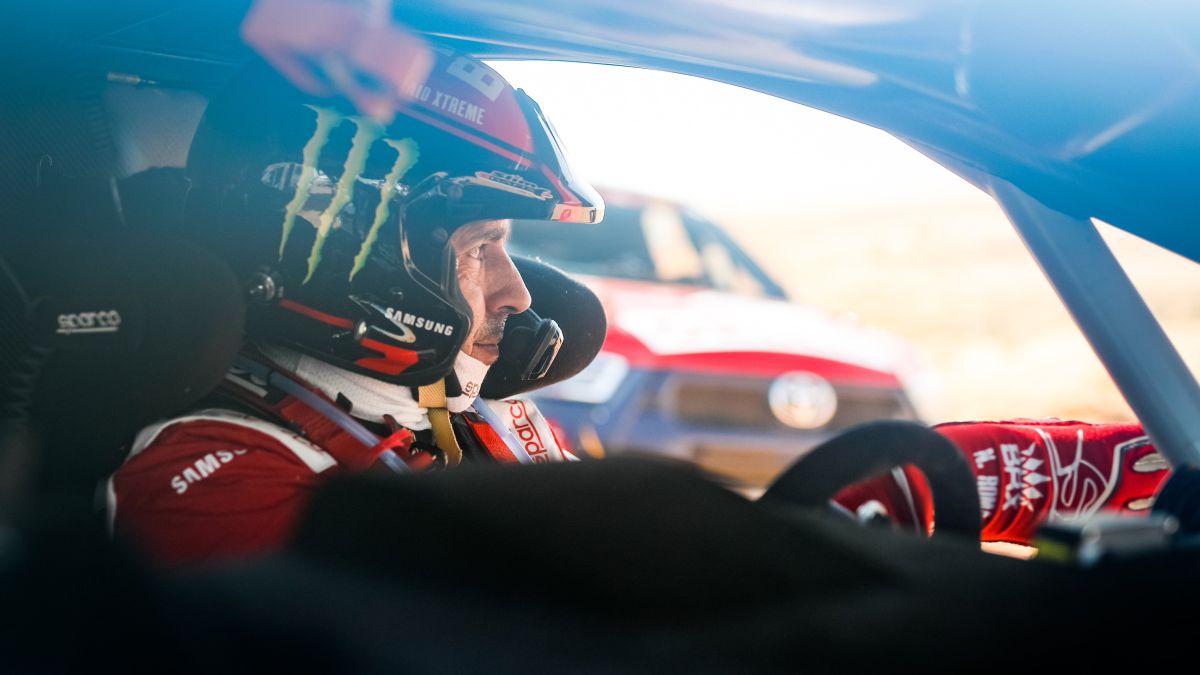 It's time to put on your helmet and gloves to get back to racing. Nani Roma (49 years old, Barcelona) did not do it since he signed a fifth place in the last Dakar in his debut with the BRX Prodrive team, and now he is back at the wheel in Baja Aragón, without a doubt, one of his favorite tests. Before starting the fight against the clock and after making a first contact on the ground to "start changing differentials, doing tests and the basics to compete", the Catalan speaks with As.
— First of all, what a difference from last year when they arrived at the Dakar without competing and now they are doing it at the right times.
— Yes, we haven't been riding with him since the Dakar, it's the first time he's going to race in Baja, and also the last, because the model is going to change later. The more races you do, the more competitive you are and it is important to start, what happens is that new cars are coming too. Again the regulation has changed, we have had to adapt. We have learned a lot in the team and now at the end of this race we will concentrate on the manufacture of the new model, it is a very motivating project.
— How will that new model be?
— We're going to make a plus, a wider car (30 cm more to 2.30 m), with more suspension (350 mm of travel) and buggy wheels (37 inches). It will be the base of the current one and I think it will be very, very good to compete in the middle of the desert, it is less physically demanding and I think we will improve a lot in speed to be more competitive.
— What have you learned from the Dakar so far?
— We have learned from the mistakes we made, because the car started making too late. Now I think that with the knowledge we have, we are going to improve the whole issue of logistics, of the importance of co-drivers in the modern Dakar… We have time to analyze and here people do it a lot. We have done many meetings and you always learn more when you do more things bad than good, because when everything goes well you put the analysis aside a bit. Honestly, last year we did a little miracle because the car hit sand in November. We are motivated.
— I imagine they have been months of hard work in the factory, have they been long without competing?
— Always, what happens is that it was so intense last year… Since September I was practically busy all the time until the end of the Dakar. It was so intense that a break was good for me (laughs), although we never fully rest. Now racing again is very interesting.
— Also in Aragon, a special appointment with which he has a long relationship.
— I always say it, it is one of the races that opened the doors of the Dakar to me when I won it in 1995 when I was 23 years old. I am very grateful to this test and he has already run it 20 times with this one, and I have won it nine. I feel very good here, with the public and you people, it is something we are not used to.
— What do you expect from the Baja? It's only two days of competition… 444 444
— It will be a very intense race. There are fast riders who have been competing all year, so we will have to leave calmly, but I always go out to win, although sometimes I don't say so (laughs). Sometimes I can and sometimes I can't. The first objective is to win, and then we will see ... Adapt to the car on these tracks, see how everything is going and above all get back into competition. It is a race that I know well, although each year it is shorter because it is not easy to organize races, but we are going to enjoy it.
— In addition, he returns to work with Álex Haro as co-driver, a key signing and more after the emergency solution that had to be found for the Dakar.
— Yes, working with Álex again two years later will be very important, and even more so after the job we had on the Dakar. Alex Winocq saved our ballot for us, but it was complex. And then Dani (Oliveras) after missing that race, he needs to roll more and now he is with Terranova. I know Alex very well, he started with me in this and we were second in 2019. He is very valid and has a lot of experience, which we now need.
— The level of the pilots who are in Aragon is an important yardstick.
— There is an important level and that is good for the health of the raids, because having rivals is what makes you improve. The victories that you savor the most are in the races in which there are level riders, they are the ones in which you try the most and improve, as well as having a good teammate.
— Speaking of which, how does it feel to have Newfoundland in addition to Loeb in a third BRX car?
— Also, Orly in the casualties is doing very well. It is important to see if later he can continue and do the Dakar with us, because those races are won by teams, not drivers. Team tactics are key, I have never won the Dakar on my own, it has been won by a team of motivated and prepared people, and if we can expand it with level riders, wonderful.
— Despite the high level in Aragon, there are notable absences such as Sainz and Peterhansel. What do you think about the signing of Carlos by Audi?
— It's good, I think Carlos shows he's motivated. He is a great asset for the brand that signed him, both he and Stéphane are pilots with a lot of experience and when you start a new project, as happened to me last year, it is what it takes. Audi has left everything to focus on the Dakar, and I think that for the world of raids it is super news, and also very good for Carlos, a new experience and with a hybrid, where we will all have to go in the future. I think you will enjoy it. I foresee some very interesting years to come for raids with the arrival of such a brand, it is magnificent because it will make the discipline more known. Maybe more brands can be encouraged.
— And are you afraid that Audi could benefit from the new regulations for hybrids? Or do you trust the FIA?
— Here is the FIA to match the powers ... One way to do it is to use the same wheels and the same type of suspensions, because otherwise it is very difficult. Now we are going to be the same, and it is a matter of seeing the acceleration and others. The FIA knows about this and we trust them, they are not going to make one car have more performance than the others, but rather it is the ability of each one that makes the difference.
— Finally, what is your plan until the Dakar?
— They are already building the new cars and we have a test plan in England in August. Then, we will prepare to do more tests in Morocco and Arabia. It is a very loaded planning, but very motivating.
Photos from as.com