Recio: "I told Garitano that I was only thinking of staying in Leganés"
José Recio returns to Leganés after his assignment at Eibar wanting to recycle himself into an important player for an "ambitious" project, even if it is in the Second Division, "I don't care."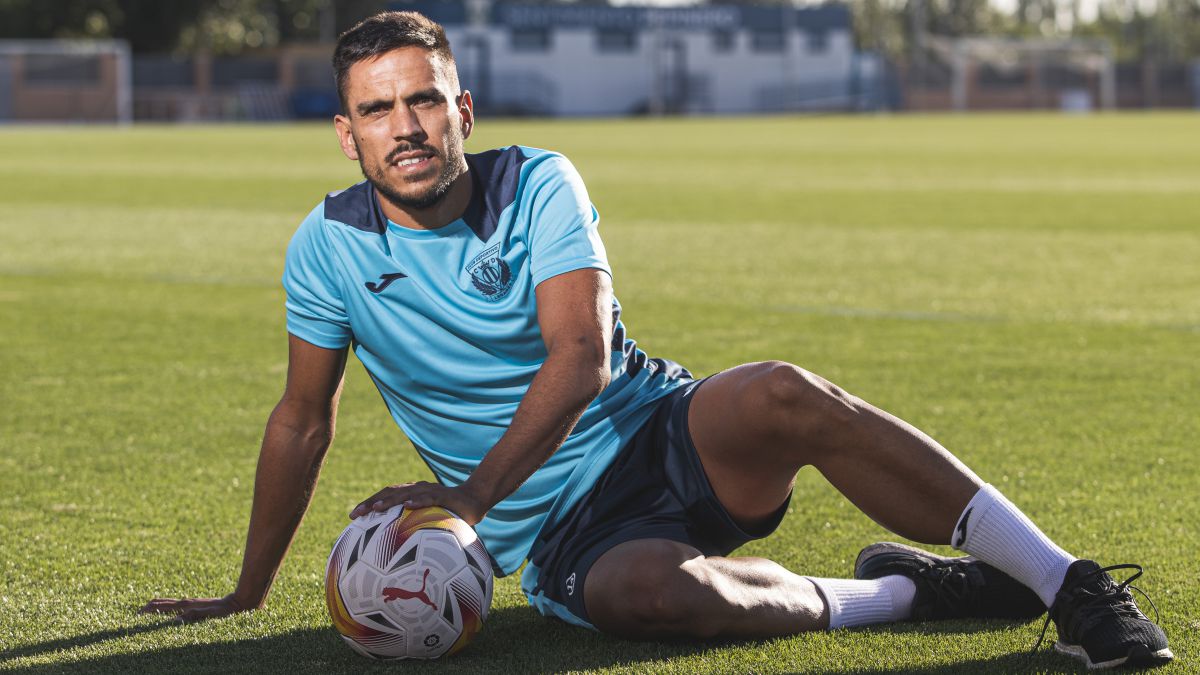 The setting is a journey through time. By how. By who. Once the Butarque Sports Facility is open again to face-to-face interviews, the first after the COVID era, José Recio (Málaga, 30 years old) walks through it in the photoshoot prior to the talk as if he were walking his house. It was for two years until a loan to Eibar took him away from Butarque. Now he returns to stay, despite competing one step below the usual, in Second.
"I wanted to play for other challenges," he says about the two consecutive declines he has suffered. The first, with the Lega after confinement. The second, with Eibar and hardly playing due to injuries. "It was hard. I want to feel like a player again," he admits sincerely.
That, sincerity, is a virtue that sprinkles in his words. For example, when he acknowledged that he wanted to talk to Garitano to tell him that he wants to stay while admitting that sooner or later he would like to return to Malaga. "But not now. I have a very good relationship with Gaspar [the Andalusian sports director] and we haven't even talked about it," he adds. Nor is it cut with the VAR, the one that criticizes openly, and that has caused "envy" in the European Championship. "Everything was decided very quickly. It is something we have to learn in Spain" .
How is your return being?
Good. With desire. It is being very intense these first days of training. A lot work. Accumulating kilometers these first days. It is a way of taking advantage of these weeks to get ready for the start…
Play with an advantage ...
Yes, of course. I already knew many colleagues who were from other years. And the physios, props, workers ... are the same as a year ago.
A Garitano did not know him.
It is true. But it's still simple.
Count ...
It is very close. He is a coach who talks a lot with the player. I, in just a week I have already spoken with him twice. It has the clear things. You know the things you want. That is good for the player, for the team… Being clear about it is essential. It is clear that right now what prioritizes the physical issue ...
I notice you are somewhat obsessed with the preparation…
It is that now we see more Miguel [Pérez, physical trainer] than the coach! (Laughs) But it's okay, it's normal ...
Normal, normal ...
(laughs). And hard, hard ... I tell you in the first person, that I suffer them. It demands a lot. But it is for our good. We will appreciate it in a few weeks. Now the legs are loaded. You come home and you don't feel like anything. Come on ... I don't want to play with my children ... You want to eat and rest, that's it ...
And eat a little.
Of course, because it is strict there too. But it is normal, I repeat. You have to take care of yourself for the next day to be well. Because the demand in this first week is high ... although it says that the worst is yet to come! (Laughs) .
What did you talk about with Garitano?
We did not know each other personally. Just having played against each other. As a player he knows me and I as a coach. He asked me how I was doing. How was my return ... I thought it was very good. I wanted to meet him, to talk to him ... they told me that he was talking to the player without a problem ... We talked about everything a little.
Only one signing has arrived so far ...
Let's see, it is true that the sooner the signings come, like two weeks or so, well, much better than if they are all on the same day that the League starts. But it is also true that you have to analyze everything well. Better to get it right and take a little longer than wanting to have the complete staff soon, not choosing well.
The year it was descended, the opposite happened. It took a long time to close the squad and that weighed in the beginning, which later was fundamental ... 444 444
Yes, as I said ... If you know who you want and you can bring him two weeks before, well, much better, it is obvious. Get to know your teammates before, you adapt to the coach's job…
So the sooner the better ...
Let's see ... it is that we cannot say anything there ... those of us who are doing our best, those of us who have returned after the transfer contribute the best possible, also adapt quickly to what Asier asks of us ... that is what will help us to start and to the new ones, do our part and that they adapt quickly.
Quintillà, have you adapted quickly?
Yes, yes ... tremendous. In four to five days… it has been very fast. It is already one more.
Is the base good yet?
Yes, there are many of us who spent the first year with Pellegrino, who had the best season in the club's history in First Division points… Yes… the base is good. The template remains to be completed. In some positions, but the quality is good. The coach is also doing his job, to learn what he wants to convey to us. Hopefully the new hires are like Quintillà, that they adapt quickly…
Will they miss Rubén Pérez?
Rubén was very important here. The two years I was there, we played a lot together. Especially the first year, because in the second I was injured more times. He had experience in Primera. Veterancy. That does a long time. When someone who has been in the club for a long time leaves, it is important ...
He would have liked it to stay, of course ...
He finished contract and well, they would not reach an agreement and he chose the best option for him. You have to respect him and wish him the best.
You return, to stay?
Yes, I in principle to stay. It was one of the things that I passed on to the coach. I have my head here. Illusion to stay here. Commitment to be here. Right now there is nothing other than playing this year at Leganés.
Gain continuity, wow ...
Yes, I want injuries to be respected. In Eibar, as soon as I arrived I broke a vertebra and I spent two months or so standing. Since then the experience was not what I wanted. I played very little. Personally, it had never happened to me, playing so little. I want to have continuity, yes. That is why I am 100% focused on being here. There is desire and enthusiasm.
Because of the way you are, it makes me feel like you come back to feel capital.
Yes, it is clear. I want to feel important. I don't mind playing Second at all.
Really?
I have been thanks to God for many years in First Division. And here what matters to me is the project. The club. There is a great sports city, things get serious. Whether it is in First or Second, I don't care. I want to play. Feeling like a player ...
He had a bad time. Due to the injury and because the last few years have accumulated several declines.
Yes, I had a hard time, yes. The descent in Leganés was also with the pandemic in between, just when we were beginning to climb. Playing those games without fans was tough… It was a blow and at Eibar it didn't go well for me, either personally or in the team. I want to play a year for other goals.
Which ones?
Well… we're supposed to be up there in the top six-eight. A team like Leganés, try… I don't know… another kind of ambition. Not always like these years fight just not to descend. Other challenges motivate me. This is one of them. I'm totally into it. With a lot of desire. Hopefully the League starts here.
Then the goal is to ascend…
The objective, although it sounds like a cliché, is to go game by game ...
Cholismo!
(Laughter) But you're right. You never know what you are going to find in the category. The second is complicated, long ... There are teams that arrive with enthusiasm and enthusiasm. The objective should be, yes, game by game, but with an ambitious mentality. The team and the base that there is, plus what may come, should give us to be there, among the top three or four. Always eager.
Good dribbling is giving me ...
It is that setting objectives or goals before starting the season is a bit complicated. You don't know what's going to happen, the squad you're going to start the season with… it's time to work and go game by game. With great humility. The Second is a different category from the First. If we do things well, we have to go with a winning mentality this season.
In Leganés the public already demands to upload.
This is normal. People get used to the good. He has seen four years of Leganés in First, four good years, and it is normal. There we must have our feet on the ground. It is very difficult to get promoted to First. Especially your second year. But that illusion is there ... I have it personally.
But this was not going to go game by game?
Match by match puts you in your place. And then it will be seen where you will be fighting. But that ambition must be had. People sure want to go back to the stadium. We miss them the year of relegation ... they see that the team gives up their lives, that they feel identified with us. Hopefully we hook them up. Let this demand be to help and support us.
And put to talk about aid, that the VAR is that ... a help ...
It has been seen in the European Championship how VAR is put to good use. It is what you have to stay with. The goal that should be set in Spain too…
Did you envy how it was used in the Euro?
Yes, yes ... quite envious of everything. Decisions were made very quickly. Everything: offside, penalties, hands ... everything ... in less than a minute you had it. That means that the VAR is useful for a lot, as long as it is put to good use. As long as it is done in the best way. The Euro has been an example of this.
He made him win with the famous Getafe penalty last year ...
And that was not my turn, but Bryan Gil. But I looked confident and launched. Bryan left me, but Mendilibar for those things is less flexible ...
Will you throw them away in Leganés?
I don't know ...
Don't have a list?
At the time of Pellegrino we did have a list. It was set for all types of set pieces if we had one designated.
So this year you will join the list ...
That is decided by the coach, but I hope he will sign me up ... (Laughter) .
He said not long ago that he would like to return to Malaga. Is it your illusion to play there again?
I would love to, of course. The day I left there, I always said it: I want to go back. It's the club where I grew up. The club in my city. I don't know when to go back. One year, two ... whatever. Playing my last years at Málaga.
Didn't this summer cross your mind?
No, what's more, I have not spoken anything with it. I have a very good relationship with Manolo Gaspar, who was my partner in my first two years there. But at no point have we brought up the subject. And that we talk a lot, about everything ...
For example?
Of matches, players ... from Málaga itself. But never from my topic of going back there. He knows I have one year left on my contract. They are doing things well there. Better every time. It's a very good job. Because there were many things that were being done wrong. And thank God, doing things well, with work, they are managing, little by little, to restructure the club. At present there is nothing ... but in the future I have that illusion. An objective. I do not know if it will happen ... but it is my illusion.
Do you have automatic renewal if you upgrade?
No, nothing. I have not spoken to the club. Only with Asier. He's the one I wanted to talk to, the one I'm going to be with every day. To know each other. I don't want to think about anything else.
In Leganés there are two vacancies to be captain. Would you like one to be for you?
Well… I was captain at Málaga. Two years as third captain, one as second and last, yes, I was captain. That in the end in Malaga was for years ... 444 444
Yes, but would you like ...
Let's see, I left last year, but other players followed. I don't know if that is decided by the coach or whoever it is, but I wouldn't mind wearing the armband at all: third captain, fourth… I don't care. But it's something I always like. But I'm not thinking about it, of course. Some have been going for a longer time and with continuity.
Photos from as.com