Reasons why Dembélé is the '9' that Atlético is looking for
The club is looking for a forward who may be the one they already had. In France they say that they are already negotiating with Lyon for a new loan. There are many reasons.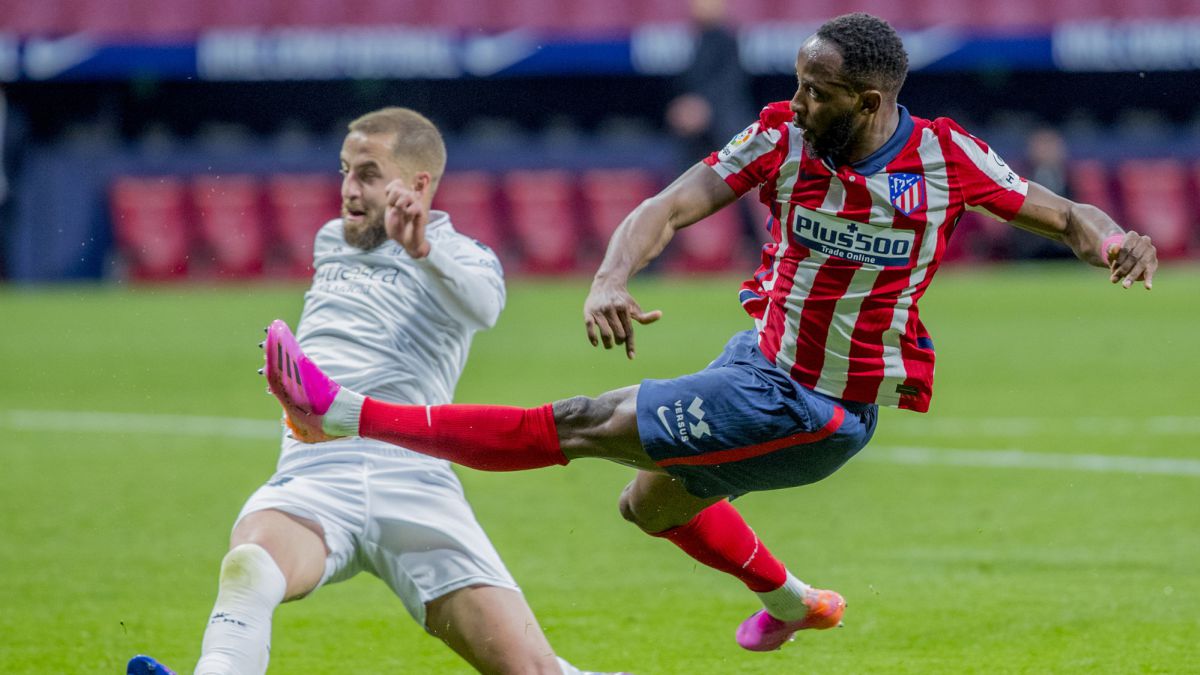 This rumor that has reached Spain in recent days from France is not at all unreasonable. That the '9' that Atlético is looking for already had it. That the '9' that Cholo can have at his command to give Luis Suárez rest was already on his squad. That '9' will not be that footballer you want, Lautaro Martínez, unattainable by the rojiblanca economy at the moment due to the claims of an Inter that has already rejected a rojiblanca offer of 40 million. That '9' was already there and can be there again. His name is Moussa Dembélé, 24 years old that will be 25 this July, and, although his relationship with the rojiblanco club ended four days ago, a loan from Lyon, the 'déjá vú' may have started.
Because the signing of the '9' is capital for the 2020-21 LaLiga champion. Luis Suárez is 34 years old and will need to dose. They are looking for a striker who accompanies but does not complain in the substitutions, who knows how to comply with his role and does not subtract. Diego Costa, among other things, left because he did not feel comfortable in that suit. Simeone wants competition but not problems. And there the Lyon footballer who has just finished his assignment becomes key. There are many reasons that endorse, although if one looks at the numbers, always cold, it does not seem.The reasons that accompany Dembélé
Because Dembélé arrived at Atlético in January and only played 140 minutes (95 'in the League, 45' in the Champions League) but it has an explanation. First he arrived injured. Second that when he left that injury behind, he had COVID. The one and the other did not let him shine. But ... the sensations are all good. His attitude, his commitment, having already passed the Cholo (and 'Profe') military service, necessary to fit into a team like Atlético and in which so many players remain (Diogo Jota, Santos Borré ...). Dembélé convinced Simeone when his time with Atlético was ending, after that injury with which he arrived, that COVID that stopped him. He hit it off with his companions and curdled. Those who attend and are in Atlético's training sessions coincide: when the season ended, Dembélé was Atlético's best in training.
Something similar happened with Lemar in past years, hence the confidence, the first two years at Atlético considered blind, of Simeone in the French. Something similar happened with Costa when the Argentine coach arrived at Atlético and the Brazilian was one of the men to leave until Cholo stopped him. The sensation in the rojiblanco club is that Dembélé's assignment has ended when he was better and the best thing is to extend that assignment that solves the problem of the sought after '9'. I was in house. It is negotiated with Lyon to be back. Dembélé, while on vacation, does not stop winking on his social networks to the rojiblanca. Want to be. It would not be frowned upon for him to continue, to come back.
Photos from as.com