Popovich: "I would have begged Kevin Durant, I would have cried ..."
The coach wants to erase the bad memory of the 2019 World Cup at the Games, where the USA will arrive with casualties but with a team full of stars.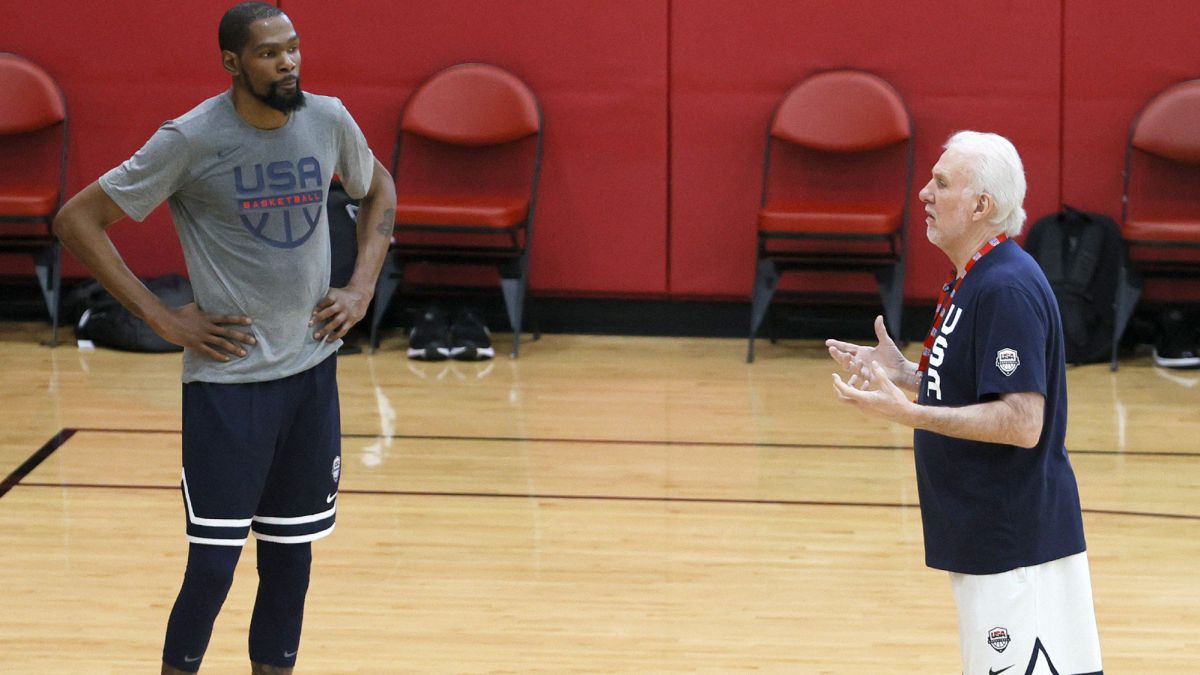 The United States is not kidding when it comes to the Olympics. And less after a big smack. Team USA will look to Tokyo for their fourth straight gold and redemption after a terrible seventh place at the 2019 World Cup, the worst qualification for the Americans in a major international tournament. In the Olympic world, it would be the fourth straight gold and the eighth in nine Games since NBA stars have attended. There were three (1992-2000) immaculate (24 wins, zero losses), the nightmare of Athens 2004 (three defeats in eight games and bronze) and another three golds without failure (24-0 in the 2008-16 cycle) .
Gregg Popovich is also seeking revenge. He is one of the great coaches in history. He has been with the San Antonio Spurs since 1996, has won five rings and has 1,310 NBA victories. Next season, barring cataclysm, the 72-year-old legendary coach will surpass Lenny Wilkens (1,332) and Don Nelson (1,335) to be the coach with the most wins. But with the national team his story is ugly for now. She was part of the organization chart of the team that hit her at the 2002 World Cup and of the tragic Nightmare Team of Athens 2004, where she worked under Larry Brown. And in 2015 he signed as coach to take over the team after Rio 2016. His first experience was the Costalazo of China 2019, with a team of absolute circumstances.
Now the United States is very serious. Some of the main ones are missing, quite a few actually (LeBron James, Anthony Davis, Stephen Curry, Kawhi Leonard, Chris Paul…) but the team is full of superstars and differential talent. Bases (Damian Lillard and Jrue Holiday), many points on the wings (Bradley Beal, Devin Booker, Zach LaVine, Khris Middleton, Jayson Tatum) and glue and versatility for power forward and center: Jerami Grant, Kevin Love, Draymond Green and Bam Adebayo. And, of course, the great star, the mega-player: Kevin Durant, who has committed to his national team despite the very serious injury that left him without playing in the 2019-20 season and the effort he has had to make in the playoffs in a few Nets who lost Kyrie Irving and James Harden through injury. Durant has not lost an official game with his national team and has the best average points (more than 19 per game) in the history of Team USA, with whom he was World Champion in 2010 and Olympian in 2012 and 2016.
Now, Popovich was clear that having Durant was the final blow to make an absolutely fearsome team: "It would have been said that he was not coming to the Games, he would have begged him, he would have cried, he would have done whatever it took to change his mind. It's obvious. But that he came after his serious injury (Achilles tendon) speaks above all of how much he loves this sport. How much he loves playing basketball and how much he likes to win, the camaraderie. You want to be a part of this, it is always like that. And that's what motivates him. Deep down, it's what he likes to do, and we're lucky that it is. This shows what character he has, his desire to be part of this team and take on the challenge of leading it to success. "
Photos from as.com