Petrovic will also come out
The Serbian midfielder trains alongside the 'sections', being the only one of them who finished last season as rojiblanco.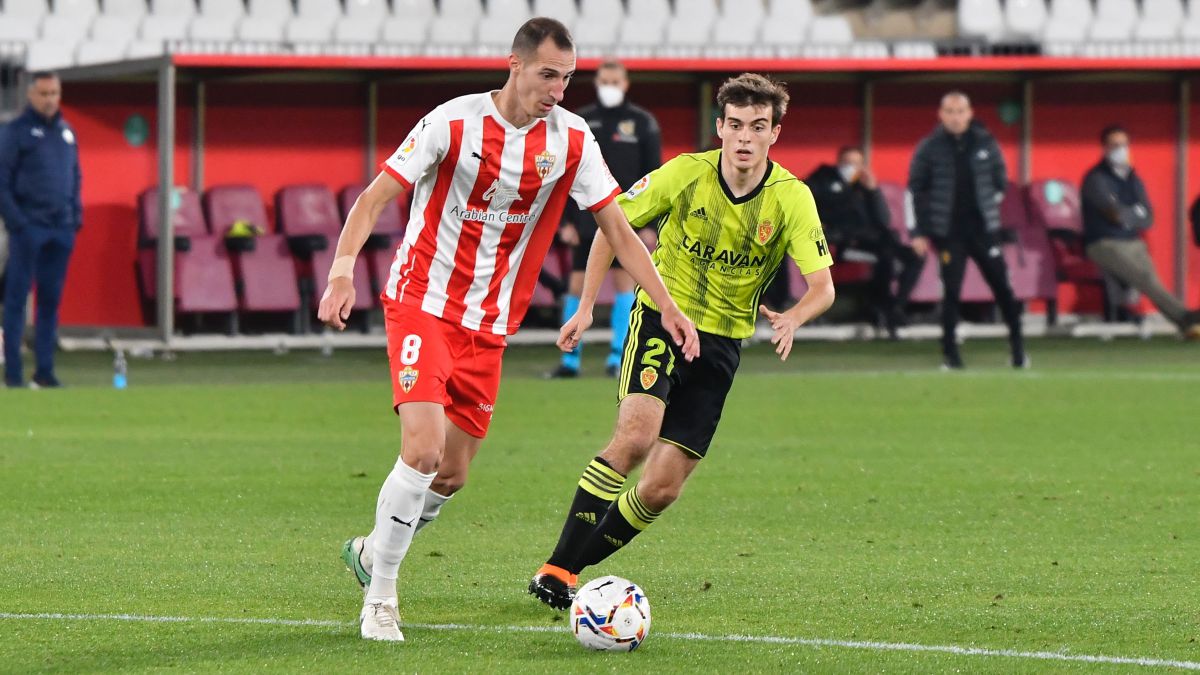 The revolution continues in an Almería that is already used to changing more than half of the squad season after season. Mohamed El Assy and Joao Gonçalves will renovate the squad, in part to give it a leap in quality and in part because of the many girlfriends that have players like Sadiq or Akieme (other important players like Cuenca, Morlanes and Corpas have already packed their bags) . Another of the proper names in the exit operation, a priority to undertake the entry operation, is Petrovic, the only one who finished last year with the red and white shirt those who are exercising outside the group.
Specifically, half a dozen are training in a different dynamic to that of the group, in the case of Peybernes, Jonathan, Aguza, Petrovic, Callejón and Vada, although the Almeria midfielder signed four seasons with the Betis subsidiary yesterday. A way out is sought for the remaining five, the situation being different for each of them. The French central has one year left on his contract and a contract termination is not ruled out. Petrovic also ends his contract next June and from the club it is considered that his copious record, one of the highest in the locker room, is not in line with the performance provided on the pitch.
The Serbian midfielder joined the rojiblanca discipline last Monday after having a few days of leave and is already exercising together with the 'sections'. As he only has one more year of contract left, it seems difficult to get an economic cut in a possible transfer, Almería looking for the formula to save that high tab. The Balkan landed two years ago as a free agent from Sporting de Portugal, playing 27 games in his first season as a rojiblanco (about twenty as a starter), decreasing his participation in the last year: 27 league games, but 18 of them leaving from the bench.
Regarding the other 'sections', Jonathan Silva has a contract until 2024, so a contract termination is ruled out. The Brazilian was on loan to Las Palmas last year, pointing to another loan with a different destination. Vada, at Tenerife last season, also has three more years on his contract, so his path will be similar to that of the Carioca. Aguza, on loan from Cartagena and Ponferradina last season, has more suitors in the category, expiring his contractual relationship with the UDA until 2023 after renewing the link in 2020.
Robertone: "Last season was one of adaptation"
Robertone, who forms the small nucleus of the rojiblancos who continue as such, has been chosen this Friday to attend the club's media. "Rubi has a new way of playing, that excites the player in training sessions and so on. Last season was an adaptation, I didn't feel so much about the change in my style of play, which is similar to football here and that's why I liked it. this league. I went from less to more, my teammates got to know me and I became stronger in the team. Luckily I finished the season in the best way, "says the Argentine midfielder, who is seeking greater participation in this new season.
"You have to try to play without pressure to demonstrate on the field what we know and what the coach asks of us. If we go step by step, things will go well. You don't have to think about ascending, ascending and ascending, that will go away giving alone. This year I have a lot of faith in fighting him, "continues the '14', who has played both as a midfielder and inside and playmaker. "I see myself more like an internal or double pivot in the center, I feel comfortable there. The formation used by this coaching staff [1-4-1-4-1] helps me a lot too," he continues, concluding that he should learn to control yourself. "I understand that intensity is a very important factor, in Spanish football we are not so used to it, but in Argentina there is more shock. I have to learn to control myself a little, but I can bring that plus and character to the team", he expires.
Photos from as.com