Pepe Mel: "Pedri improves those around him"
The Las Palmas coach recalls his time together at El Larguero. "You have to enjoy it. Inside the field he did everything well ".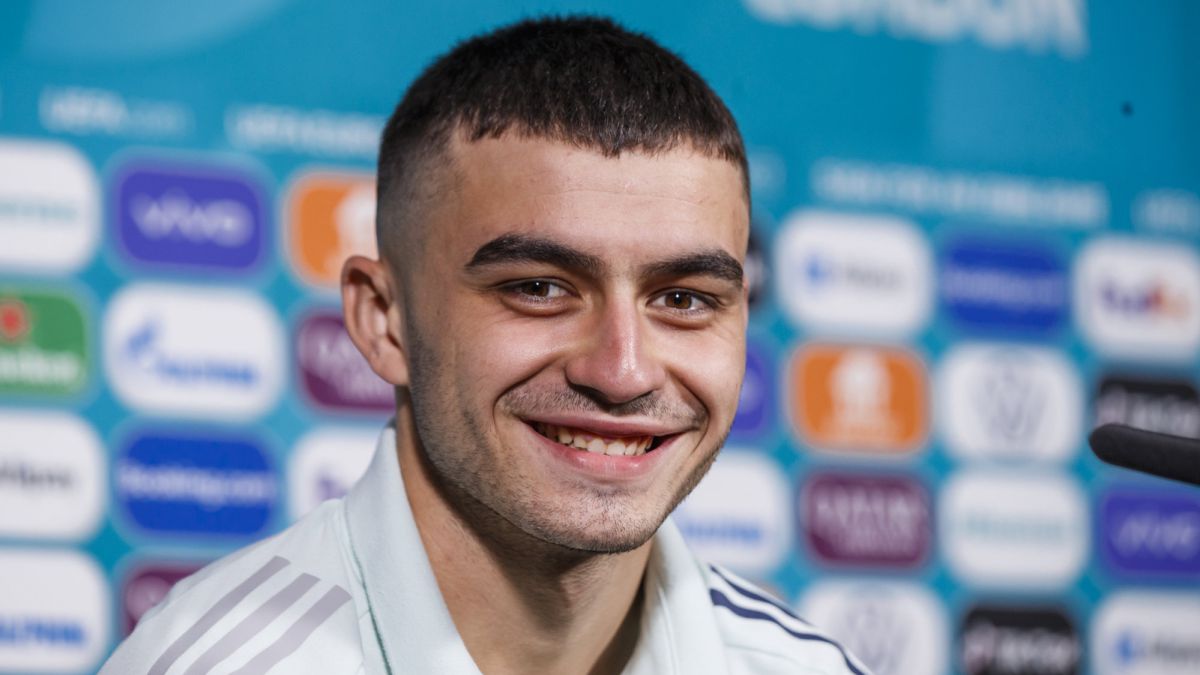 One of the most outstanding soccer players in Spain in the European Championship, as it was with Barça throughout last season, was Pedri, a youth squad for the Unión Deportiva Las Palmas. "I was lucky to have him when he was 16 years old. And well, with that little face he had ...", said Pepe Mel last night in El Larguero, who gave him the alternative two years ago in Spanish professional football.
Last night, together with Manu Carreño, Kiko Narváez and Gustavo López, the Las Palmas coach recalled the season he lived with the superlative Tenerife player. "He is a footballer to enjoy. On the field he did everything well, and every day he surprised you more", recalled Mel. The Madrid coach also recalled that it was Ángel López, his player at Betis and today his second coach, who put him on Pedri's court: "Ángel was one of the first to tell me about him. He had already had him at Betis, and He insisted a lot that we had to see a youthful kid. When we saw him we all thought the same: if he does this with the professionals too, here we have a crack. That's why we took him to Marbella ".
Two summers ago, on the Costa del Sol, the infinite takeoff of this 18-year-old boy began. It was already "seen" that he would be a "millionaire". "We were going to start a training session in Marbella. I was with the vice president of Las Palmas (Nicolás Ortega) and Pedri came with his boots in hand, walking to get onto the grass. I said:" Look at him, there goes the millionaire but he knows. You could see ", Mel recalled.
Another of the most important references about who was a budding star came from Joaquín, the Betis legend still active. He played a tribute match to Rubén Castro at the Benito Villamarín. "It was the last of that preseason," says Mel. There, in the grass of Avenida de La Palmera, Pedri and Joaquín crossed their paths: "We had Pedri on the left wing, and on the right of Betis was Joaquín. The boy (Pedri) dribbles and leaves. In the end, Joaquín tells me: "Every time I thought I had dribbled, I would stick my leg in." "He always takes the ball. Put the toe in and you never dribble ", emphasizes the Madrid coach.
Very soon it became evident not only his talent with the ball at his feet, more than evident, but also his physical power. "Only with the talent alone I would not have been able to play with the professionals being so young", clarifies Mel. Very soon his infinite lung capacity became clear: "Pedri told me that before going to Gran Canaria he was in an athletics club. Areobically he is a marvel. Not only does he have the ability to understand the game, but without the ball he runs a lot. That effort is appreciated when his team does not have the ball. He is also a long-distance player ".
Pepe Mel also analyzed that in Las Palmas his virtues were exploited by putting him to play with a different leg. "At Barça he plays with another system. We used a 4-4-2 with him on the left, with a different leg. I remember now that wonderful pass to Oyarzabal, like the ones he gives to Griezmann at Barça. I don't forget Nor was it a game that we beat Deportivo 3-0, when he gave a wonderful pass to Pekhart that defines what Pedri is. " "He does better to everyone around him," he insists.
It is also clear what the Barça kid should improve. "He always thinks of assisting, he is happy giving a goal pass. If he wants to be a top player, he must step on the area and look at the goal. He has to improve it, something that he already knows," he clarifies.Likewise, Mel rejects any comparison, no matter how repeated it may be, with Iniesta. "We are comparing Pedri with Andrés who we saw win the World Cup, the Euro Cups ... It is intended to compare a full-fledged footballer with one who has barely been in the First Division for 50 games. He has a lot of merit, at 18, that he is capable of have that self-confidence, choose well, never make mistakes ... For me it is a tremendous pride to see him now ".
Photos from as.com