Djokovic beat Shapovalov with more difficulties than the score indicates and will play his seventh Wimbledon final, 30th in the Grand Slam, against Berrettini.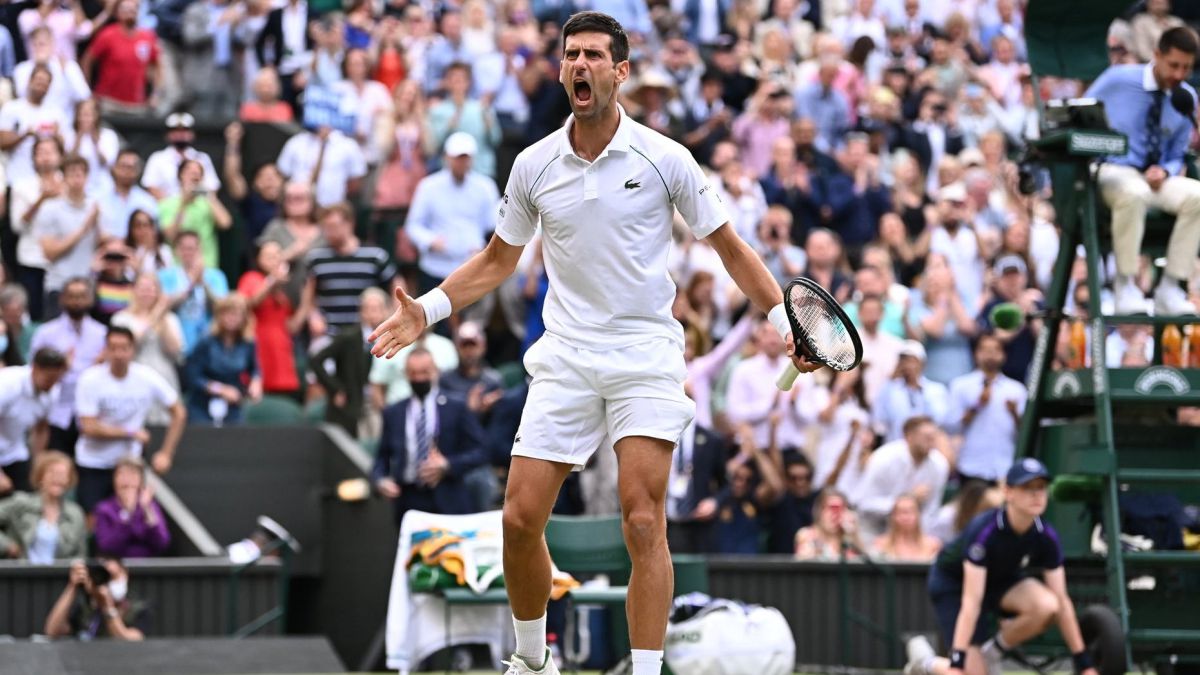 Novak Djokovic is at a point in his career where he wins almost unintentionally. You don't even need to be the best in a match to win. It is enough for him to let himself be carried away by his limitless ambition, by his thirst for glory to get out of the situations close to one of his objectives. That's what happened this Friday in the Wimbledon semi-finals. The Serbian beat Denis Shapovalov in three sets, who made merits to win at least one and had that possibility very close, but repeatedly let the world number one escape and fell 7-6 (3), 7-5 and 7 -5 in two hours and 44 minutes. "In the first two sets, Denis has been better than me," acknowledged the winner. "He is a great player and we will see him here in the future," he praised him before sharing a thought that he has repeated several times: "I always dreamed of winning here and the dream continues."
Djokovic will play for the seventh time in the final of the British tournament, 30th Grand Slams, on Sunday (15:00) against Matteo Berrettini. He is one step away from winning his 20th major and equaling the men's record shared by Rafa Nadal and Roger Federer, who are watching from their homes how their eternal rival can eat more ground. Nole remains unstoppable on the grass of the All England Club, where he has accumulated 20 consecutive victories. His consistency is tremendous: he has won 16 of the last 17 Slam semi-finals he has played. "I love hearing the statistics. It is a privilege to make history in a sport that I love, motivates and inspires me, but at the same time I must have a balance to know that what I have to do is win the next game, and in this case it is a final, "he explained.
Shapovalov believed in his chances of surprising Djokovic and did it at the start. In fact, he was ahead on the scoreboard in all three sets and with multiple break options, but the first one escaped him when he served 5-4 to win it and later in a disastrous tiebreaker; the second he lost after wasting five break points and conceding the only one the Balkan had; and the third, in which he suffered a lot in the service, he went down the cat flap because of a bad game.Roar and sentence
Djokovic roared like a lion and then served to execute his opponent mercilessly with two aces. Few times has a rival of his been so close and at the same time so far from defeating him. That is why he left in tears. The fact is that he seems unbeatable and there is only one player left, Berrettini, who can separate him from putting the triple tie in the fight for the Grand Slams. "Winning another title would mean everything to me. That's why I'm here. That's why I play. I imagined myself in a position to fight for another Grand Slam trophy before coming to London. I put myself in a very good position, "said the Belgrade titan, who does not take his victory for granted:" Everything is possible in the final. Experience is on my side, but Berrettini has won a lot of grass matches this year, at Queen's, for example. It is in great shape. He serves and plays phenomenally and is one of the best in the world in the last 12 months. So it is going to be a very difficult match for both of us. I am looking forward to this great battle. "
Results and men's table calendar
Photos from as.com