Mulero: "Valencia will be more direct and vertical, and will have a more aggressive defense"
The Valencia Basket sports director analyzes the composition of the taronja team's squad, the signing of Peñarroya and what remains to come.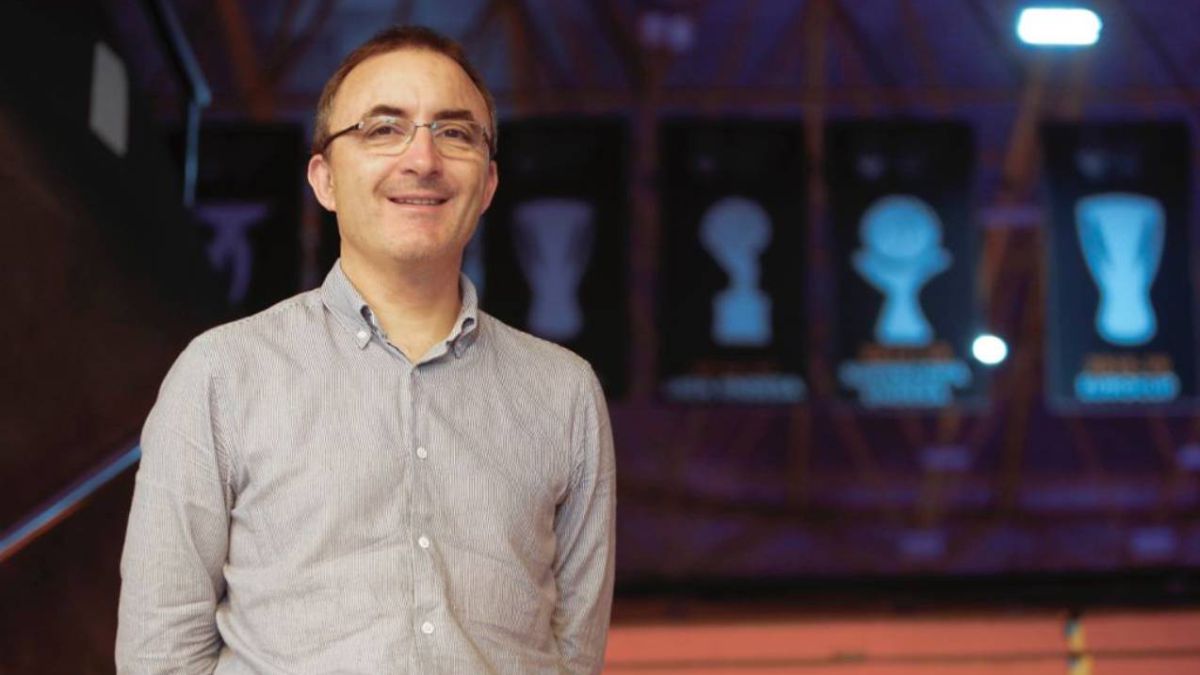 Chechu Mulero (Bolaños de Campos, 1968) faces his eighth season as sports director of Valencia Basket. This year he is undergoing a deep restructuring that has led to the change of the coach and the departure of several pillars. The arrival of Peñarroya to the bench, the signings of Dimitrijevic and López-Arostegui, the disappointment of last year, the Kalinic issue, the possible return of Claver ... Mulero responds to all the current issues taronja.
-Weeks have passed since the end of the previous campaign. What internal balance has been made?
-It is already far. With the passage of time you realize that it seems that it was the season of 'almost'. For one game you are out of the Euroleague playoff; You almost made it into the top eight, which would have been a success. On the other hand, because of one game you don't reach the final of the Endesa League, which we haven't had on many occasions. We have been close to a great season and we have stayed in a remarkable season but with the pity that it could have been outstanding.
-How big was the disappointment of the Euroleague?
-It was a major disappointment because we all saw it. We were able to compete against everyone. Only Barcelona won us both games. When you are from the beginning with a marked goal and at the end, for a match, you are left out, you are left with disappointment.
-What has been the most difficult casualty to give?
-There have been difficult decisions. The non-continuity of Guillem Vives was a very difficult decision for me. Guillem was the first player I signed when I got to this position. It hurted me. The non-continuity of Joan Sastre has also hurt me a lot. They are both great people and have identified with who we are as a club. We all understand what sport is like. And we wish them the best of luck.
-And the theme of San Emeterio?
-It has been a special situation. Fortunately it continues. He came up talking to Joan Peñarroya. I have known Fernando since he was 11 years old. For the situation that the new coach demanded, we thought that the best figure to carry out this work was Fernando.
-To end the casualty chapter ... Did we forget about Kalinic?
-He made it clear to us that he wanted a Euroleague team. From the moment we do not have it, it is complicated. But hey, the deadlines, the market, the right of first refusal ... it's a bit complex ... But today we have to forget about Kalinic.
-Will this year be a different Valencia Basket from the one we were seeing in recent seasons?
-The style of Joan's teams is different from Jaume's. We will see a more direct, more vertical game, with a more aggressive defense. Hopefully he can translate it into the team. In principle, the game ideas, although some coincide, are clearly different.
-Why did you choose Joan?
-The figure of the coach you have to agree with the board but I chose him. He is a coach on an upward trajectory and where he has been, he has finished well above the objectives… and always improving. We wanted to change the philosophy of the game that we had in recent seasons and the figure of Joan was the one that stood out the most. What he has achieved in recent seasons reflects a fully consolidated coach among the best Spaniards.
-Tell me about Dimitrijevic and López-Arostegui, the two signings…
-Dimitrijevic is a 'cheeky' player who can do 1 and 2, with great scoring ability. It is in the process of growth but it is already 23 years old, with European experience. At Joventut, his role has been brilliant, especially at Eurocup. It is in his selection that the team's game revolves. He is a player trained in Spanish basketball. Both this signing and Xabi's are part of our philosophy of betting on a player from here. López-Arostegui seems to me to be an excellent team player, his defensive level is very good. You can defend different players in different positions on the court. Offensively this year he has stood out for his success in the shot of three. He is evolving better: he is penetrating better, he is attacking the close out better ... And it is from the year 97, he has a long time ahead to give Valencia Basket great years. I am very happy with both signings.
-What is true in the contacts by Víctor Claver?
-We can't say anything. We have two players left to join the squad and we will try to make them the best. Until one of the two signings is finalized, we will not say anything.
-For what it says the template will be 12.
-Yes, if there are no setbacks the squad will be 12. There is a missing inside player, who has to do the 4 and an outside player who has to do the 3. It does not have to be an open 4. Also, it can be both Americans, with Tobey's Slovenian nationalization. Let's see the market.
-Is port going to be one of those 12?
-Let's hope he has continuity, that he finds his minutes and his space in the team and from there assess his position and his weight in the team it is up to the coach to assess it. Josep has had the bad luck that in the last three years he has not been able to play. In Oviedo he had back problems. Last year, the pandemic shortened the season even though he was playing really well; and this year with the injuries we made him come back from Castellón and evidently he has not had minutes. He will have the minutes that he earns.
-What about Pradilla?
-It is the same role. I answer you the same as his Josep. You will have to work and earn your minutes. The most important thing for Pradilla, for Dubljevic, for Prepelic is the day to day. You don't have to always play with an open 4. You can play with two 5. Basketball is open to any solution and any tactical development so that Pradilla can play with Dubljevic, with Labeyrie… He is a player in whom Valencia Basket has great hopes and he is sure to be a great player and that he will be with us for a long time. Time to Time.
-Is Will Thomas an option for the 4?
-What Will did was communicate that he could return to Spain. There is an established process in which the club that has your first refusal rights is asked if they want to keep it. Valencia said yes. But this means nothing on Will's part or on us. It does not mean that Valencia want to sign Will Thomas.
-But it is in the market ...
-Yes, but what they don't say is what price they want. Right now it's ruled out.
Photos from as.com