Movistar Estudiantes already knows its way in the LEB Oro
The collegiate team will begin and end the season at home against Lleida at home (date and flag to be decided) and Oviedo, respectively.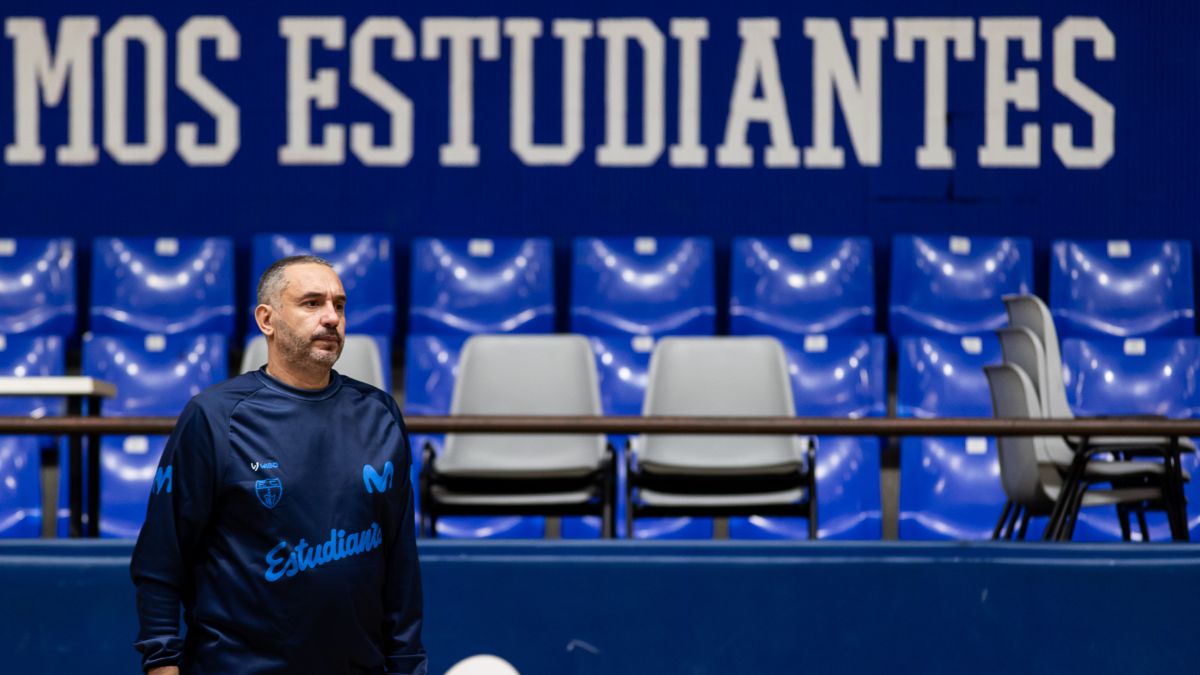 Movistar Estudiantes already knows the way to fight for promotion in its first season in the LEB Oro in 74 years of history. The schoolboys will start at home against ICG Força Lleida, heir to the legendary Lleida Basketball, which played four seasons in the ACB (2001-2005), but disappeared due to financial problems in July 2012.
The meeting does not have a venue yet: the people of Madrid are currently negotiating with the public administrations a pavilion to be able to play the competition after ten years in a row at the WiZink Center. The old Palace, Madrid Arena and Vistalegre are some of the options that are being considered.
This absence of headquarters means that the day of the debut does not have a defined date yet. The first day starts on Friday, October 8, but it is possible to move the duel to any day of the weekend (both for this duel and for the rest of the League), depending on the availability of the pavilion.
After the initial assault, Movistar will make its first two visits. It will start in Melilla on October 12 and will continue in Palma on the weekend of the 17th of the same month.The LEB Oro
This season the LEB will once again be a single group competition with 18 teams and 34 days. The regular phase will end on May 20 and the leader on that date will automatically be promoted to the Endesa League. The second to climb will be the winner of the playoff, which begins on May 26 and ends on June 18-19 with a Final Four among the four semifinalists. The top two finishers at the end of the first round (January 21) will play the Princess Cup in a single match.
Movistar Estudiantes calendar First round
Matchday 1 08/10/2021
Movistar Students - ICG Força Lleida
Matchday 2 10/12/2021
Melilla Sport Capital Club Melilla Basketball - Movistar Estudiantes
Matchday 3 10/17/2021
Palmer Alma Mediterrànea Palma - Movistar Estudiantes
Matchday 4 10/22/2021
Movistar Students - HLA Alicante
Matchday 5 10/29/2021
Juaristi ISB- Movistar Estudiantes
Matchday 6 11/05/2021
Movistar Students - CB Prat
Matchday 7 09/11/2021
Tau Castelló - Movistar Estudiantes
Matchday 8 11/14/2021
Movistar Estudiantes - CB Almansa With Afanion
Matchday 9 11/19/2021
Cáceres World Heritage Site - Movistar Estudiantes
Matchday 10 12/05/2021
Movistar Students - Real Valladolid Basketball
Matchday 11 12/10/2021
Coviran Granada - Movistar Estudiantes
Matchday 12 12/17/2021
Movistar Students - Leyma Coruña
Matchday 13 12/21/2021
Acunsa Gipuzkoa - Movistar Estudiantes
Matchday 14 12/28/2021
Movistar Students - Peñas Huesca
Matchday 15 07/01/2022
Palencia Basketball - Movistar Estudiantes
Matchday 16 01/14/2022
Movistar Students - Bàsquet Girona
Matchday 17 01/21/2022
Liberbank Oviedo Basketball - Movistar Estudiantes
Second lap
Matchday 18 01/28/2022
ICG Força Lleida - Movistar Estudiantes
Matchday 19 02/01/2022
Movistar Students - Melilla Sport Capital Club Melilla Baloncesto
Matchday 20 02/06/2022
Palmer Alma Mediterrànea Palma - Movistar Estudiantes
Matchday 21 02/18/2022
HLA Alicante - Movistar Estudiantes
Matchday 22 03/06/2022
Movistar Students - Juaristi ISB
Matchday 23 03/11/2022
C.B. Prat - Movistar Students - HLA Alicante
Matchday 24 03/15/2022
Movistar Students - Tau Castelló
Matchday 25 03/20/2022
CB Almansa With Afanion - Movistar Estudiantes
Matchday 26 03/25/2022
Movistar Estudiantes - Cáceres World Heritage Site
Matchday 27 04/01/2022
Real Valladolid Basketball - Movistar Estudiantes
Matchday 28 04/08/2022
Movistar Students - Covirán Granada
Matchday 29 04/17/2022
Leyma Coruña - Movistar Estudiantes
Matchday 30 04/22/2022
Movistar Students - Acunsa Gipuzkoa
Matchday 31 04/29/2022
Peñas Huesca - Movistar Estudiantes
Matchday 32 05/06/2022
Movistar Students - Palencia Basketball
Matchday 33 05/13/2022
Bàsquet Girona - Movistar Estudiantes
Matchday 34 05/20/
Movistar Students - Liberbank Oviedo Basketball
Photos from as.com