Míchel: "You are the best squad in the history of Getafe"
"When I was little I was chubby, they called me Michelin and hence Míchel". The coach reveals that he may have been a coach and affectionately calls Simeone a trickster.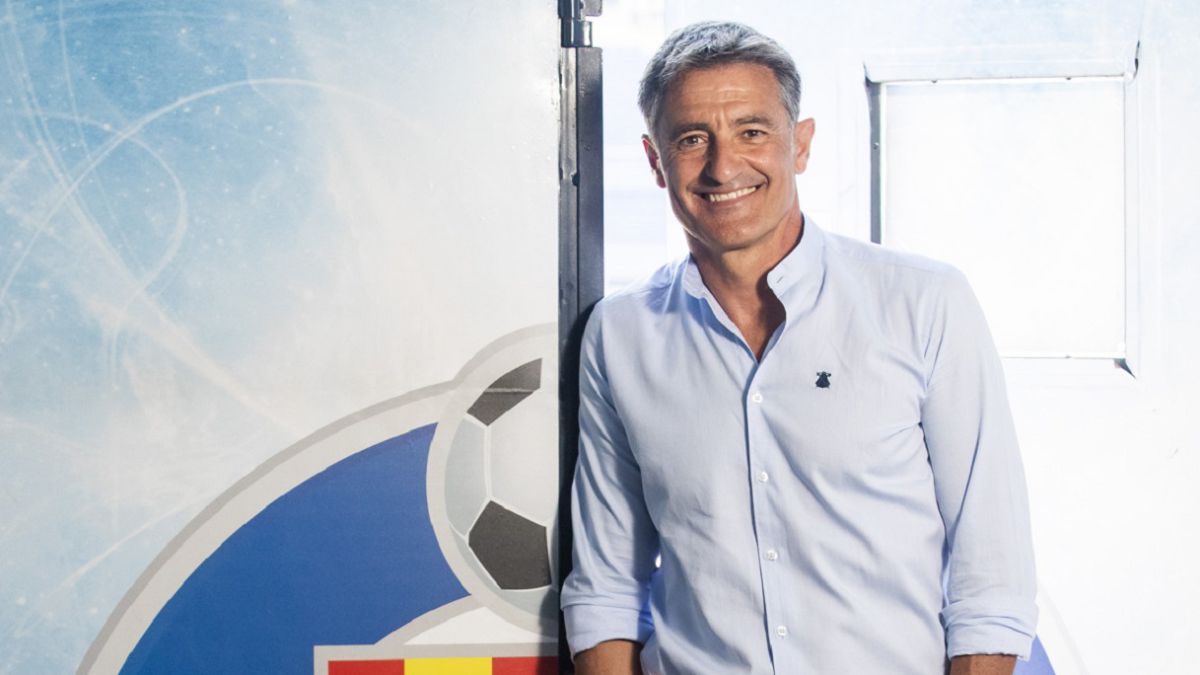 -Míchel, with or without accent?
-Well, I don't really care.
-At what point in his life did José Miguel González del Campo become Míchel?
-From a very young age. Like my father and grandfather they were also called Miguel, to distinguish me they called me Miiguelín, and from there he went to Michelin because he was chubby, like the doll of the wheel brand. And from Michelín, Míchel.
-You chubby?
- Yes, yes, as a child I was chubby and with ears that looked like two slices of Serrano ham.
-The last time he trained in Spain he left in a 'regular' way with the Malaga sheikh.
-With him I did not go wrong because I had no contact with him. Ours was a situation sung by what had happened in summer, but what bothered and hurt me was everything that happened with that club, which does not deserve to be where it is because of that person.
-Greece, France, Mexico and, again, Spain. What did you learn abroad that you did not see in La Liga?
-Many things. The sport is the same but you have to acclimatize to the environment: to the culture of the clubs, of the players ... I have done a magnificent exercise in history and learning.
-The team you trained (2009-10) is still recognized today as the best Getafe in history, for its aesthetic but also effective football. (He reached the Cup semi-finals and qualified for the Europa League…) .
-I think it has been more recognized later. But Getafe, in the First Division, has always been recognizable, with Laudrup, Schuster, with Quique Sánchez Flores ... It is true that the Bordalás scoundrel took my record away (laughs ironically), but what we cannot deviate from is that we are all below what this club means.
-What does it mean?
-Small but bully. I think that, like that Deportivo and this Villarreal, Getafe is doing that. Ten years ago I left a selling club and now it is an economically stabilized club and a buyer, within its possibilities.
-Then he had his comings and goings with Ángel Torres, his contract ended in 2011, the president did not want to renew him and end of journey. By getting together again today it is understood that in the relationship there is more love than hate.
-The president is the soul of this club. What he does not know, he does not tell you but then he shows it to you. In my case, on some occasions he has tried to make me come back but it could not be. When the phone rang a couple of months ago and I saw that it was Ángel Torres, I told him the same thing as the first time, in 2009: 'What time do we train?' I wanted you to call me to train this team.
-In other words, Ángel Torres looked for you to return, you did not offer yourself.
-Yes, I am also quite modest. I have the habit of calling all my friends when it is his birthday and on Ángel Torres's birthday I did not call him so that he would not think that he was doing it to offer me, and it was he who called a friend of mine and said: "tell him that call me man ".
-The expectations are such that they say that this is the best squad Getafe has ever had, with Vitolo, Aleñá, Cucurella, Mata, Djené, Arambarri, Maksimovic…. Do you agree?
-I agree. Totally. I think Getafe has had very good squads but this has continuity. We have seasoned the players who were already there with people who have come and will continue to come.
-Are you afraid that someone will take away from here at the end of the market?
-I am not afraid because I have the urban policeman there (by Ángel Torres) who does not take a step back. The president has a very futuristic and ambitious idea, which is that we have a good season and the player clauses do not seem so far away.
-When you played in First, Getafe played in Second B or Third. It was unthinkable to imagine this Getafe ...
-There is a before and after since the arrival of Ángel Torres and how all the people, the institutions, the sponsors and all the people of Getafe have been involved.
-What is your favorite to win the league title?
-Atlético de Madrid continues to be the favorite, not because it is the champion, but because it has maintained stability and the squad. I don't see that Barça and Madrid, who are always hopefuls and favorites, have changed their faces much.
-There is barely a trace of the tiqui-taca, the cholismo triumphed, since the majority of teams play with the idea that the first thing is not to fit in… .
-El Cholo is a trickster (jokes laughing). El Cholo talks about claw, from game to game and such but his teams play like a whore. Players like Koke, Llorente, Carrasco, Lemar…. They play great. He who defends, defends, and attacks, all attack. That game to game is a great motto and allows you to keep doing your job.
-Will one day talk about Michelism?
-I don't think I have that level. That is achieved by the coaches who have titles and who are more recognized. We have our own style and it is impossible to separate the players and tell them not to do what they have done in the last three years, which has been wonderful. We have to keep doing that with our idea. We are going to try to be an aggressive Getafe with and without the ball. Without the ball it was tremendously and with the ball because it is also a good way to defend. We are going to look for game alternatives so that the ball is the protagonist.
-Little to do with what has been seen in recent years with Bordalás ...
-Well, very similar. I don't think the goals were scored by the opposing team. Getafe put them in.
-Do you have a reference coach?
- No. I like some, but I'm not talking about any.
-In the Eurocopa it was found that there is great equality at the level of national teams. Do you notice that it can also occur in the League?
-In the League, in the last five years, the coaches have been less restless. We have done a lot of cut and paste. I think that now we are once again more restless and looking for solutions that have to do more with the ball and less with the defense, because it is possible to defend with the ball as well.
-What signings are you still missing?
-In the face of Sabit's injury, who was going to be an important player, we have to strengthen ourselves in the center of the field, and an attacking player or two more.
-And exits?
-There is a possibility that four players will come out. We don't want a lot of staff. The idea is to be 21 or 22 and pull the affiliate. We are going to look at the subsidiary a lot.
-Did you know the Mexican Macías? How is it?
-I know him a lot. You have to try to be calm. If we push him and ask him to be the top scorer from the first game, we are not going to get it. So calm down. He is a very good footballer.
-Is your idea to play with two forwards?
- Yes, yes. Always two forwards.
-What Vitolo has come to you and what Vitolo will we see?
-A person who calls you personally to tell you that he wants to come to Getafe is already an emotionally committed and unstoppable player. We want him to get well physically and we see that the Vitolo we know is becoming more and more.
-He would be satisfied if Getafe finished the League in the position…
-Among the top eight.
-Is the Copa del Rey an option or a hindrance?
-You have taken it out of my mouth to say 'and reach the final of the Copa del Rey'. The Cup is a tournament that I love and a door to reach Europe.
-It will hurt your tongue to answer this question, but it is almost obligatory in an interview with you, are you still waiting for Real Madrid to call you one day?
-I've never had that hope. What I want is to be a coach, with one shield or another. I love what I do and I feel just as important anywhere.
-And the Selection? Don't say you've never thought about it ...
-Yes, the Selection more, and I have had some occasion. Now the dynamics have changed, they are no longer coaches in their last stage but rather than coaches they are coaches and the roads are opening, not only for me. In Spain there are ten potentially interesting coaches to be the coach. That is good for the President of the Federation.
-When did you have the chance to be a coach?
-I had options when Lopetegui entered and, later, I know that I was in the shortlist of candidates in which Rubiales chose Luis Enrique. The first time I did meet with the Federation and the last time it was a verbal conversation with a close person. Just because I'm being discreet doesn't mean I haven't had a choice, huh!
-The physicist rules in today's football. Would the footballer Míchel fit in?
-I don't even want to imagine it. That they take away the 'bailao', so let's leave it there. Today's footballer has fundamental parallel care, food, recovery, things at his service, physios, doctors, study of each individual player, how much they move, where they move and how they move ... I don't know if, we would have had So much so, we would have been stunned, because we were players of vocation and initiative. Now the player is more prepared but has less brain.
-La Quinta del Buitre marked an era standing out for its quality and styling. Would they have a place in today's football, in which even the virtuous is breaking stone?
-Do not believe, if you could measure what was running then people would be surprised. The thing is, we weren't as tough guys as the baby boomers, but… .
-What current soccer player is similar to what Míchel was, reminds him of you?
-I could not say, fundamentally because the wing player has almost disappeared, it is more an interior that plays inward. The last one, Pedro León, perhaps. I was a bit of Pedro León.
-Who would like to put a center from the band?
-I was lucky that my centers looked better from the forwards. I don't think my crosses were as good as his shots. Without false modesty, I think I played quite well, used both legs, one year I scored 16 goals, did not injure myself, played every game, was a team player with a good technical level and very competitive.
-You were known for your elegance and your parabola career centers, but few will remember that you were the top scorer in the European Cup (now the Champions League) in 1987.
-And the year that Hugo Sánchez broke the record by scoring 36 goals, I scored 16 without any penalties, and I always joked: Hugo, you have scored 36 goals with 14 penalties, if I had shot them the Golden Boot would be mine and not yours. Two years ago, I think, a piece of information came out that if Messi gave a goal pass against Girona, he equaled my assists record, if they were counted then.
-What made you happier, did you pass or score a goal?
-Always, give a goal pass. It's like in my personal life: I like giving gifts more than being given them.
-Míchel has never been one more, are you aware that it generates media noise? Debates, conflicting opinions… .
-Many people tell me but, honestly and sincerely, I do not perceive it. It's something my wife tells me a lot.
-To finish, does it bother you that there are people who have you labeled as a chop, not cool, or does that go on the Madrid card?
-It goes on the Madrid card, in the 8 (mystical and dorsal number with which he played) and because of envy. Honestly, I don't care. My energy is positive.
Photos from as.com