"I made it clear to Atlético that my main objective was to stay at Ibiza"
Castel, a UD Ibiza striker, signed by the Ibiza club after being on loan from Atlético de Madrid last year, fine-tunes his set-up.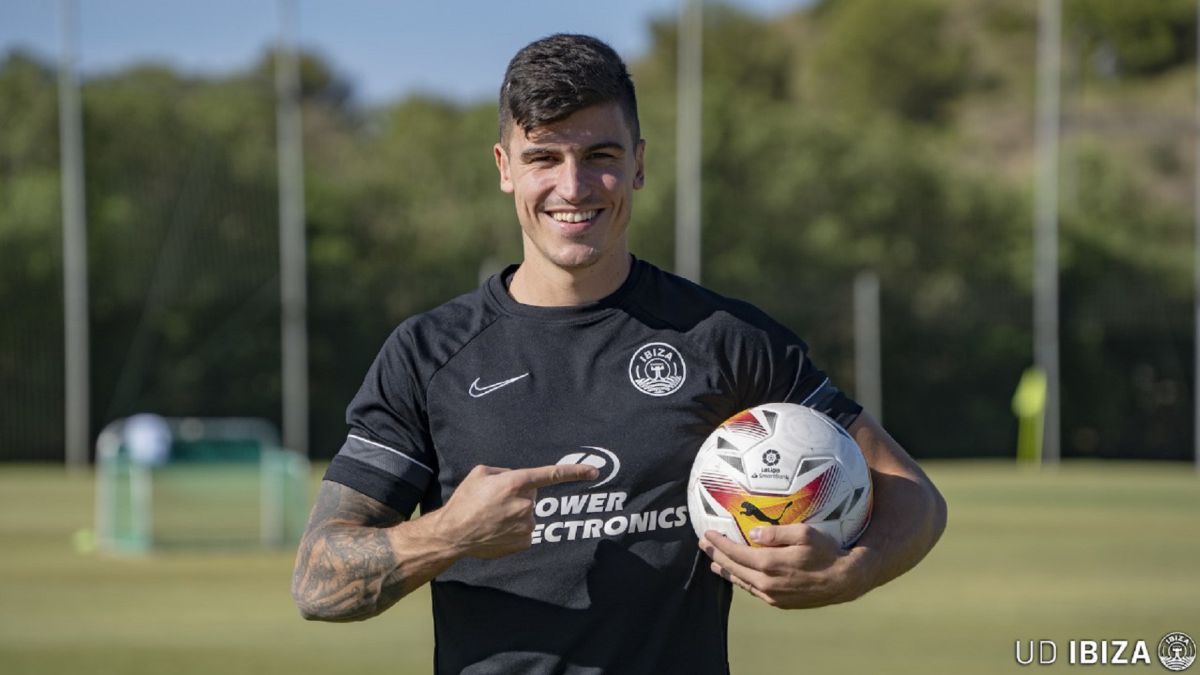 Sergio Castel Martínez (Madrid, February 22, 1995) will be one of the many UD Ibiza debutants in the Second Division. The Madrid striker never had doubts that he wanted to stay at the Ibiza club, with which he shone last season.
How are you looking at the preseason?
Starting with a lot of physical load, as it is at this time. The truth is that we are very tired. But it is what it touches.
How did you arrive personally?
Well, I came from just married, on honeymoon, and after having passed the covid. I have not arrived in the best conditions, but little by little I feel much better physically. And it's true that thanks to Sergio [Domínguez, the physical trainer] and others they get me ready right away. I notice it a lot.
How do you see the new teammates, the signings that have arrived?
Well, I see that they integrate very quickly. It is true that we too welcome people very easily and quickly. I think they are players who are going to give us the extra we need for this season. Their resume speaks for itself, they are seen as good people, very close, and they will fit in well with the team.
What can you expect from the team this season?
Although it sounds cliché, honestly, we are going to go game by game, as Cholo says. It's reality. In the end, thinking about saving ourselves, or ascending or whatever, is talking in order not to be silent. We are going to go to any field to give everything and try to get the three points.
How about the Second Division?
I think it's a very nice category, but also very long and loaded.
The start of the LaLiga SamartBank is strong ...
It is a category in which any opponent is very difficult. But the truth is that there are three teams (Zaragoza, Malaga and Leganés) that a priori must be at the top, by budget and by history. But we are going to go with the utmost enthusiasm and I think we can play good games against them.
Are you looking forward to playing in the Second Division?
I'm excited to be with Ibiza in the category. After going through this difficult year due to the pandemic, and because going from Second B to Second is very difficult, I am excited to be here with Ibiza.
You are a newcomer in the category. Nice challenge…
Yes, it will be my first year in the category. I really want to. I know we are going to do well and we are going to be prepared for it.
Was staying at the club always your priority?
We listened to offers, of course, but I always made it clear to my representatives and Atlético de Madrid that my main objective was to stay at Ibiza. Also because of the fact that they know me, we are a small family and it is a very close and familiar club. You couldn't be in a better place than here.
The season will turn out as it will, but are you psyched because it may happen that this will probably not be like the last one, in which they won almost everything?
In principle, a priori, it will not be like last season to win everything at once. In other words, there will be difficult moments, moments in which we will have to be together. That's where the real union is going to be seen. But I think we are prepared for those moments. We are also aware that there are 42 days and not 20, like last year. Change everything a bit.
Do you get the illusion of the people?
Last year we managed to attract that illusion to the island. It was seen in Badajoz [in the promotion phase to Second]. It was very far from Ibiza and a lot of people came to cheer us on. I think it is going to be a very beautiful and exciting year for the entire island.
Can you imagine scoring Ibiza's first goal in Segunda?
Well, being a forward is possible, I'm not going to fool you. As Morillas or any of these put it, we're going bad [laughs]. Better that we put it one of above. It does not matter, who gets in there and we win 0-1 [in the debut in Zaragoza] with a goal, if you want, at own goal.
This Saturday they have a friendly match with Mallorca. Good touchstone to see how you are…
He is going to be a very tough opponent, of a higher category. We have a lot of respect, but not afraid to face anyone. Logically, now in preseason it costs a little more and is more to pick up pace than anything else.

Photos from as.com