La Vuelta 2021 will be "the most sustainable edition in history"
One more year, Ecovidrio and the Vuelta will apply new measures: 'Eco Zone' every 40 km, the Green Squad during all stages ... "There is a cultural change", they highlight.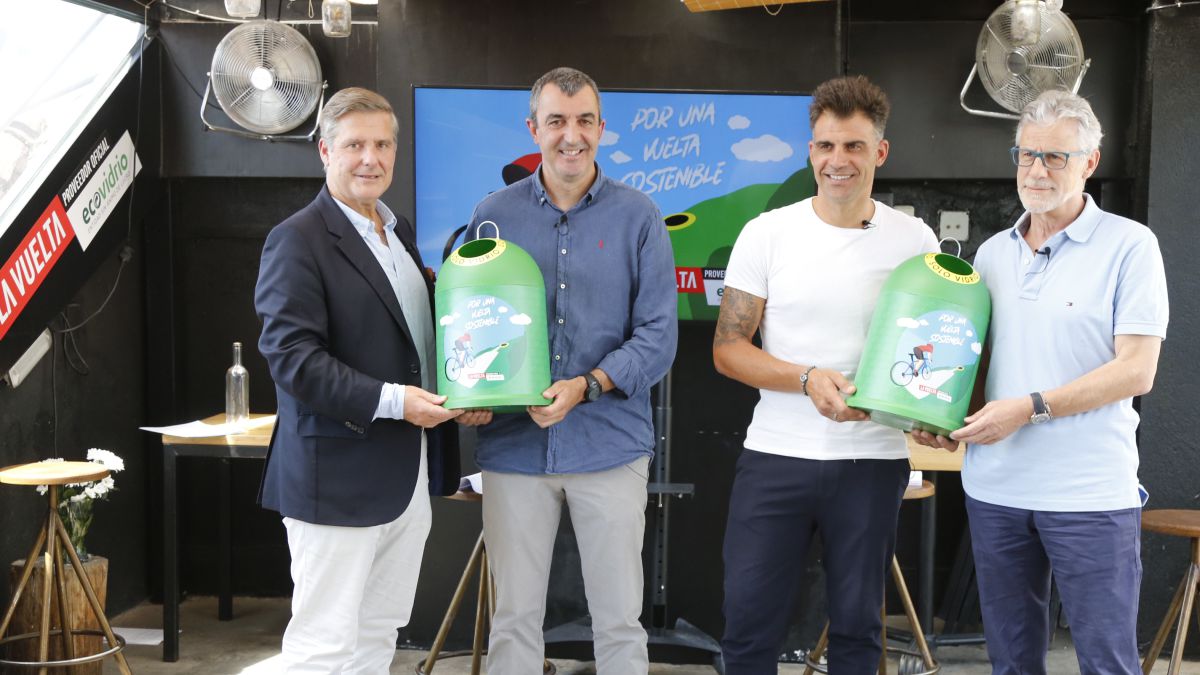 In a central Madrid rooftop (The Hat), Ecovidrio and La Vuelta ratified their agreement and unveiled new measures to improve the environment that will be applied in this year's edition, which will be held from August 14, starting in Burgos , until September 5, ending in Santiago de Compostela. The event was attended by Javier Guillén (race director), Borja Martiarena (Ecovidrio Marketing director), Óscar Pereiro (entity ambassador and winner of the 2006 Tour de France) and Javier Ares (Eurosport commentator) .
"La Vuelta is an ideal setting to raise awareness among the public and fans in general. It will be the most sustainable Vuelta in history because, in addition to the measures we took in the numerous previous editions in which we worked together with Ecovidrio, in this one we will add more ", highlights Guillén. "By UCI rule, you cannot throw garbage or drums outside the permitted areas. We will increase and encourage this, with waste areas every 30-40 km in the race, so in some stages there will be up to 6 or 7 (called Eco Zones). At the initiative of the runners, they will be notified 1,000 or 500 meters before, so that they prepare, "added Guillén.
Those present highlighted "the cultural change" that has taken place in recent years, since these measures are taken by many runners on their own initiative, delivering waste and drums to cars. "We have gone from being a sponsor to a partner of the race. We are looking for the best way to generate the least possible environmental effect and reduce the carbon footprint," explained Martiarena, that "the values of cycling are similar to those of recycling." "22 years ago it was not recycled, and today 7 out of 10 glass bottles end up in the green container" .
For the first time, the so-called Green Squad, made up of environmental volunteers from Ecovidrio, will make collections at the end of each stage, regardless of the route: mountain, flat, urban ... and there will be the largest container in the world (8 meters high ) at the exit in Burgos and at the end of Santiago. "It is very nice to see how everything has progressed. From a brushstroke to raise awareness until now, that Ecovidrio will put all the green areas in each stage," Pereiro stressed. "Years ago we saw strange when runners threw things at the same time. Little by little, it is being the habit and in cyclists I am seeing it. There is no going back, our sport enjoys nature and we must be an example," he said the Galician. A sustainable Tour for the good of all and with the intention of making it part of the fans' day-to-day life.
Photos from as.com