The Japanese, who shone with Japan against Spain, knows that he will not have a gap in Madrid due to the number of foreigners and studies the possibilities: Real Sociedad, on pole.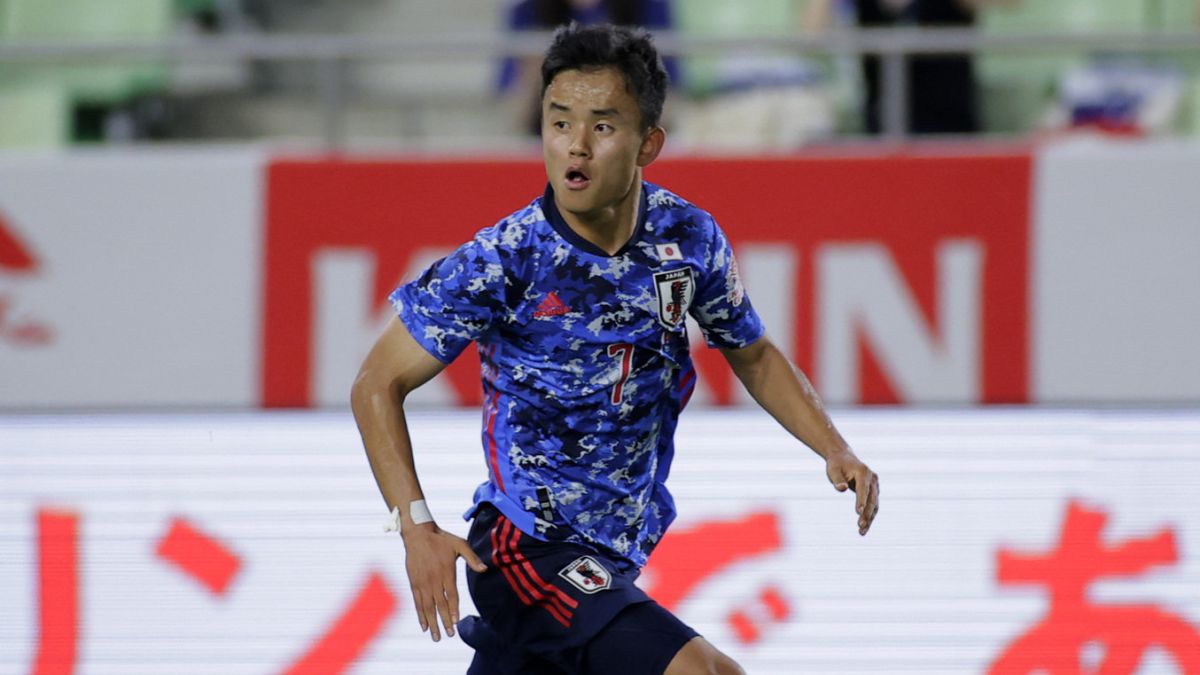 Kubo is still looking for a way out to fit in with a team for next season, while playing and shining with the Japan Olympic team. The little Japanese footballer was the best of his national team against Spain in the friendly preparation for the Olympic Games, which will take place in his country. He appeared everywhere on the attack front and was decisive for Japan in the 1-0 action, with a great overflow against Zubimendi and goal assist.
Kubo was hoping for an opportunity to stay at Madrid this year, although he was realistic and knew that it was very difficult for that to happen. It is not a question of competition, because the battle in the white attack is more open than ever, after a course in which neither Hazard, Rodrygo, Asensio nor Vinicius convinced. But their non-EU status is a problem for Madrid, since the quota is already full and now they run the risk of not having a place for someone thanks to Bale.
The Briton, until now a community player, has passed away due to Brexit. A solution is not ruled out by means of a change in the legislation, as happened last year, but at the moment Madrid has four non-EU members: Militao, Rodrygo, Vinicius and Bale. Vini is in the process of being nationalized, but the procedures are delayed due to the pandemic and it seems impossible that he can obtain dual citizenship for the season that will soon start. And under these conditions, the inclusion of Kubo in the template is impossible.The third assignment of Kubo
Therefore, the Japanese already knows that what he has to do is a new assignment, the third in a row. Two years ago he played on loan at Mallorca, where he shone and left a very good image, so much so that now the vermilion team is studying to apply for his loan again. Last year, however, was a setback for him: he did not reach 1,500 minutes, with two goals and four assists. He played the first part of the season at Villarreal, where Emery promised him a relevant position and then did not deliver. And then he went to Getafe, with much more prominence, but where the team's free fall rhythm, with Bordalás already thinking of leaving, hurt him when it came to shining.However, Kubo has a multitude of options to go on loan this season, from Spain and abroad, although the team that is leading is Real Sociedad, which has requested his loan. Madrid considers San Sebastián a good team for Kubo, with a football sensitivity in line with the qualities of the Japanese and with a culture of giving prominence to young people, and even more so with Imanol Alguacil on the bench, who guarantees that if Kubo wins it , you will have opportunities. The experience with Odegaard was unbeatable and Madrid is committed to repeating with Take Kubo, who is forced to decide while immersed in the Olympic Games in his native country. Japan begins its participation on Sunday, July 25 and could be extended, in case of reaching the final, until August 7, just one week before the premiere of LaLiga.
Photos from as.com