Kravets: "I did not come to Sporting last year because of the coronavirus"
The Ukrainian, who has already trained under Gallego, says that he preferred to go to Poland after having spent a month and a half alone due to confinement.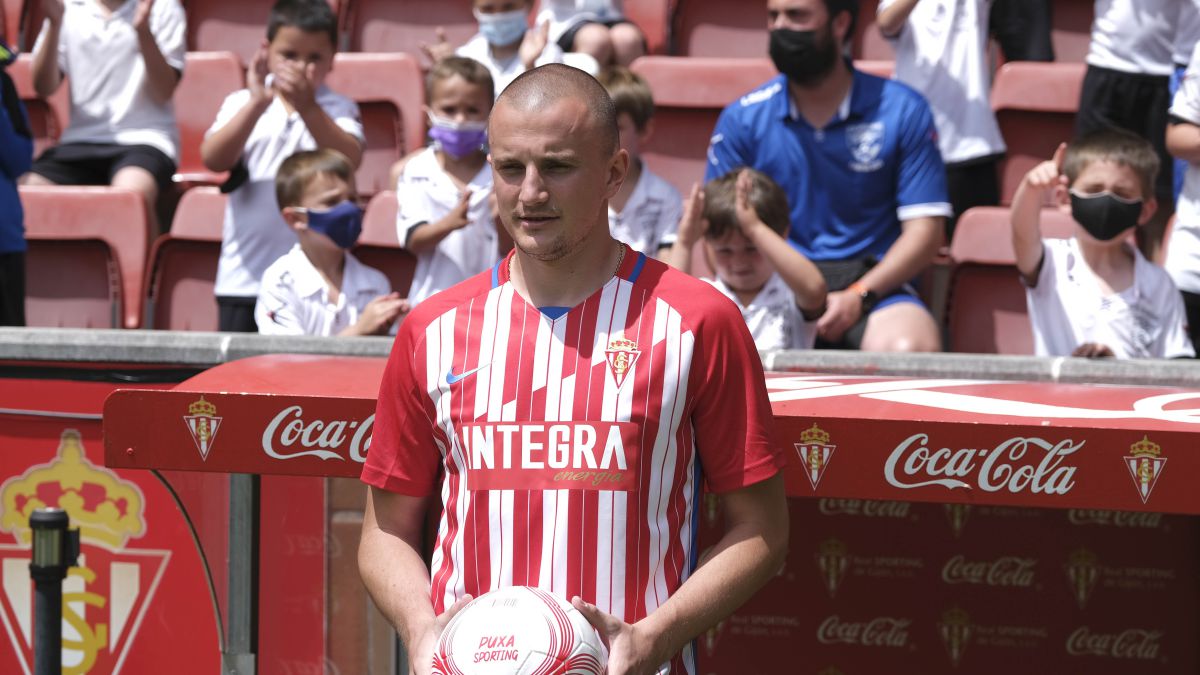 All Sporting signings last season, including coach David Gallego, were presented at the El Molinón stadium, as on this occasion Vasyl Kravets, the first reinforcement for the new campaign. However, you have to go back a long time to find an event of this type with an audience in the stands, offering the first applause to the newly arrived footballer who thus received the warmth of the fans. "Hopefully we can go up to LaLiga Santander," he said in the press room.
The surprise was both for Kravets and for the group that was enjoying the Tour del Molinón at that time. The majority were children from CD Romanón, from Pola de Siero, who were able to take photos and collect autographs of the first Sporting signing, always respecting the security protocol, with masks and distances. "I wanted to come here because I like Sporting," the footballer had commented before those photos and the applause.
Vasyl Kravets has seen a wish come true in the last week. Javier Rico, the sports director, revealed that the player was a rojiblanco target last season but the paths did not cross. "I did not come to Sporting last year because of the coronavirus," explained the Ukrainian who confessed to having had a very bad time during confinement in Lugo. "I was home alone for a month and a half; I had a very bad time," he recalled.
That circumstance did not want to be repeated, a risk that was running in Spain in the middle of a pandemic. "That's why it was better for me to go to Poland, because if we had another confinement, the team would let me go home," he added in his explanation. "But now I wanted to play in Spain again, I had several offers but I decided on Sporting" .
Kravets started the day by participating in his first training session under David Gallego. "I am very happy, happy, because the teammates and the coach are very good people," he commented. "I think we can go up to First," he added.
His definition as a footballer was very graphic: "It depends on the game. If we have a game in which we have to win for sure, I can play as a very offensive winger. If we have to play a Cup match against Barcelona, we have to play in defense and we went on the counterattack. The first thing I am is a left back ".
His performance at Leganés was not as expected. "We would have to ask Leganés; I left all my heart, all my strength there, but I had six or seven chances. I think I played normal, not bad, but then they tell me that they don't want me," explained the Ukrainian defender.
Kravets could coincide in the next few days with Christian Rivera, with whom he shared a dressing room at Leganés. "He is a very good player, a very good person. I think that, if he comes, he would help us move up to the First Division," he said about the Gijon midfielder who is expected to terminate his contract in Las Palmas.
The emotional day at El Molinón concluded for Vasyl Kravets with a photo on the stadium lawn with his family, his wife Yarynka and their little daughter Emilia, also alongside his representative, Olena Myskiv, manager of the Future Global Soccer agency.
Photos from as.com