Koeman draws conclusions: Messi, Pedri, signings, veterans ...
The Dutch coach reviews several names of the Blaugrana current affairs, with special mention of signings, in an interview on Barça TV.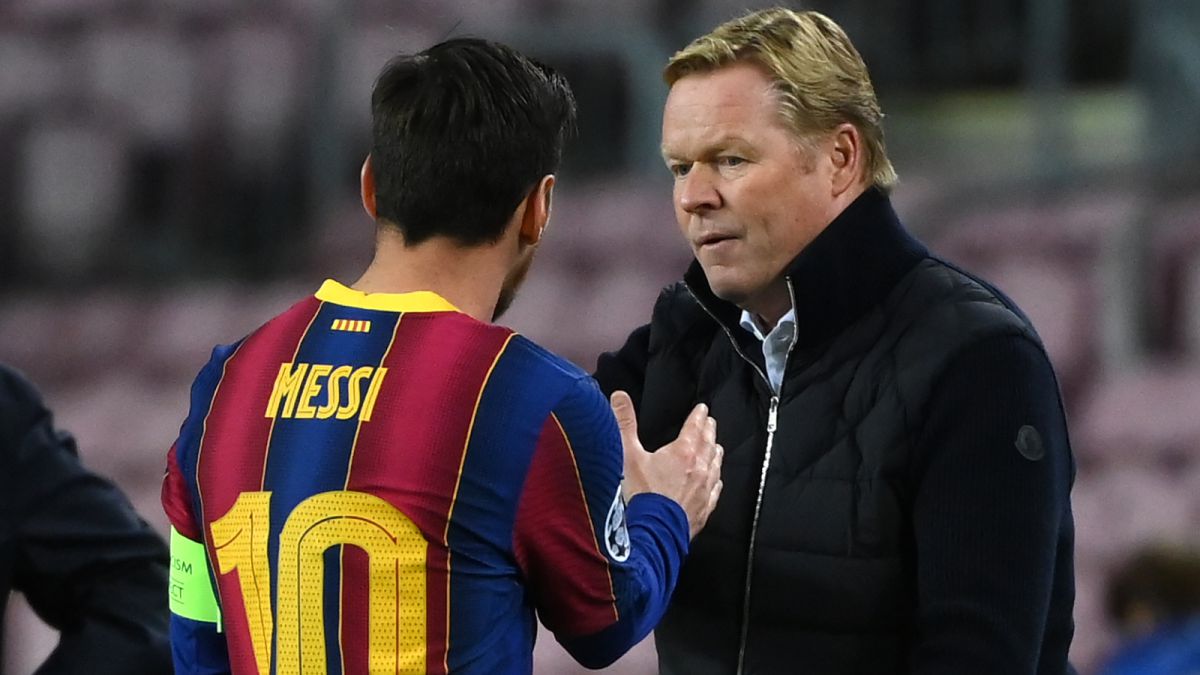 Ronald Koeman considers the continuity of Leo Messi vital, bet on a balance between "veteran and young players", highlights the quality of the new signings and takes his hat off to the explosion of Pedri in an interview broadcast this Sunday by Barça TV.
Messi: "He is very important, he is our captain and an example. His effectiveness has been enormous, after a difficult start. He really wanted to win the Copa América and as he is the best player in the world he is used to winning titles. For me he is the favorite to win the Ballon d'Or ".
Busquets, Alba, Sergi Roberto and Piqué: "The most veteran have a place in the squad. They already showed it last year. It is important that they be with us. In a club like Barça there must be a balance between the young and the oldest ".
Depay: "I know Memphis very well. He has a lot of character, physicality, speed, he can play in different positions in attack and he is also the perfect age to show it."
Agüero: "We had to improve our performance at the top and we are talking about a very experienced and dangerous player in the area; the important thing is that he is physically well and we have to keep him in the best possible shape" .
Eric García: "He has had a great Euro Cup. He comes from here and despite his youth he already has a lot of experience. He plays in the same position as mine. With the ball he is very good and we can improve a lot in the game from behind."
Emerson: "He is one of the best full-backs in LaLiga as shown by the fact that he has been convoked by Brazil despite the competition that exists. He is going to give us a lot of physicality and fits into our way of playing"
Pedri: "His Eurocup has been phenomenal. He is playing with impressive maturity. His football is improving and he is also an honest and calm boy. He is an example of how a young footballer at Barça has to be. Games because he has many games on him. He has played a lot and we will have to give him a break. As Pep said, two important competitions in the summer are many, but we cannot do anything ".
Koeman: "We have a responsibility to do great things" Ronald Koeman also spoke about the season in an interview he gave this Sunday to the club's official media. To begin with, he assumed without any qualms that his team has to face the course with the challenge of winning titles, convinced that with the help of the fans it will be achieved: "We have a responsibility to win important things. I hope a lot of things this season and that we do better things, although it will also depend on the squad we have. I know the club is working on many things. "The Dutch coach stressed feeling supported by the president Joan Laporta to face this new project: "It is important to have the support of the president and the club, although I am aware that the results are what end up marking the path of the club. Laporta is very involved with the team and that is very important. We are in a big club and we must have a winning mentality. "Koeman hopes to be able to play games with the public in the stands: "I am very excited to be able to play with fans in the stadium. It will also be important for the players. "Regarding the rivals for La Liga, apart from Real Madrid and Atlético, the coach also highlights Sevilla, "a great team that has fought LaLiga to the end."He assumed that the 4-3-3 will not be an immovable system, since "we have shown that the team can play successfully with three centrals" and wanted to highlight the role of the youth of the subsidiary: "There are very young players like Balde, Nico , Gavi or Demir who can give us great things. "
Photos from as.com