Jorge Garbajosa: "Doncic does things that I have not seen anyone"
The FEB president talks with AS of the Olympic Games, the role of Pau Gasol, Luka Doncic, the women's team ... Jorge Garbajosa speaks.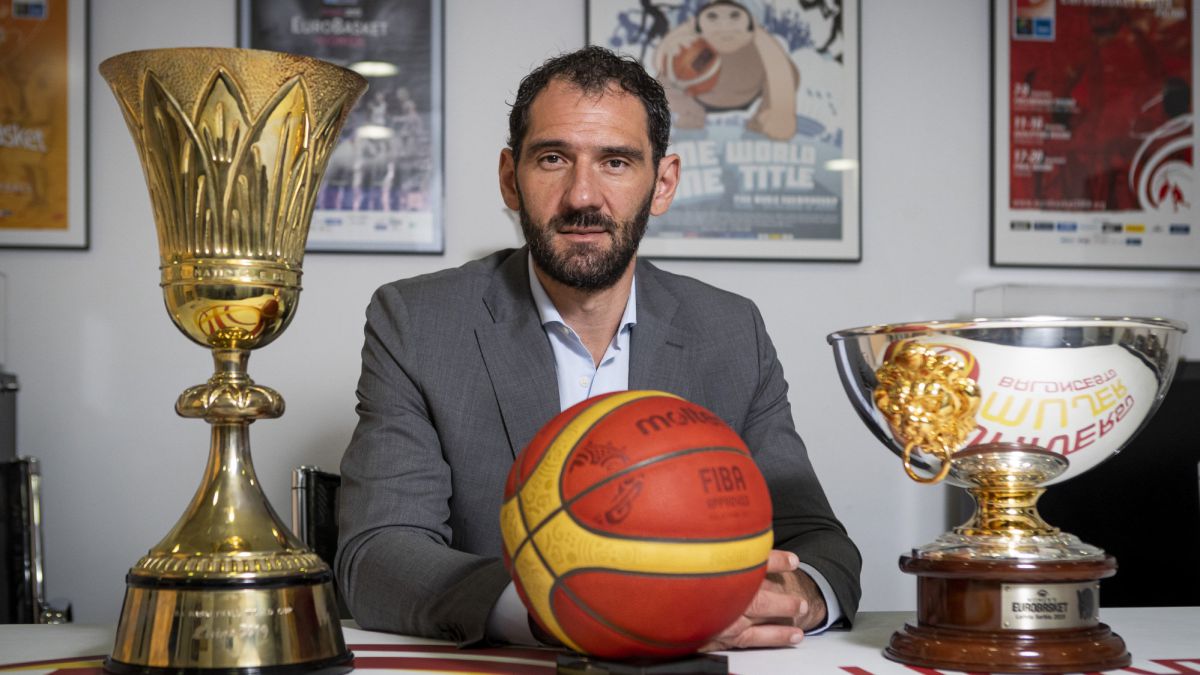 In the final countdown to the Olympic Games, the president of the Spanish Basketball Federation (FEB), takes time and attends AS to talk about the exciting summer of basketball that awaits and La Familia, the documentary of the Amazon Prime Video Selection .
The video call arrives before the prep trip to Las Vegas. On the table, many topics: Tokyo 2020, the role of Pau Gasol, Luka Doncic, the women's team after the disappointment of not going to the World Cup, Spanish basketball in a year of pandemic ... Jorge Garbajosa speaks.
What objective is the National Team set for these Olympic Games so different from the rest?
I don't know if we will win or lose, I have no idea. Yes I am clear that it is one of the most beautiful groups that I have seen get together. See that commitment to the National Team, that respect for the National Team ... And not only Pau, he is the great standard because he is Pau ... For everything he has achieved, for his age, for everything he has done to be recovered ... But I also see the same commitment from Marc Gasol, Rudy, Ricky, El Chacho… The most veteran, who have won everything at all levels and are still there along with some young people who are pushing, kicking and head-butting the door down. Carlitos Alocén, Garuba, Alberto Abalde himself, the Hernangómez brothers who are very young, Sergio Martínez, Sebas… Players who have insulting audacity. That mix with the intermediates, with the Lulls and the most veteran ... The group is beautiful and super competitive. They will be some very strange Games. From the point of view of the pandemic, of a new competition system, of some pre-Olympics that some favorites such as Serbia have been left out… They are absolutely unpredictable Games. I have no doubt that we will return with our heads held high. I do not know if with a medal hanging from the neck, but with the head held high for sure.
The big dream would be gold with Pau Gasol.
Asking for gold is outrageous, but Pau also said that the only thing he signs is gold. And I like that conjunction a lot. Being aware of the reality, the difficulty of the competition, but at the same time not giving up anything. It is what gasoline gives you and then you can aspire to everything. Then you get it or not. Because the rival also plays ... In times of pandemic, every day is a coin in the air. It is a horror ... It is very difficult to live with this ... That is why the players have triple merit. But I see the team very competitive and very mature. Even the youngest. You see Usman, who is a child, but he has already competed in the Euroleague quarterfinals at the highest level and in a League final playoff playing thirty-odd minutes, with a touched calf, competing with extraordinary maturity ... The team gives very good feelings. Then the competition? God will say!
How do you rate Pau's return and what role will he play?
Pau's journey from the time he was injured until today has been the succession of pleasant news. And some even, I am not saying unexpected, but we did consider it difficult or even improbable. But to speak of Pau is to speak that the improbable does not exist. We are talking about a player who a short time ago was on crutches on a bed at 39 years old and a career that anyone would have said look, I hand over the spoon, I dedicate myself to my family and my life ... But he sets a goal and get it. The comparisons are not good and also neither fair nor real, but I went through a similar injury when I was 28 years old and recovering was very, very hard ... At 40 I can't even imagine ... I can't imagine how much that man has had to work in order to achieve his goals ... Once he recovers, he signed for Barça. He performs at the level, which becomes very important in a league champion team against a favorite and dominating Real Madrid in recent years. And when he finishes with Barça, he prepares in a week practically to be with the National Team. With a thoroughness in the workloads, training sessions, matches, everything measured to the millimeter by the team of his club, staff and now that of the federation. I see him very well. Very intelligent as always to know how to measure how far it can go, what it can contribute and what it cannot. Many times wanting to contribute what you cannot contribute is counterproductive for you and for the group. And that is very measured.
How is Pau Gasol physically?
I see you butt. Very conscientious. Pau's training begins at eight in the morning when he gets up, with his treatment, his diet, his machines and it doesn't end ... Sleeping is part of his recovery. And he is doing it to the millimeter.
There will be a crossing with Luka Doncic!
Y with the current world runner-up and the host team. It seems that everyone has won the game against Japan, but in the World Cup two years ago how they competed with a superstar, with a great coach, such as Julio Lamas… It is a very, very difficult group. And the Olympic Games are very complicated because the twelve best teams in the world are there. And if you have qualified for some Games it is because your level is very high. Above all, the draw has not been the easiest in the world ... We do not cry, we do not complain, but it is a reality. You are the runner-up in the world, one of the best and fittest players in the world who is Luka Doncic with a very good selection behind him, Dragic, Prepelic… It is not just Doncic, although it is clear that he is the great star. This team has never cried. Not when he played a simpler, more difficult draw, not when he won or when he lost. To compete.
Is Doncic so absolutely good?
I have seen him do things that I have not seen him do at his age. To nobody. I have a great idol in basketball who is Sabonis. And Sabonis at his age I think he was not capable of dominating any basketball game like Luka does. Neither did Drazen Petrovic. And it seemed that the NBA is easier to score or assist and reaches a Pre-Olympic away from home to doggy against a huge Lithuania and makes a triple-double with more than 30 points. Dominate the game. For me he is probably the fittest player in the world.
How does the women's team arrive at the Games after the disappointment of not going to the World Cup?
I see it as well as always and also with a certain point of anger at that result in the Eurobasket. The first who have been touched and hurt have been them. The group has given everything. Here the team never cries. Neither the men's team nor the women's team. Nobody cries here, but it is an objective fact. The preparation has been very complicated from the point of view of two positives in the team and what that entails of tests, confinement, not knowing if the players are going to be there ... That upsets all the roles within a team. If Alba or Tamara are not there, others who had a supposedly not so leading role have to take it ... Some who were not going to be there suddenly entered the group ... It is very complicated to manage. And almost without training! Training in groups and with a mask ... And in the end you realize that you are left out because in the first match against Belarus we had a basket in the last second, against Serbia, European champions, we have the free kick to win in rooms ... It's that little detail. They say that the ball does not enter by chance and here we have been very, very close, even with all the conditions. If the preparation is already normal, which I am convinced that yes, with the incorporation of Alba and Tamara, I am convinced that the team will be what it is. A winning team that hooks people, as it has always been.
What does La Familia document?
We have opened the channel at the level of sensations. Everyone knows how the game ended, the nonsense in quotes that we did on the court with the explosion of happiness ... But not everyone knows what happens, how each one and the team manages it, the feelings to overcome the dramatic situation on a personal and professional level… Those of us who have lived it from within see that it is reflected in an absolutely faithful way. The intrahistories of each of the championships, almost all of them successful ... When it all started in 1999, in Lisbon, we were kids ... I wanted to do something that parents are proud to teach our children. Let them see how situations that are publicly very grandiose are managed, how tiny sensations, values are managed ... How the we is managed before the self. How interpersonal relationships or professional relationships are being formed that end up being friends of the soul ... Leaving a legacy thinking almost of our families. I asked if this might interest people. And they told me probably what else. I am convinced that everyone who likes basketball is going to see La Familia. For me this is a documentary about the life of a group with a common philosophy of life. How a group of young people manage to touch the sky without being probably the most gifted in the world to achieve something unprecedented in the history of world sport.
He speaks in the documentary of his classmates as children ...
It is that we were children. In those years you think you are the king of the mambo and you know everything. (Laughs) And when you are 24 years old, you are a child. For our careers, lives, our learning process may be faster, but now you see it with the perspective of time and blessed unconsciousness ... The other day I was reading a phrase that I really liked. Young people have good ideas because they don't know anything. When you start to know many things, you no longer have good ideas. And probably that unconsciousness allowed us to face challenges of extreme difficulty and extreme repercussion from fun and face successes and achieve them.
Do you see any similarities with Garuba leading the younger group?
What I see is a tremendous similarity or tremendous equality in coexistence. With a coexistence like these teams have, then you can win or lose. But without it you can't win. Coexistence means that everything goes from the point of view of respect for the group. You can have a joke for a while, but when it comes to training, and this in huge quotes, it will not be necessary or for the coach to scold you. Your own colleagues are going to give it to you. If you are not training well, you are not impacting the group. And the group is sacred. And that feeling of a sacred group, if a colleague is having a hard time, the veteran and the group go to help him. If you make a small mistake, the group is the one who will advise you. Respect for the group, for the family, is sacred. And that remains.
What can you say about Pepu Hernández, a key figure present in the documentary?
Despite what has been said in the media some years ago, my relationship with Pepu is extraordinarily good. I consider him a friend, a person for whom I have a lot of personal and professional appreciation. Pepu had many merits because to be world champion you have to do many things well. He had a great merit that was understanding the psychology of the group. He knew how to understand what each of the members of the group and the group needed at all times. At that time, we had been at the gates of something great for five years. In 2001 we were bronze, in 2002 we lost in the quarterfinals of a World Cup, in 2003 we were silver, in 2004 we lost in the quarterfinals of a very tough Olympic Games ... The group was about to break, but it did not finish. He, on a psychological level, knew how to touch the key of confidence so that we could break that mental barrier and become world champions. From there it has been a cascade of revenues.
How do you feel in the role of president already in your second term? Would you rather be on the track?
I would always play again. He commented on it with colleagues who are retiring like Felipe Reyes or Fernando San Emeterio. No matter how well we do afterwards, we are never going to do as well as players. It is a beautiful time. It is hard, very complicated and there are days when it is difficult to get out of bed, your whole body hurts… But when you look back it is the most beautiful time you can live. Without a doubt. Now I feel very good. Because also, and I say it with all the humility in the world, when I arrived five years ago, for different reasons, I found a basketball divided. Weaving, joining, proposing, talking, now I find myself a tremendously respected basketball in Europe and around the world. And I mean it from the heart. I find myself a Spanish basketball, with its diversity of opinions, united around a common project that is that of growth. With the ACB league itself, around the Higher Sports Council, the Olympic Committee, the International Federation. After the toughest year possible, the year of the pandemic, 100 percent of the clubs have survived the pandemic. Not a single deadline had to be extended. All the places have been filled, there have even been teams to be left out ... A strong Spanish basketball and that makes me feel comfortable and proud.
He spent a lot of time with the players on the court. Do the jokes continue with the change of roles?
Now less and less because every time we see it more normal. Before it was, in the best sense, a continuous joke. I think I know what the team needs. Of course you cannot meet all requests or all needs because it is impossible, but I do believe that we know what is important to them. And we take great care of it. At the same time they know that everything that can be achieved they will have. We are aware of the needs of a group to prepare in the best possible conditions. They know that the relationship is always going to be sincere. That what they are told is the truth. There are no half truths, lies, nothing like that. And that relationship of trust that we have had all our lives. And when there is that trust, you know that you can comment, say, ask, even demand at some point, and that the answer will be sincere. It helps a lot in relationships when it comes to work.
The National Team's Road to Success
The Family (Amazon Prime Video) offers a journey from within with the group of players that went from always staying within a span of success to the glorious cycle of the National Team. A team path traveled by players, coaches, managers and fans.
The documentary, available worldwide on the platform, is produced by Mediaset España and SuperSport and distributed by Mediterráneo.
Photos from as.com