JIM: "Real Zaragoza will have a super competitive team"
The coach sends a message full of optimism, despite the fact that the change of ownership is in the air since only the signing of Fran Gámez has arrived.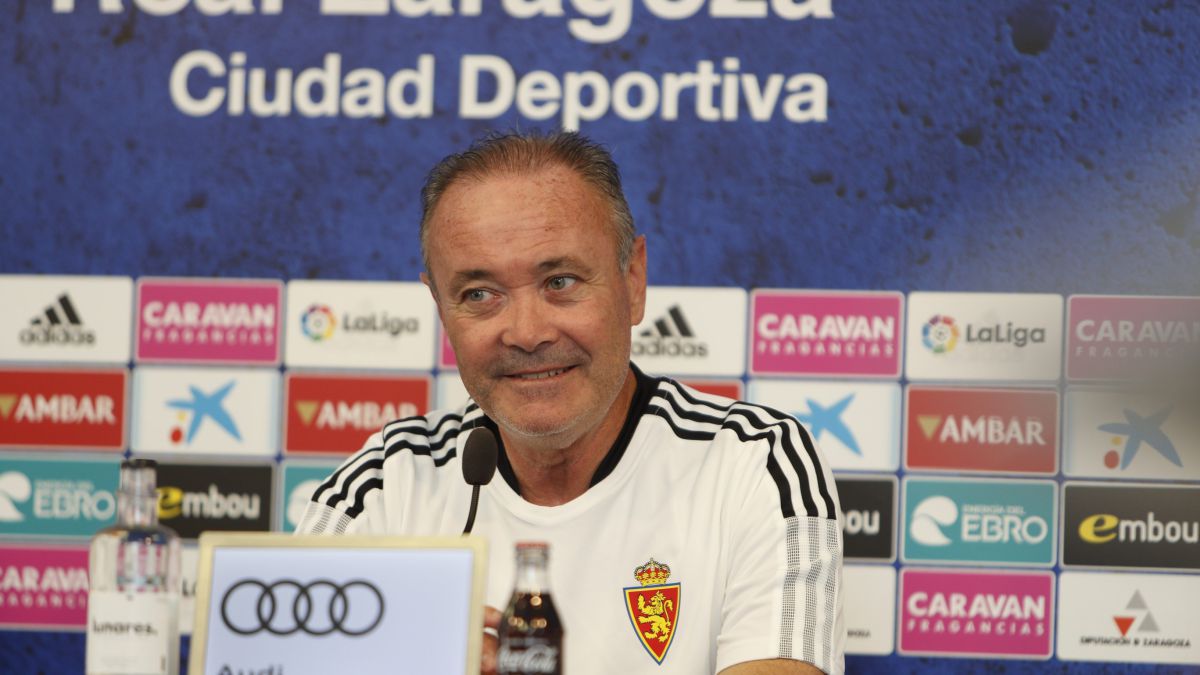 Juan Ignacio Martínez has sent a message of optimism in his first press conference after 14 days of preseason. Despite the fact that the change of ownership in Real Zaragoza is in the air and that only the signing of Fran Gámez has arrived, the Alicante coach has been clear and forceful: "Zaragoza will have a super-competitive team, very good, to lead the club to the place it deserves ".
Calm and convinced: "When the preseason began, the president conveyed calmness and naturalness to us in the locker room, he told us that a change of owners and shareholding could possibly come, but that we had to work in the team. What we are experiencing does not influence me at work. Of course, as a coach you like to have the best team, but that does not happen even in the best clubs in Europe and it does not happen in Zaragoza. And we are in that deficit of players ".
Planning: "For arrivals there should be some departures. We are going to see if a central can arrive in the next few days, but I cannot confirm anything because those procedures are carried out by Miguel (Torrecilla). I do not discover anything with Peybernes, who has already been with us, but he belongs to his club and I do not know how the negotiations are. Miguel will shuffle other names for sure. I absolutely trust Miguel, because he has always made very good teams. Here it will not be less "
Ascent: "When I came in December I said not to name the word Second B. I understand the word First, but I am not going to name it but to speak only of the place that this club deserves for history and for everything. It is not a superstition or a taboo. In addition, Espanyol rose in May and we cannot speak in July of Primera, we would be wrong. But I can give you this message: Real Zaragoza is going to have a super competitive and very good team to face the League and take the club where it deserves ".
Playing proposal: "We will be a recognizable team, protagonist with the ball, with high pressure after loss. We will try to play from behind and generate spaces. Everything we are designing, the players are understanding it well and putting it into practice. "
Fran Gámez: "he is a very offensive footballer, he goes very well forward, he assists a lot and he is all honor. He arrived late to professional football and has had very good seasons in Mallorca, particularly in Primera. They told him about Zaragoza and he didn't think about it, which makes it clear that at that club we can boast our brand. "
Canterans: "Those who have reached the first team in recent times play for their performance. Nowadays, they are kids who are well known by the sports management. They are going to play and I do not look at the ID. If they are able to show their level they will be signings, although I know there is a process with the ages. In training, they spread enthusiasm to the group and they are doing very well. "
Public return: "La Romareda roars. Hopefully, what is now does not go away and almost everyone is vaccinated in the summer. There is talk of a 70% capacity and it will be a good sign. It will be a great welcome from the public to our stadium. "
Photos from as.com