The forward scores in his debut for Las Palmas this preseason. Loiodioce, who had not played since December, started and had an excellent comeback.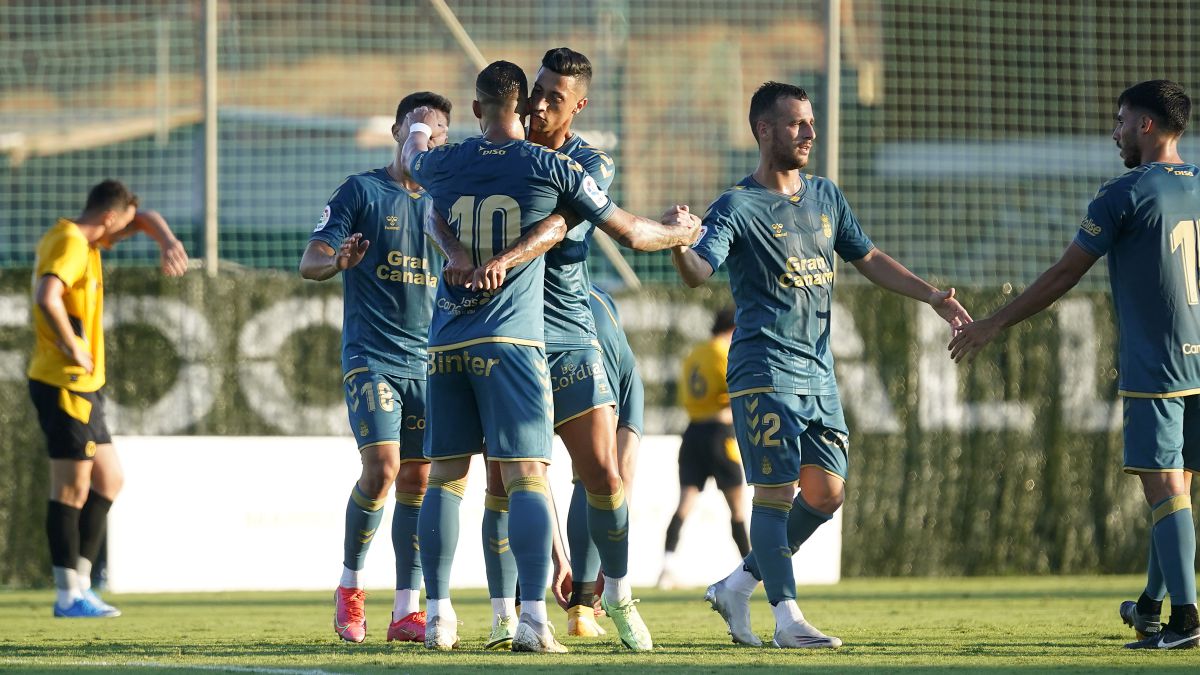 Although with the precautions that the very development of the preseason imposes on you, the good news accumulates for Pepe Mel in the little more than three weeks of work that his team accumulates. It is true that a major player in his scheme like Araujo is already crushing in Athens, and another even more important like Sergio Ruiz is in the cave because of COVID-19, like Rafa Mujica and Cedrés. However, the new incorporations pay off and, after the pachanga against Las Palmas Atlético, Las Palmas is leaving for the moment more than a good stop from its stage in Marbella where, in the absence of facing Cádiz this afternoon, it beat Espanyol (1-0) , lost with the powerful Sevilla (1-0) and beat Wolverhampton, of the Premier League (2-3) yesterday.It was precisely in this Monday's game, filled with good news for Mel, that Jesé Rodríguez and Enzo Loiodice, two of the most prominent footballers of the aforementioned match, returned to activity.It so happens that Jesé, in a permanent struggle against the elements and internal demons, had closed the last year with Las Palmas distilling a bittersweet sensation, perhaps with the melancholy typical of someone who not so long ago was a national football star. Despite being condemned to understand each other, their renewal with the UD was delayed, and on top of that, the attacker from Gran Canaria fell into the clutches, not so severe in his case, of COVID-19. In any case, he arrived in time to travel to Marbella.
On the Costa del Sol he has been completing a personalized set-up plan that included the healing of his battered left ankle. As a precaution he was left without playing against Espanyol and Sevilla, but yesterday he completed a big comeback. At halftime he came in for Álex García, and his usual drive was joined by the success with which he stood out at Real Madrid, attentive to the failure of the Wolverhampton defense to shoot at pleasure and make it 1-3. What cost him so much in his two previous stages with Las Palmas, yesterday he achieved it the first time to the delight of Pepe Mel, with whom he was indisputable as long as he was healthy, a support that Jesé himself does not hesitate to publicly thank. And it is that Jesé already begins.Recital
Enzo Loiodice's debut was not wasted either. The French midfielder had not played a game since December 13, so afflicted with the pubis as he was, when Las Palmas drew 0-0 with Alcorcón at the Gran Canaria Stadium. And yesterday, as if time did not pass for him, he offered a game recital in the first part. Impossible that his inactivity was not noticeable, but he again showed an exquisite taste with the ball, it did not matter if it was short or sending it out of reach. From his boots, for example, the first yellow goal was born with that pass in the form of a sweet kiss flown towards Peñaranda, who ran into Jose Sa before Álex García scored on an empty goal.
Oscar Pinchi, another of this season's signings, also appeared for the first time. Another follower of Pepe Mel's cause, who is making such a pleasant impression in Marbella.
Photos from as.com