Ivi López resurfaces in Poland
The Madrilenian, who admits to being wrong during his time at Levante, has won two titles with Raków and faces his debut in European competition.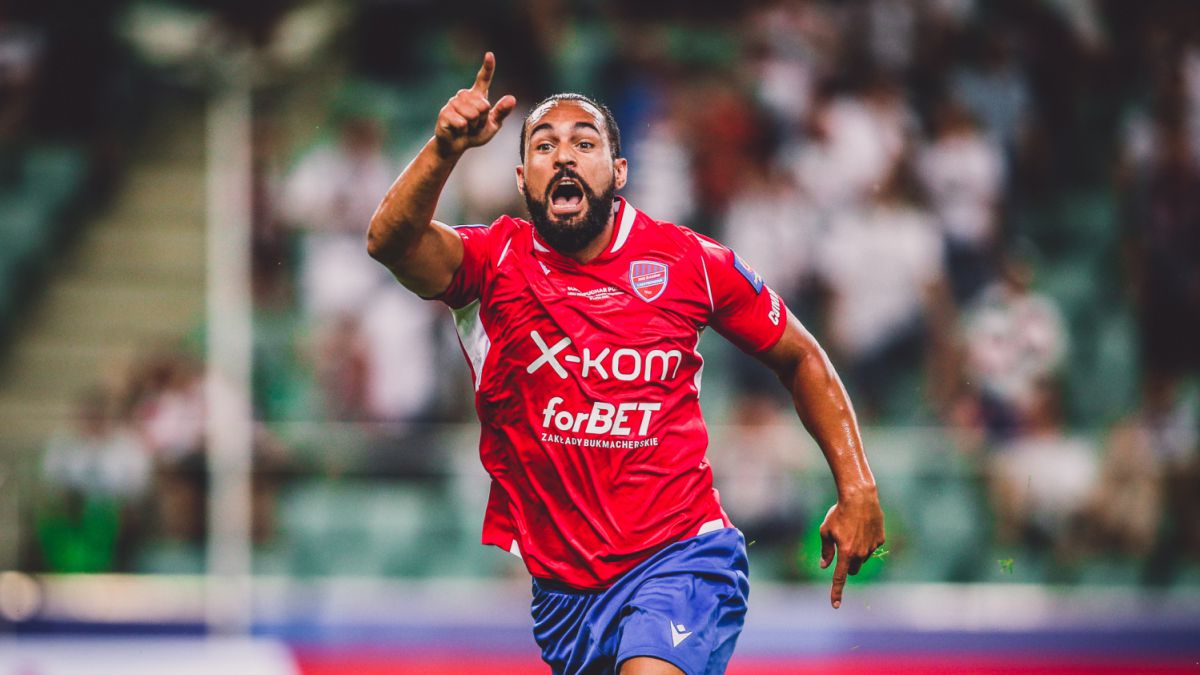 The important thing is not how many times you fall, but how many times you get up. It is the philosophy that inspires Ivi López (Madrid, 1994), who reached glory in Spain but, four years after making himself known by scoring against Real Madrid in LaLiga, he is looking to start from scratch in Poland. The striker trained in the Getafe quarry signed in September 2020 for Raków, a club without history where, against all odds, he has achieved the dream of every footballer: to lift titles. "I did not expect to play in Poland, but you never know where you will find happiness. Nor is it that I want to be here always. I would like to play in other more powerful leagues, but now I am very happy," he tells AS after winning his second trophy in which is his first experience outside of Spain.
Raków, a club based in Częstochowa that played in Third for five years, had not even allowed themselves the luxury of dreaming of winning a title until, coincidence or not, they signed Ivi López. Last season he won the first trophy in its history -the Cup- thanks to a goal from the Spaniard in 80 'and began a new course by defeating a giant like Legia in the final for the Super Cup. The match was decided in the penalty shootout and Ivi López did not miss. "I held on to see where the goalkeeper was launching and he went where he was going to launch, so I had to change sides at the last moment and he came out in the middle. He is not well thrown, but he entered, which is the important thing," he recalls.
Ivi López is thrilled. Because making the decision to go to Poland "was not easy at all", but the way he was welcomed in Częstochowa soon made him see that it would be worth it. "I did not know English, but it was not difficult for me to adapt because everyone was very aware of me. The coach, the second, the teammates ... At no time have I felt alone and that helps a lot." In his first season away from Spain, the Madrid striker scored 13 goals and provided seven assists. He is going through a great moment of form, although he admits that it was not always like that. "When you are young and you arrive at a First Division club, you think that everything is done, but later you realize that football is not like that. If Levante signs you for four years you have to be more professional," laments Ivi, who acknowledges have learned the lesson. "I did things wrong, but I have realized it and now I am prepared for whatever comes" .
The next thing is to try to reach the group stage of the UEFA Conference League. Raków will start their journey in the second qualifying round, where they will face Lithuanian FK Süduva. "We are doing great things and we have started the season very motivated," warns Ivi, who regrets having to cross Rubin Kazan in the event of reaching the final 'play-off'. "But hey, to play the final phase of a competition like this you have to beat the best." The Madrid striker has his mind set on Europe, but looks askance at the start of the Ekstraklasa scheduled for next weekend. After finishing the 2020/21 season in second position, Ivi López does not dare to rule out anything. "There is nothing impossible. We have seen worse things, such as the Leicester Premier. Winning the league is not one of our objectives, but last year we were runners-up and this season we want to fight for everything," he says.
Photos from as.com