Hell Made Defender: Jrue, Phoenix Suns Nightmare
Holiday lit up with his offensive explosion from Game 5 what is being a defensive display. All star in 2013, he came to the Bucks for this.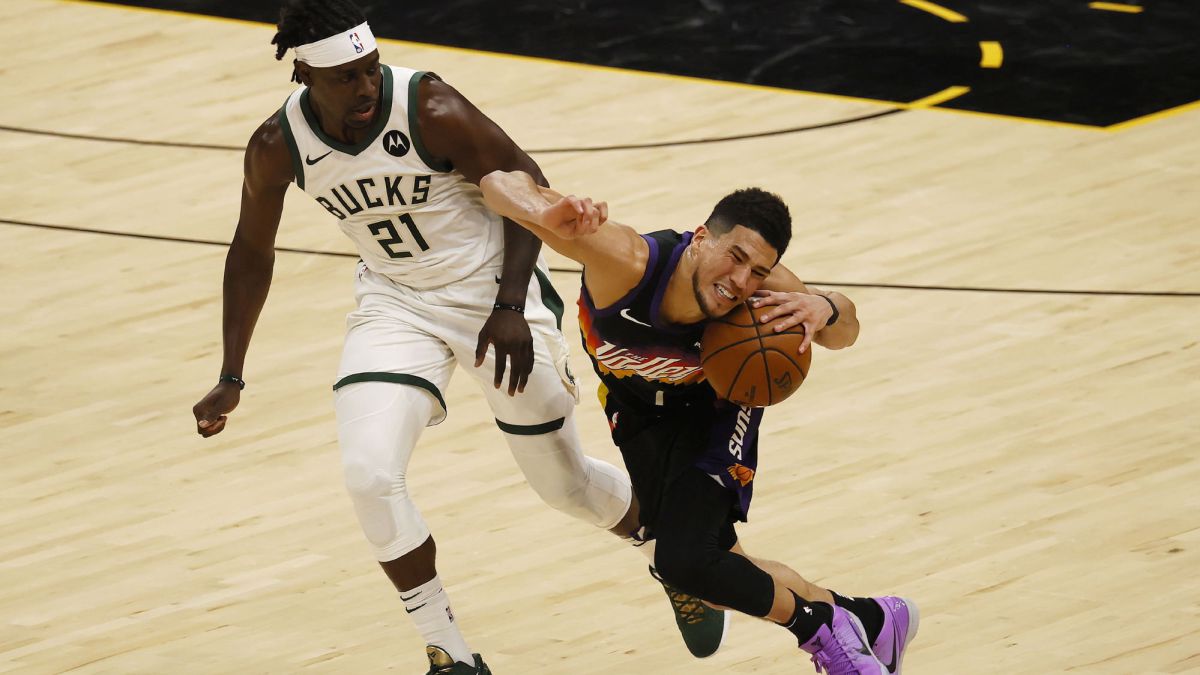 For the first time in Finals history, three teammates surpassed 27 points in the same match: 32 from Giannis Antetokounmpo, 29 from Khris Middleton and 27 from Jrue Holiday. In total, 88 of the 123 Milwaukee Bucks headed to a 2-3 that, with three wins in a row, leaves the Wisconsin franchise with two bullets to win its first ring in 50 years (and the second in its history): the first, on Tuesday at their track, the Fiserv Forum where they have only lost one game in these playoffs. For the second time, three teammates exceed 25 points above 50% on shots in a title game. And these are their numbers since the Suns went 2-0, apparently heading to the ring: 444 444
Giannis: 33 points, 12 rebounds, 7 assists on average with 60% shooting
Middleton: 29 + 7 + 5 with 39% in triples
Jrue: 20 + 5´10 with 39% in triples
If the Bucks complete their revolution and win the title, the MVP will be (surely) Giannis Antetokounmpo, who is on his way to being the first player to sign a 30 + 10 + 5 over 60% shooting in a Finals. And that at 26 years old, he would add the title and that MVP of the final series to two MVPs from Regular Season, a Best Defender award, the Most Improved Player award and five all stars. But it is obvious that, beyond the superlative level and the leadership of the Greek, the Final would not be 2-3 without the display of Middleton in the fourth game and the dazzling performance of Holiday in the fifth. A big three formed for this, to make the final leap: the Bucks still did not know what was going to happen with Giannis Antetokounmpo and some were placing the forward in Miami when they threw their all in. All or nothing after two years of blowing up the regular season and messing it up in the playoffs. If it was about the franchise player seeing that the world could be conquered in Wisconsin, he needed something more than that wonderful Middleton who has been with Giannis since 2013. A life together for an all-star couple who simply needed-something -more.
And Jon Horst, in the Wisconsin dispatches, knew that this plus was a base, weight in the outside rotation. The arrival of Bogdan Bogdanovic went badly but he did not fail in the hunt for Jrue Holiday, although the price was high: Eric Bledsoe (marked by his gaps in the playoffs), George Hill (a good point guard ... substitute), the young RJ left Hampton (too young: pick 24 in last draft) and first three draft rounds. Three bases and three essential picks for the future in exchange, in a four-way operation, for the hope Jrue. That also came with the option of being released this summer (player option of 26 million) and when it was not known what was going to happen with Giannis. The Bucks bet on the present, they bet on the team that was constantly one step away from being one step away from the title and they bet on teaching Giannis that you can be ambitious in a small market, also in this era of the empowered player. And they won. They did so from the moment Giannis renewed for five years and about $ 228 million.
Spotlights for a silent star
Now, the Bucks can cap off that all-in with a title they simply didn't count on. After losing to the Raptors and Heat in their last two steps through the playoffs, it looked like this would be the season of divorce from Mike Budenholzer as the Nets' atomic big three rose, the Sixers hardened and the Heat became fashionable. But, as of July 18, 2021, it is the Bucks who are one game, one step away, from being champions. And that everything has been worth it, whatever happens next. And an essential reason that they have come this far, and that they can cross that last border, is Jrue Holiday.
Jrue is a silent star, one of those gamer players, adored by his teammates and highly valued by his rivals. A very good attacking base, in his best moments, and an exceptional defender in all circumstances. That's what they believed the Bucks were taking, the step forward that Bledsoe was never going to take in the playoffs, and that's what they have received, an enormous value bordered by their 27 points and 13 assists in Game 5, in which left a sequence that will end up being historic if the Bucks are champions: with 16 seconds to play and 119-120 on the scoreboard, he ripped the ball out of Devin Booker's hands and served a definitive alley oop to Giannis Antetokounmpo in transition. Jrue already appeared against the Hawks, when it seemed that the world was ending with 2-2 and the Greek's knee was battered. Without his franchise player he had 25 points and 13 assists in the fifth game and 27 + 9 with 9 rebounds in the sixth. From 2-2 to 4-2 and the ticket to the Finals.
Jrue is 31 years old and has been in the NBA for 12 years. He only played one year at UCLA, where he teamed up backcourt with Darren Collison heading into the 2009 draft: number 17 him, number 21 Collison. There, at the Californian university, he met his wife, Lauren Cheney, a two-time Olympic gold (2008 and 2012) and world champion with the United States women's soccer team. When he arrived to watch a game, a young woman on campus mistook him for Collison and asked for an autograph. Lauren, who saw it all, told him not to worry because he was more handsome than his teammate. The couple tied the knot in 2013, a rocky year for Jrue, who was an all-star for the first (and only, for now) time and was traded from the Sixers to the Pelicans in exchange for Nerlens Noel and a first round. The Philadelphia Process officially began there.
In the Pelicans Jrue experienced years of good basketball and many injuries that questioned the extension of five years and 126 million that he took in July 2017. His response was an excellent 2017-18 season, the best for the Anthony Davis Pelicans than with The two of them, Mirotic's shots and Rajon Rondo's direction, struck down the Blazers (0-4) and challenged the Warriors without luck (4-1) in the second round. In that tie, Jrue defended Damian Lillard at a superlative level and averaged 27.8 points, 4 rebounds and 6.5 assists. In his career he is at 16 + 4 + 6.4, numbers that he has almost nailed in his first year at Milwaukee: 17.7 + 4.5 + 6.1. A total contribution and his second (after 2019) inclusion in the Best Defensive Quintet. That and his leadership, his attitude, his professionalism and his camaraderie was exactly what the Bucks needed. That in April they silenced the debates about their future with an extension of four years and more than 135 million dollars. It's about (by all means) winning now, and the Bucks are about to.
Y is, in part, thanks to Giannis and Middleton having, this time, Jrue by their side. When Budenholzer opted to switch in all defensive positions after the Suns blocks in Game 1, Jrue found himself out of the defensive focus, relegated to scoring outsiders who opened to shoot and unable to influence the game as usual. A POA (point of attack) defensive point guard, he went on to defend Chris Paul almost full time from the second game on. And he has turned the life of the Suns point guard, one of the best in history at his post, into an ordeal. A wall of muscle and concentration of lead, Jrue had had defensive sequences to frame before Game 5, but still hadn't signed a full night in attack in a Finals that started failing everything, far and near the basket. That integral, final game came in the fifth. We'll see if next to a good piece of the ring.
If Jrue wins, it's hard to imagine someone not being happy. Chosen Most Sportive Player in 2021 and Best Partner in 2020, he has been much loved in all the dressing rooms and all the cities he has passed through. His social work is constant, and in the reboot of the Florida bubble he donated his salary for the weeks at Walt Disney World (more than five million dollars) to help African-American-owned businesses and associations linked to the Black Lives Matter movement. No one, really, speaks ill of Jrue and his wife Lauren, who in 2017 gave birth to the couple's first daughter (in 2020 they had a child) and shortly after underwent surgery to remove a brain tumor from which they were she recovered with the help of her husband, who left the clues to accompany her throughout this ordeal. Brother of two other NBA players (Justin and Aaron, both in the Pacers), he is one step away from being champion and days before joining Team USA that will compete in Tokyo. It could add a gold to Lauren's two and perhaps cap off a dream year if the Bucks sentence the Suns. It won't be easy, but that's what Jrue came for: to take the final step, to change everything.
Photos from as.com