Gotti gives his keys to Simeone on the chameleon De Paul
The Udinese coach says goodbye to his franchise player, underlining where he gets the most performance after five years at Friuli. There he played in many positions.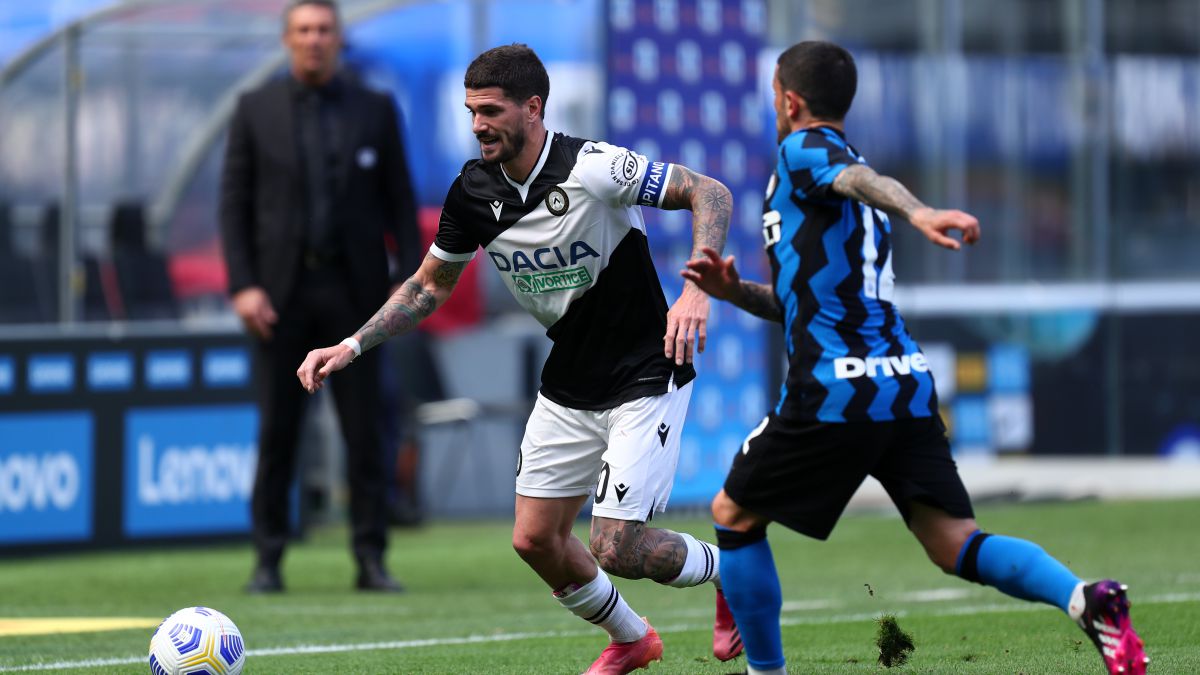 De Paul is already a rojiblanco player. The Argentine footballer arrives after signing a great Copa América, but where all he did was maintain the sensations with which he had ended the league with Udinese. For the specialists there was no doubt, he was one of the three best midfielders in the competition and the man who completely articulated Gotti's Udinese. Nobody better to explain his tactical keys and where he can get the best out of the chameleonic footballer.
De Paul arrived in Udinese in 2016 after having reunited with Racing. He had returned to Argentina after an unsuccessful stint in Valencia. But the player began a remarkable change at all levels, including physical, and that also generated new nuances in his career until he became the current player. De Paúl returned to Argentina to recover sensations with Facundo Sava. There Diego Milito and Sebastián Sajá welcomed him under their wing and became intimate. With Sava he played in various positions during the 15 games, nine as a starter, which he directed. 33% of them were as a right midfielder, but they also expressed themselves as a left or right wing player in the 4-4-2 or 4-2-3-1 proposed by Sava.
Arrival in Italy.
In August 2016, De Paul arrived at Udinese. At first he met Iachini as a technician. In the eight games under his command, his main position was that of a midfielder. Del Neri succeeded Iachini in October and in 59% of the 47 games under his command his position was the right winger at 4-3-3, although he also had moments as an attacking midfielder behind the points at 4-3. 3-1-2. In November 2017 Oddo replaced Del Neri and in 23 games he used De Paul in 67% of them as a playmaker. Tudor's subsequent interim, four games, kept him in that same position.
Julio Velázquez was the bet for the bench in the 2018-19 season. The Salamanca coach managed De Paul for 18 games and alternated a lot. In 31% of the matches, he already acted as a mezz'ala, the term that in Italy serves to identify a midfielder who sits on one of the two sides of the midfielder somewhat ahead of him, mainly at 3-5-2. or the 4-3-3. Davide Nicola replaced Velázquez in November and De Paul went on to wear the captain's band. With defense of three center-backs, the coach once again bet on making him play as a mezz'ala, alternating as a midfielder at times and sometimes even higher as a second striker. His versatility had no limits, but the player he has become now was beginning to be seen, physically and tactically. Tudor took over Udinese again by playing De Paul in 18 games in 2019 before ushering in the Gotti era.
Y is here where the latest conclusions are drawn, as the coach explains today in an interview on the official Udinese channels where he has said goodbye to De Paul and has told how he has conditioned his schemes to get the best of him and where he has identified that yields the most. With Gotti, in 19-20, De Paul acted a lot in the axis of the center of the field in 3-5-2, but little by little he was moving again to that mezz'ala position where Gotti thinks is where he is. see his best version.
In 75% of the parties in which he led the Argentine, he used him there, in the right sector, yes. "We know that, in some way, 3-5-2 is a tradition and a Udinese brand and I have continued to use it to get the most out of a player like De Paul. To get the most out of him and, in my opinion, because It is a module that is very adapted to your abilities. It has positively influenced my choices regarding the game system and I have in mind what the path should be even if the idea needs to be refined. Without De Paul, I will try to change the module, "he says Gotti to give clues to Simeone, who obviously knows the player perfectly as well.
Gotti gives more details about what he has discovered over time with the player. "Watching him play for the Argentine national team confirmed to me, first of all, that he must play as a mezz'ala and not as a midfielder or as a midfielder at the same height as the central pivot. In training I often noticed that between him and Stryger Larsen there was a We are constantly searching for a technical dialogue of great value and from there we try to replicate these dialogues also on the field. However, I think that if I had De Paul available in a high-level team, I would have him play as game director. A coach has to try to get the best out of everyone and at the same time have to be able to add something to each of them, in the end it benefits the team, that is the coach's mission ", Gotti concludes.
Photos from as.com