From Inter to Malaga via Atlético, Alavés and Las Gaunas
Paulino de la Fuente has been presented as a new Málaga player until 2023. Extreme with ease for dribbling, he popularized '' la paulinha '' in his time with Alavés B.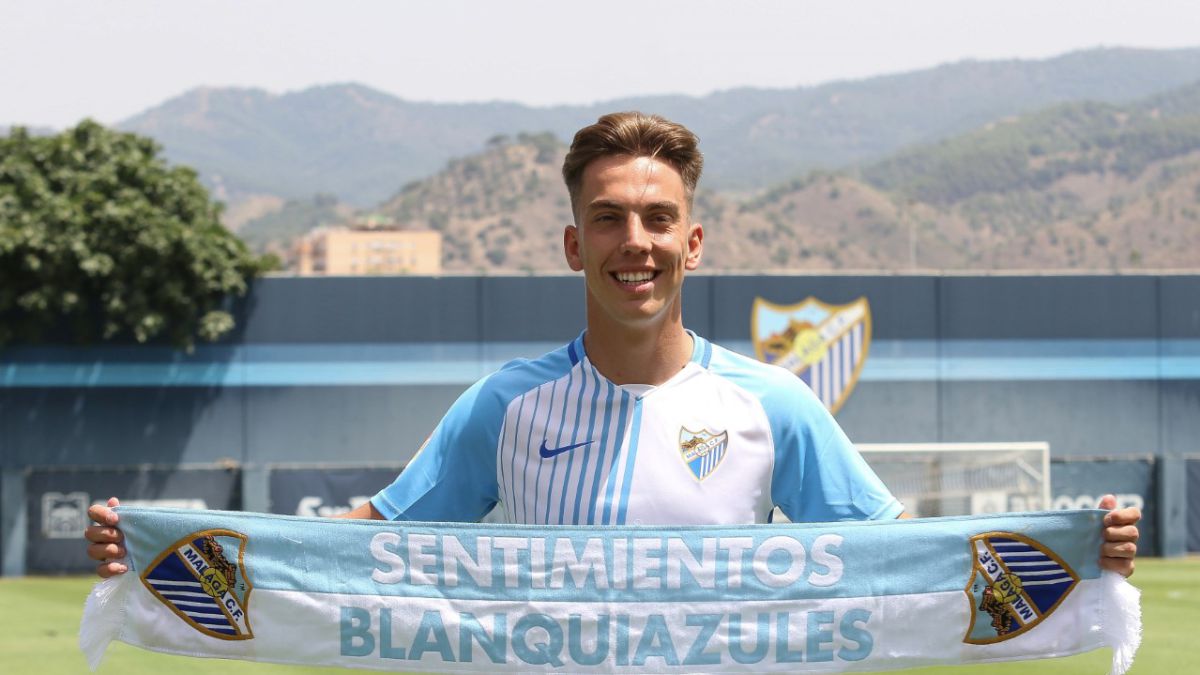 Paulino de la Fuente is Málaga's second signing. The other, Javi Jiménez. The skilled Cantabrian winger has been presented in the Juan Cortés de La Rosaleda press room. A highly merited signing obtained by Manolo Gaspar in tough competition with teams like Zaragoza. Hence, the first words of the sports director were of gratitude to this footballer after celebrating the presence of Paco Martín Aguilar, the beloved advisory advisor of the club who has already recovered from an illness. "Thanks Paco, I'm very excited. Thanks to Paulino because from the first minute he showed me desire and enthusiasm for coming. For us it is a luxury, a priority because of your desire to be here. Thank God it has been achieved. I hope you have many successes, injuries respect you and we all grow together. "
As often happens in recent times, the Malaga brand is the substitute good for economic power. And of course, the persistence of a good sports director. "I want to thank Manolo, who from the first moment bet a lot on me and has shown me that he was eager and excited to be here. It's easy to decide when a club like Malaga is interested. The decision has been easy and when both parties feel like it, there is no problem. "
Paulino is above all an excellent dribbler and well-equipped for taking free kicks. During his time at Alavés B, a move that was dubbed 'la paulinha' became fashionable, which consists of a fast footfall plus a change of pace. "I like risky, aggressive and I try to be as unbalanced as possible to help the team. The individual profile doesn't count for much. I come, with the characteristics that I have, to help the club, put myself at the service of the team and perform at the best ".
At the age of 16, he changed his team of origins, Bansander, to start an adventure with Inter. He made his debut with the first team in a friendly match against Mainz. The coach was Roberto Mancini, today Italy's coach. "It was not difficult for me to go there. When you have an offer from such a big club, you don't think about it much. I had very nice experiences. Debuting with Inter's first team, even in a friendly match, is no small joke. It is not easy at all. I am very proud of the treatment I had there and later at Atlético de Madrid. They are things that happen. And then, the treatment that I have had afterwards in other clubs has always been good. I can't complain and here we are. "
As we said, he is a wing player who also acts as a midfielder. Where are you most comfortable? "If it's through the center, right inside, on the right wing, I feel a little more comfortable. I am available to what the coach believes and sees in me and where he thinks I can help the team. "
He came to play in First with Alavés where he spent four seasons between the second team, of which he became captain and the first ... Pablo Machín did not have him and went to Logroñés. "Playing in First is the dream of any person and I achieved it with Alavés. I am very grateful". Now another door opens for him in La Rosaleda. "Malaga is a historic club. Anyone who likes football knows Málaga. It is a very soccer city, the field, the club and the people inside the club are spectacular. I have only been here for a few days and I can say that they are making it very easy for me. Hopefully with the public it will be a very beautiful year for everyone. "
He came to share a dressing room with old acquaintances such as Keidi Bare or Dani Pacheco. Especially the latter. "He was telling me a little about everything, I know his experiences and 'Pache' only has good words for this club and he is helping me in everything he can. About houses, eating ... he's a good friend of mine. It's easy to decide when everyone speaks well to you and is happy with where they have been. "
His stage with Logroñés. "You are leaving sad because you cannot meet the objective (of remaining in Second). A city also very footballing where, due to COVID, they have not been able to enjoy professional football. Not achieving the goal was a hard stick. On an individual level I can say that luckily I had a great campaign. I have many words of thanks to the club because they trusted me. The club, the players and the people who are there deserve all the best because we put everything on our side and for reasons we could not achieve the goal, which is what we all wanted ".
Jose Alberto. "The coach tries that new players, like him, integrate as well as possible. The sooner we are all at the wheel, the easier the preseason and the season will be for everyone. I have had time to chat a couple of times with him and the truth is that I am very happy with the coach "
Photos from as.com