"The electric car gives a thousand times to a combustion"
"The acceleration is impressive, it will be more competitive than the traditional one", assures an Azcona, which is seen with options of everything in the ETCR.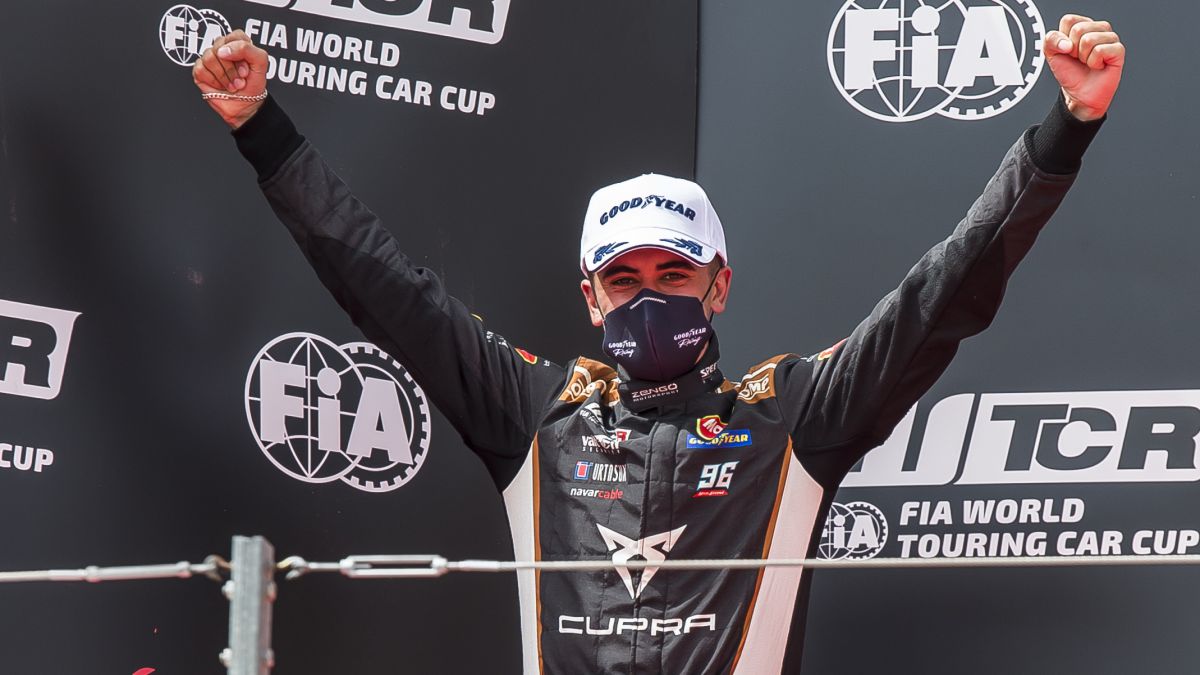 Mikel Azcona (Arrigorriaga, Basque Country, 25 years old) came to the world of competition showing that he had the wood of a champion and although the title resists him, he continues to seek new challenges that bring him closer to his goal. With three years of experience in the WTCR, where he already knows what it is to win and he only needs a more even competition in terms of compensation, the CUPRA rider also immerses himself in an electric world that has not left him indifferent and in which he hopes to record his name at the top at the end of its first edition.
— You've had everything at MotorLand, did you expect more?
—It has been a very bittersweet weekend. In practice it looked like we were about to get into Q3, but later in qualifying we realized that the Hyundais, Lynks and Audis all took what they had in their pockets. It took us a lot of work to get to Q2, I narrowly entered, I was the only CUPRA, and then I managed to do a good lap to get ninth. That result helped me to second on the inverted grid and I took advantage of that race. I'm happy with these points for the championship and also with those of the second race, it was the most we could do. A technical failure with the handbrake made us lose all positions at the start and from then on I pushed all the way to twelfth place. But I left with a bad taste in my mouth.
— Audi is surprising?
— No, not at all. We knew they were going to be here because from Estoril to this appointment they have had double benefit of BoP (Balance of Performance), they have lost 10 mm in height and 20 kg, therefore the car was going to fly. Now let's hope they hurt them because otherwise, we can't compete against them right now. It is clear that we are going to improve ourselves, but the BoP plays a quite important role here.
— Have the readjustments in CUPRA not worked?
— We have been a little better, but not enough. They have simply taken 20 kg from us and in difference to the Hyundai, for example, between the CUPRA and its TCR, from Estoril to here there is 90 kg of difference. That is outrageous and now they are winning races, so they are playing a game that we cannot play. We are with our tongues out. Something we will improve, but in the end the BoP plays a very important role and right now it is not equal.
— Does this change your objectives?
— The start has been a hard start, three difficult weekends, the best second position… so the objective for the remainder of the season is to be among the top 10 and if we are there, as we are with the subject of the BoP, it would already be a lot. If they improve this, I'm sure I can win races, because we saw it last year, also two years ago, and it has been seen in the electric. All things being equal I am the fastest and now I feel angry because we are doing our best.
— Could the arrival of Jordi (Gené) influence progression?
— Very much. Jordi has a lot of experience and I am learning. Before being with him I already thought that my experience was quite great and I think I do have it, but when I started working with him I realized that I have a long way to go. I'm learning a lot, especially the set-up of the car, because it has a lot of feeling with the car and this is also helping me.
— Does it help you understand the change of car too?
— Yes, and that is something very difficult. You have to prepare it very well with the videos, with the data before going out on the track to have a clear reference to braking, cornering speed, how to apply the steering wheel, how to apply gas ... because one car is front-wheel drive, another is rear-wheel drive with 600 kg more, it's crazy. But basically what I do is just before going out on the track, I review all the braking, all the speeds, the gears with the TCR and I get mental. You have to change the chip because nothing matches: braking references are different, speeds are different due to the type of tire… It is very difficult but for me, I think I have managed it quite well. I thought I was going to have more problems, but the balance is good.
— Have you been surprised by the electric car?
Yes, from the beginning I was very surprised and especially the acceleration. This type of car gives a thousand turns to a combustion in that aspect, even with almost 700 kg more weight, but it is something brutal, it is impressive. Therefore, it is normal that with the inertia we have it is a little slower in the curve, but it is a good car and we are also improving and evolving it, so in a few years it will be more competitive than a combustion engine.
— Do you see options?
— Champion. I see myself champion without a doubt because we have already started in Italy being the King of Vallelunga, here we should have been and Farfus has avoided it because it has shocked me… but I feel very strong. In this championship there is no BoP, therefore every weekend I hope to be in front and my goal is to win, of course.
— Go for it.
— Thank you.
Photos from as.com