Elady Zorrilla and Álex Corredera arrive at their best
"I am in full maturity," said the former Cartagena; "I come for all", assured the Catalan. Both were introduced as Tenerife players.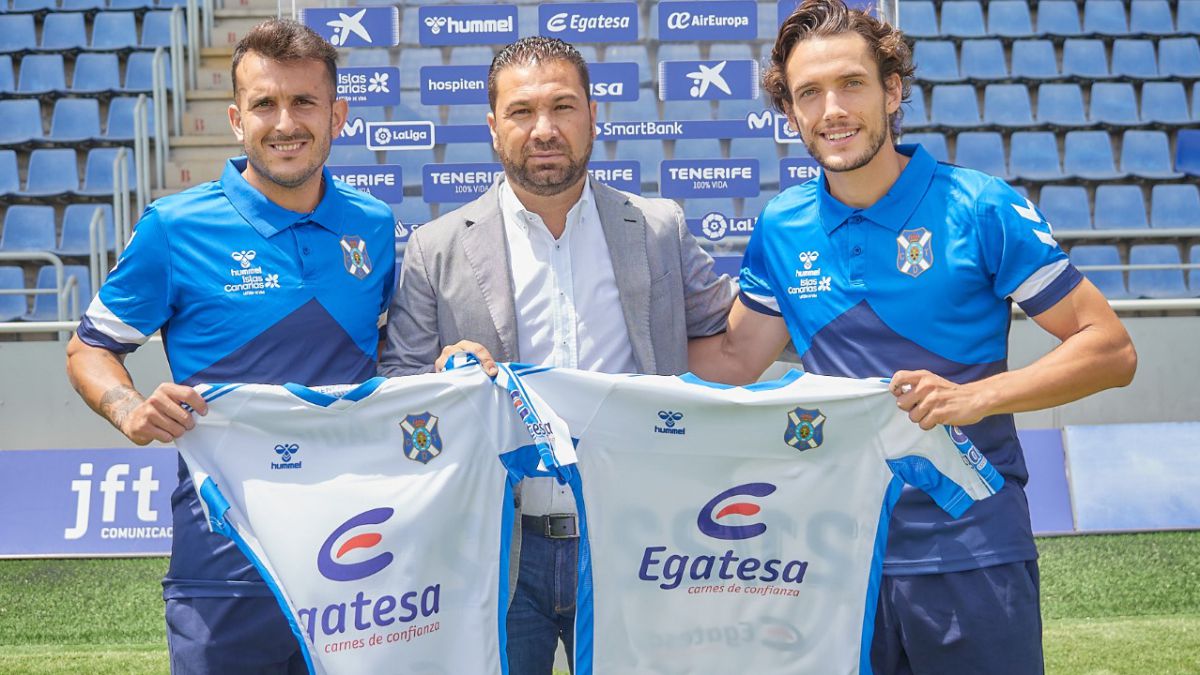 Álex Corredera, who was committed to Tenerife for three seasons and Elady Zorrilla, signed for two, they agreed in their presentation that they arrive at the club at the best moment of their career. "I come for all. You always have to go where they want you," said the Catalan midfielder from Badajoz. "I am in full maturity and I like to live with pressure," added the former Cartagena.
For Corredera it will not be new to coincide with Luis Miguel Ramis since in the 2017/2018 campaign he made his debut in the Second Division with the Almeria in the defeat against Reus (0-1) at the hands of the Catalan. "He knows me from Almería, although Cordero has also been important, he has been following me for a long time," he revealed.
After several seasons at Badajoz, he considers that he is taking an important leap in his career. "I have worked hard to be a more complete footballer and not only participate in offensive areas. I can help in other aspects, I think I came to Tenerife at a very good time. I really wanted to take this step," he said.
Born in the Girona town of San Juan de las Abadesas, on March 19, 1996, he trained in Barcelona (he won the Youth League in 2014) and has played in the subsidiaries of Deportivo de la Coruña, Almería and Valencia. He also had a pass through Real Murcia. He is an offensive midfielder with a lot of arrival "and I can play both eight and ten," he explained.
Elady, for his part, made his arrival on the island after forging his signing over low heat. "A few summers ago my name sounded, but the signing was not made," he recalled. "Now, I wanted to be at Tenerife, feel that pressure and play in such an exciting place. When Cordero is at a club it shows, they fight for important things, and I don't renounce anything," he warned.
A good scoring contribution is expected from him as he can play in various attacking positions, "but I am more comfortable as a second striker or on the left, but if necessary I will play right back", he admitted. "I come to an ambitious project and I think it is going to be a great year" .
The attacker has played for Real Jaén, Real Murcia, Cartagena and even had a brief stint in Polish football. In the Cartagena team he spent three seasons in which he added 106 games and scored 36 goals and lived a promotion to the Second Division. Last year, without going any further, he was one of the two players with the most minutes, only surpassed by Rubén Castro.
Photos from as.com