Djurdjevic and Gaspar sign the rojiblanca superiority in Avilés
The Gallego team, in which Juan Berrocal debuted, scored at the beginning of each half where he exhibited greater speed and set-up than Racing de Ferrol.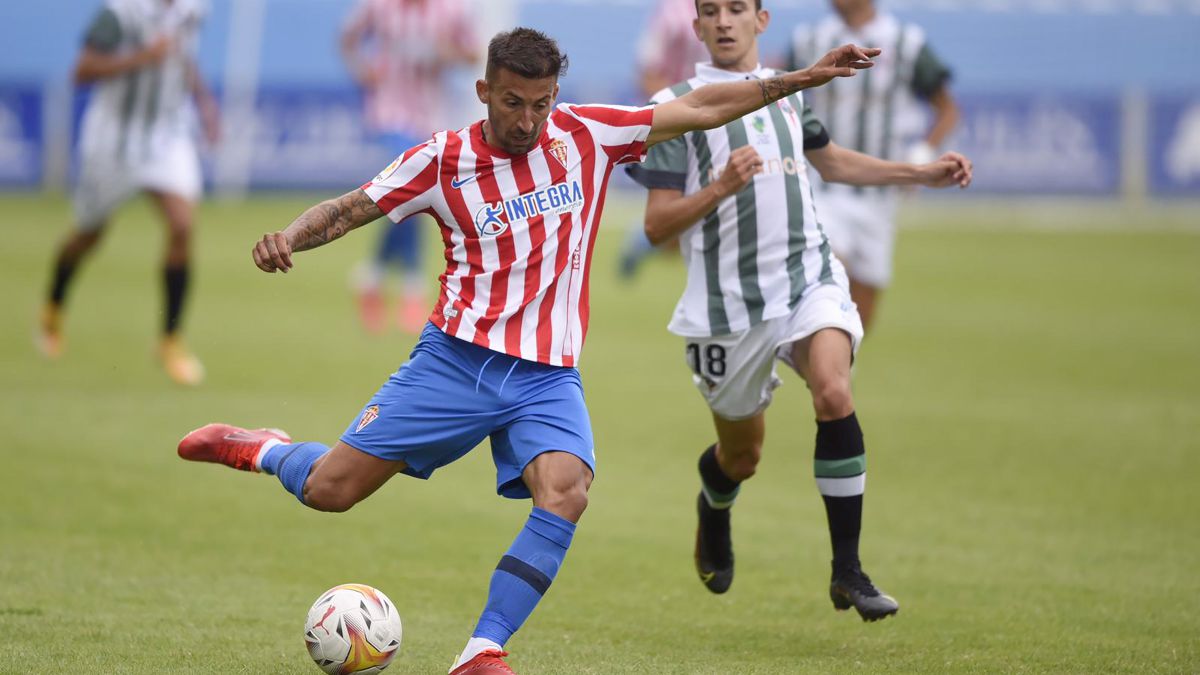 Second preseason game for Sporting and second victory for the rojiblanco team, this time with goals from Uros Djurdjevic and Gaspar Campos, who scored at the beginning of each half and signed the superiority shown by the Gijon team against Racing de Ferrol, the team that will play next season in the new First RFEF, now the category prior to the Professional Football League competitions.
The game was highlighted by the debut of Juan Berrocal, Sporting's last signing, who played in the last half hour of the match. On the other hand, it was not Christian Rivera who was one of the absent in this meeting, along with Borja López. While Vasyl Kravets started in an initial line-up with the two Ukrainian full-backs as an anecdotal fact because Bogdan Milovanov was on the right flank.
Sporting showed a better set-up in this preseason than Racing de Ferrol led by Cristobal Parralo, with former Sportinguista Javier Manjarín as assistant. The game had greater speed and arrival on the sportinguista side, especially in the first quarter of an hour. The Galician team showed defensive order and restraint behind, although an error caused by a loss of the ball inside the area allowed the Sportinguistas to open the scoring. Gaspar finished off the crossbar and the rebound was pushed by Djuka into the net.
In the second half, the carousel of changes in the two teams could drop the game. But Sporting had a good number of arrivals in which they lacked success in the face of the goal that came in a shot by Gaspar from the front of the area after a good combination of the entire rojiblanco attack.The match played at the Román Suárez Puerta de Avilés stadium was attended by the public. Numerous Sporting fans showed their desire to applaud and cheer on their team, which, on the other hand, released the new shirt for this season.
Datasheet:
Sporting: Christian Joel; Bogdan, Pelayo (Jordi Pola), Marc Valiente, Kravets; Aitor, Gragera, Nacho Méndez, Gaspar; Berto (Campuzano) and Djurdjevic. Joel Jiménez, Guille Rosas, Juan Berrocal, Pablo García, Pedro Díaz, Pelayo Pérez, Lucas Suárez, César and Pablo Pérez also played.
Racing de Ferrol: Diego Rivas; Loureiro, Jeferson Quintana, Dani Castro, Pumar; Caballé, Álex López, Bautista, Nieto; Luis Rodríguez and Joselu. They also played: Quique Fornos, Jon García, Candelas, Kevin Presa, David Rodríguez, Iñaki Leonardo, Del Río and Martín Aguilar.
Referee: Agudo Daza, Asturian Committee.
Goals: 1-0 (6 ') Djurdjevic. 2-0 (51 ') Gaspar.
Stadium: Suárez Puerta, in Avilés. 700 spectators.
Photos from as.com