"Alonso did something that I thought was impossible"
The Asturian, protagonist for his birthday: "I don't feel like I'm 40". Vettel praise: "He's among the greatest, beat Schumacher."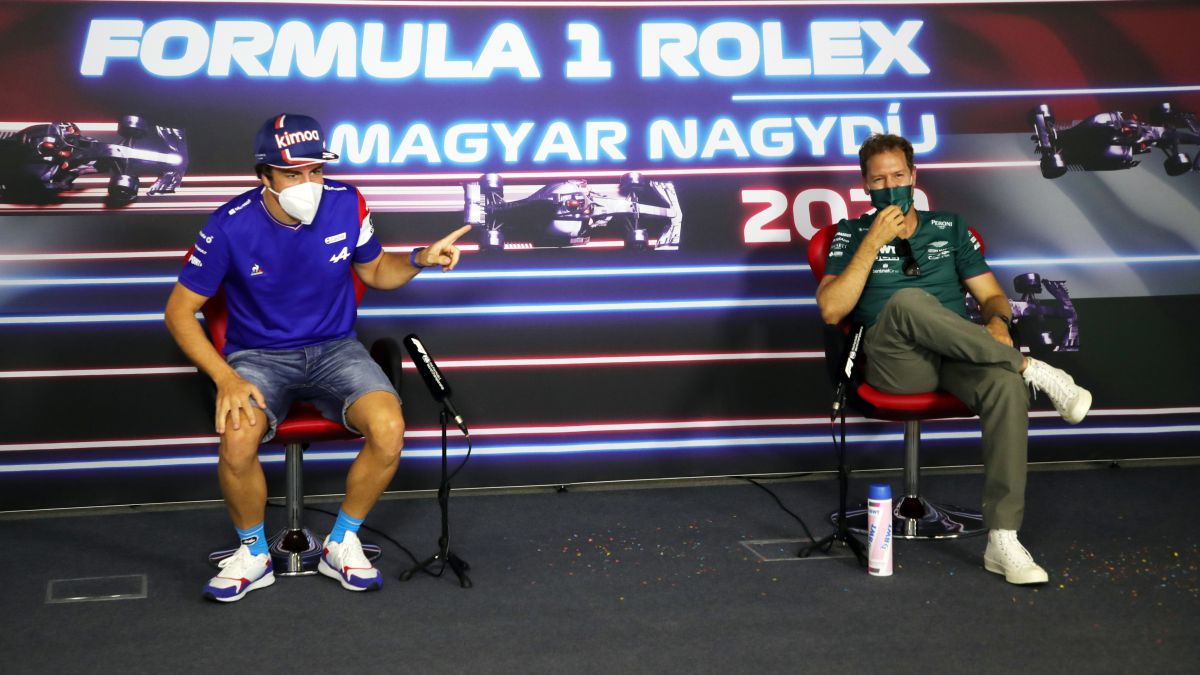 Celebrating Fernando Alonso's birthday in Hungary was a tradition that Formula 1 recovered this Thursday, after two seasons of parenthesis, with the Asturian driver's 40 candles. The events were opened by Vettel, who appeared at the press conference with a confetti launcher (he exploded it from the wrong side) and had very good words for his former rival. In the afternoon, at 5:00 p.m., Alpine organized an event with the entire team within the hospitality that featured a video with surprise congratulations. Although to a surprise the one that his family gave Alonso, who appeared on the circuit without the birthday boy waiting for him: his sister, Lorena; his mother, Ana, nieces and more friends, apart from Linda Morselli, the pilot's partner.There was applause, laughter and cake at Alpine's little tribute with CEO Laurent Rossi serving as master of ceremonies. Afterwards, some of the team members appeared with birthday hats and a Ferrari personality who worked with the two-time champion in previous years joined. Also Carlos Sainz, who spent a while chatting with Alonso. An afternoon punctuated by other events and commitments (two television interviews) before resuming the competition on the circuit of his first victory (2003) and his last podium (2014).
"I don't feel like I'm 40, that's for sure. It's a number, but it surprises me too when I see it and when I see everyone in the 'motorhome'. The team prepared a nice decoration in my room and in the dining room, the number is larger than I feel, but it is what there is, "said the Spanish smiling. "Now it's different, I'm used to this sport. When I came to F1 I was from a small town in the north of Spain and I had no experience or background, nothing. This world impresses you for five, six, seven years, until you are used to everything. Now it's different, I know how things are and I can enjoy them more, "added the pilot."Alonso did something that I thought was impossible"
Vettel agreed with Alonso in his press conference prior to the Hungarian GP and dedicated good words to who was his greatest rival in 2010 and 2012. "The first race in which he returned was already Well, we had wheel-to-wheel fights and I was already smiling in the car. I enjoyed Fernando, he won here in 2003 and I remember that race, I saw it on television. His talent, without a doubt, his abilities, are among the greatest who have seen here and did something that I thought was impossible, which is to beat Michael (Schumacher). A very long race, very different cars, for me it is a pleasure to have raced with him ", said the German with affection.
Alonso returned the compliments: "There is a lot of respect between us, we fight hard on the track for titles. Everyone fell on the side of 'Seb', between 2010 and 2014, but we have always shown respect on the track and it is not just what you see On Sundays, a lot happens on Friday and Saturday and it is a privilege to share the track with most of the drivers here, but especially with people like 'Seb'. I will take that forever, there are names that are always linked to your career and 'Seb' will be one of them. "

Photos from as.com