"I did not come here by accident"
Jovic defended himself and made headlines about his future: "I did not speak with Ancelotti about my situation. If there is a loan, the priority is a club that recognizes my quality.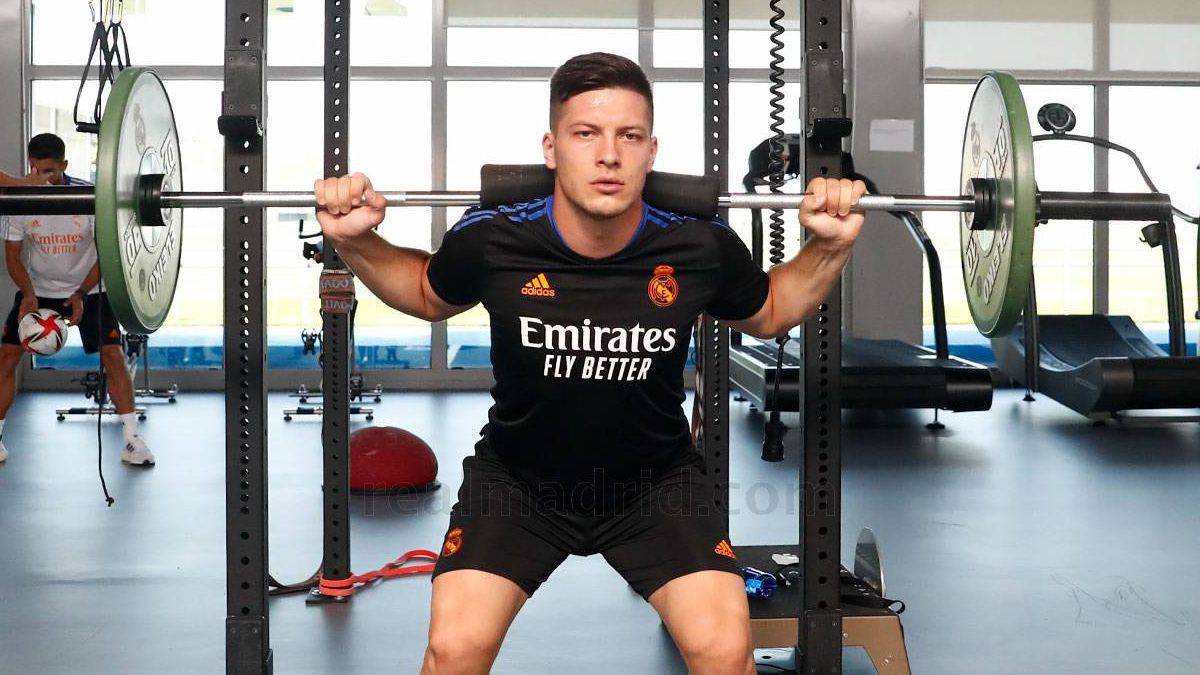 Luka Jovic has given an interview in the local media Informer, in which he has talked about how he sees his future at Real Madrid and all the criticism he has received based on his performance in recent seasons. The Serbian forward does not rule out another loan, although he seems to make it clear that his intention is to continue in the capital and fight for a position. In addition, he defended himself by those who doubt his level with this sentence: "I did not come to Madrid by accident."
It is unknown if the forward will finally return to look for a new destination, on loan, as he did in winter with Eintracht Frankfurt. However, he does not seem too concerned about the issue: "I did not speak with the new coach Ancelotti about my situation. The beginning is to prepare and I have to give everything I can at all times, try to impose myself and be as prepared as possible for the new one. season ".
In fact, he sets new goals and defines himself in the face of those insinuations that he has no level to play under Carlo Ancelotti's orders: "I know what my goals are. I try to leave a positive impression and show what is best. A lot has happened. in the last two years. I'm sure it could have been better, but I want everything to be better in the end. I didn't come to Madrid by accident ".A possible loan
Even so, Karim Benzema will start as the undisputed forward one more season, something that will put the Serbian in trouble. Asked about the possibility of going out again, Jovic puts a series of conditions and returns to claim his talent: "Some things would be important to me: being in a quality league and having a place to play. After so long in which I was more off the field than on the field, at my age, if there is a loan, the priority is to be in a club that recognizes in me enough quality to be a constant option starting at eleven ".
In view of his stage and after the projection he showed before arriving at the Bernabéu, it is not reckless to say that he has come to a halt in the capital. The journalist put it to him, but Jovic, convinced, corrected him immediately: "You can't lose anything while at Madrid, you can only win. You play with the best players in the world, the goal is to always be the best in each competition. The organization of the club is perfect. You can't go backwards being in such an environment. "The pressure and the criticism
Jovic's figures, of course, are not at the level of expectations. But in the process, he has had a serious problem: injuries. The constant physical problems have not let the Serbian international breathe. "Of course, playing for the biggest club in the world comes with a great responsibility. I have no problem with that, nor do I have to deal with any kind of pressure. I believe in myself, I believe in my quality. I know my worth. he awaits a new season and opportunities for new tests. All I hope is that after a long time, he will avoid injuries completely. The rest will recover ", he sentence.
It also refers to the media and the criticism it has received in them for its level. In this case, he is understanding: "I respect the media and I think they do their job in a professional way. The Real Madrid player is under constant public scrutiny and it is normal for people to write about my every step. It doesn't bother me. I accepted that as a part of my life. "
Finally, he was excited about the World Cup that is to come: "I hope to qualify for the World Cup in Qatar. That is our common goal. It does not matter how much or when I play. It is up to the coach to assess who deserves a place on the field at all times. and we have to make the most of the minutes. We started qualifying well, with the arrival of Stojkovic a positive energy appeared ".
Photos from as.com