Delgado: "I love connecting with the stands"
The Dominican pivot, a brilliant signing of Bilbao Basket, promises a show next year, although the relegation of Estudiantes still hurts him. He pays attention to Felipe Reyes a lot.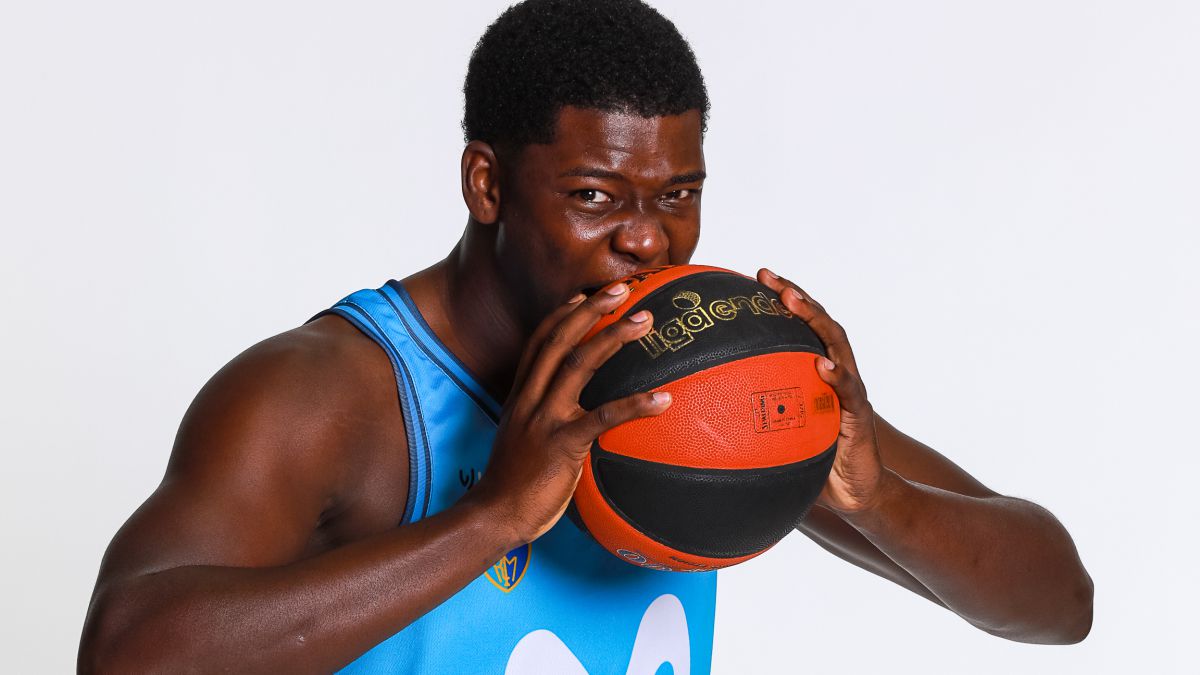 Ángel Delgado was a debutant in the ACB last year. He arrived in Spain in full expansion of the pandemic and his start in the Spanish competition was torture. But little by little he began to understand how to play here. And his explosion in the final stretch was overwhelming. He was crowned MVP for April and May. Only Shermadini (October, January, March) had repeated that honor, although the Movistar Estudiantes center was the only one who managed to chain this award for two consecutive months. Of course, it would have changed the personal awards for maintaining the category. His specialty is rebounding. Nine of the last ten games he signed with double figures. During his time at the university, he was already an accomplished specialist. At Seton Hall, he caught 1,455 in his four seasons there and became an NCAA historic. Only Kenneth Faried has captured more in the college league in the last 20 years and his name appears alongside such historical figures as Tim Duncan in the best collegiate stuntmen after 1973. He also made his mark in the G-League: the average 14.4 rebounds in The 46 matches he played in this competition are still the highest average in the history of the competition. He even reached 31 sacks in a game with the Agua Caliente Clippers. A month later he made his NBA debut, but it would be an experience of just two games.
Then he had a short-lived stage in the Israeli Hapoel Holon, due to the arrival of COVID. And the Estu came to him. Against Zaragoza he grabbed 20 rebounds, 16 in defense and four in attack. Since Paul Davis signed 22 with Cajasol in 2011-12, nothing like it has been seen. In fact, in the last 17 years only Delgado, Davis and Kaloyan Ivanov have reached two dozen rebounds. The club of players who have achieved something similar in this century is only composed of nine players: Keefe (record of the century, with 24), Bobby Martin (2 times), Elson, Beard (2), Felipe Reyes, Davis, Evtimov, Ivanov and Delgado. There is no illustrious expert on the subject like Tavares (the ceiling has him at 18). In addition, Ángel equaled the club's historic top, shared with Felipe Reyes. The absolute record is held by Kea, with 29 in the 1991-92 campaign.
He will form like five with the North American Withey. Well, this very desirable player in the market has taken him to the cheek by keeping Bilbao Basket silent, to fill part of the great void left by Balvin, the ACB's top rebounder last season. A club that has reached an agreement with Betis so that it could register Bertans in exchange for compensation. Delgado speaks with AS in the middle of a vacation break in the Dominican Republic to show his enormous joy for this signing, an elite athlete who does not neglect his training in Criminology and Business. And that he enjoys his son, who is less than a year old, who he would like to see as a basketball player, but will leave him free, he will not pressure him as his father did with him and baseball.
Do you want to start?
Yes, we are having a lot of time to rest and when you are about to start a new stage, you always face it with great enthusiasm.
Do you still have bitterness over the relegation of Estudiantes?
Of course. It was very hard. We made a great effort to hold onto the category, because we know the history behind the club and the weight it has in the ACB. The team competed, we fought with all our might, but there was bad luck, we had many misfortunes.
He ended up as an absolute star, but at first it took him a lot to adapt ...
Yes, he came from a basketball in the United States that is very different, he had a different game on his mind. I did not change my way of playing and that is a mistake. But the teammates and the coach helped me understand the game in Europe.
The fact is that he ended up being the king of April and May. Would you have changed it for permanence?
Sure! Individual numbers are worthless if the collective is unsuccessful. Little by little I got used to the rhythm, the physical bar, the refereeing and the type of game in the ACB. Now I am a more complete gamer.
What convinced you to sign for another team that almost dropped?
Your fighting spirit. I was watching them when I played in Estudiantes and although they had it almost impossible, they were never considered dead. Amazing! I also liked the confidence that the coach gave me. The team did well last year in a fast-paced finish and it's exciting to be a part of it. There are good players this year.
He is very expressive on the court, almost at the level of Vasileiadis, an idol of Bilbao. He is going to put Miribilla's fans in his pocket ...
I want to see the audience again. I love connecting with the stands. I know it is a hot hobby, we are going to have a good time. I like people to leave the pavilion with a happy face.
May be the next rebound king. What was equal to Felipe Reyes in the Estudiantes record with 20 sacks? 444 444
Felipe is a reference, a legend. I compare myself to him because we are small for our position, but his ability to get high is prodigious. I watch a lot of videos of him to copy, and his withdrawal moved me.
He always puts humility as a flag. He sold biscuits on the street to help him with a scholarship as a child.
It is one of the main things in this life for me and in that I never want to change. I try to help everyone, especially the underprivileged. A person who comes from below, no matter how much he rises, cannot forget his origins. Success cannot change your perspective.
Photos from as.com