Davide Ancelotti: "My job is to question my father"
The son of the white coach, who turns 32, is emerging as one of his assistants on the white bench: "My goal is to create many doubts, but in the end it is he who decides."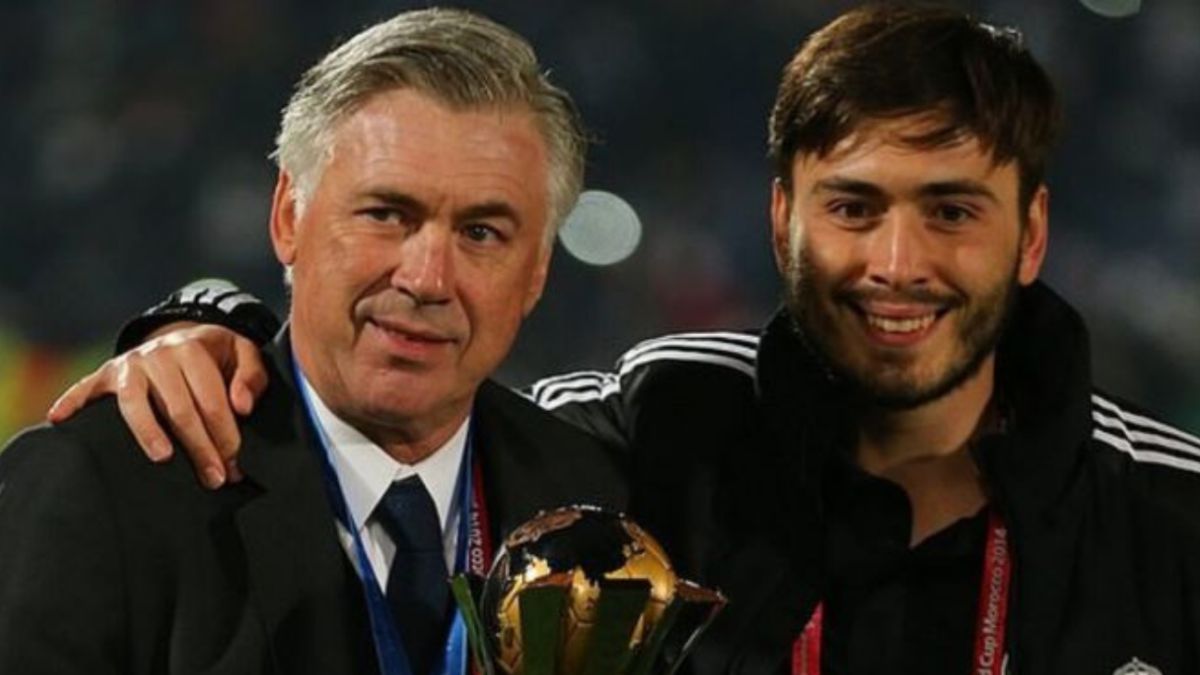 Despite the fact that the Madrid coaching staff has not yet been made official except in the positions of coach (Carlo Ancelotti), the physical trainer (Antonio Pintus) and an old man known as Luis Llopis (goalkeeping coach who faces his third season in the Whites ), one of the key pieces that the Italian coach will have is that of his son, Davide Ancelotti (Parma, July 22, 1989, who reaches 32 years of age), who is emerging as one of the new assistants of the Madrid coach in his second stage of the white team. Carlo's son has been accompanying his father on the benches for several seasons now and is always pending training sessions. He even had to coach Napoli in a match against Roma, in which he even gave the post-match press conference.
Davide played in the lower categories of Milan, until he decided to accompany his father on the bench. He studied Sports Science (his university thesis on motor science in footballers was awarded as one of the best and he obtained very high scores in his coaching courses: 137 out of 140 in the UEFA B license and 13 out of 15 in the UEFA A license. In the latter he was the best of his class) and worked as a physical trainer for the Whites during Ancelotti's first spell on the Whites' bench. That same position he had held at PSG. When Carletto left for Bayern and Naples, Davide followed him as an assistant.
At Everton he was in charge of arranging the training sessions: always with a duration between 75 and 90 minutes and with one quality, intensity, although in this new stage it is Antonio Pintus who designs and draws up the different workouts. As Davide himself explained in the Training Ground Guru podcast, his functions in his father's coaching staff are practically his right hand: "It is not possible for the club that changes coach to change 12 people at a time, because you can level up, you can't improve. The coach is there to prepare for the games and make sure the strategy is right. That's it. "
He also explains his day-to-day tasks: "My duty is to organize the training sessions, make sure that everything goes well, prepare the set pieces, help the coach prepare the game strategy. We go week by week, we organize the program together. Day by day we have a meeting with the medical staff to evaluate the players who are available for the session. We are both involved in organizing the week. I am more specialized in some drills on the field and we make sure that the players have their own individual drills on the field. Before the session we divide groups. For example, maybe to work on one aspect of the game, like building from behind with the goalkeeper, and another member of the coaching staff takes the other group, to work passing drills, possessions. He (speaks for his father Carlo Ancelotti) observes more during a normal training session, but he can come in, stop it and speak his mind, correct sometimes… but it gives us a lot of responsibility. He only handles the tactical session when we play 11v11 on a full field two days before the game. In the end there is a lot of respect and the final decision is always yours, but in the discussion we are all involved. Not just me, all the people. Is not always that way. This is the type of coach who likes to listen to everyone. "
"My goal is to create many doubts for you, to give my opinion. In the end it is he who makes the decision. I'm not here to say 'yes, yes, yes', I am here like every assistant coach, I have the confidence, myself more than the others, to say' no, I do not agree with you. We work a lot during the week evaluating what we think the opponent is going to do in the game. In the field there are two teams and you have to try to understand what they are doing, because what they are going to do is going to influence what you are going to do, so you have to recognize the situation and what to do. Without the ball, it is the same. We have to know how to press high, how to play transitions, what to do when we get back. You can change the system depending on the players you have… ". Davide Ancelotti, one of Ancelotti's assistants on his return to the Bernabéu bench, will take care of all this.

Photos from as.com