Curro Sánchez: "I am not coming to replace Corpas"
The Palmerino is presented as a rojiblanco player with Portillo. "I want to play in the First Division again," says the Malaga player.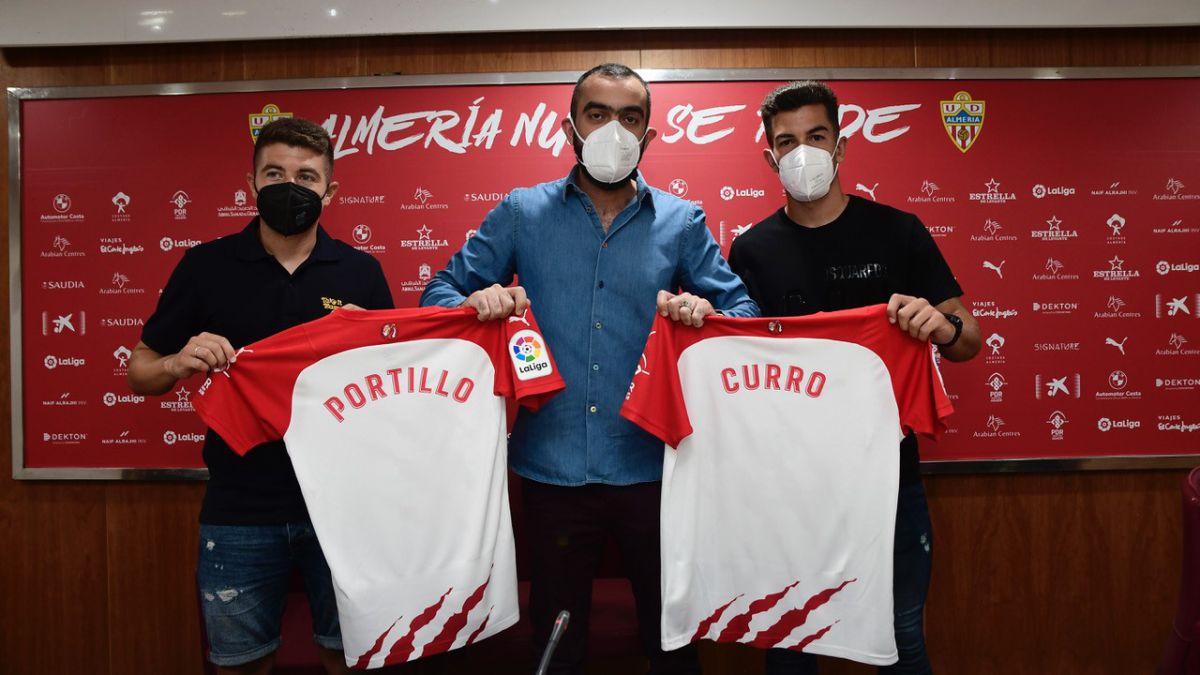 Normality has returned this week to the Estadio de los Juegos Mediterráneo with the presentations of the four signings to date, in-person activity in the press room 17 months later. If yesterday Nieto affirmed that he did not come to occupy Balliu's position, today Curro Sánchez has followed the same script, proof that the Almeria dressing room wants to write its own name and record the names of its members in letters of fire within ten months.
"I do not think that he will come to replace Corpas, during the year players come and others leave. Maybe because of the position they say that, but I come to contribute my grain of sand as one more", affirms Curro Sánchez (1996, La Palma del Condado Huelva), who lands as a free agent after his contract with Ponferradina expires. "It is a big leap to come to Almería because I had two good years in Numancia and Ponferradina, but I needed that leap to a club with a great project. I chose Almería because it showed me their desire to be here. I saw Almería as a very rival difficult in Second, he always fights for promotion. In this category you compete very well and it is difficult to be at the top ", he points out.
Despite his youth, the man from Huelva will bring experience to Rubi's team; Not in vain, he adds 139 games in the silver category (105 as a starter), between his season at Ponferradina, another at Numancia and two at Sevilla Atlético, scoring 23 goals in the Second Division between the three shirts. The Palmerino is aware of the importance of the term 'team'. "In a team you need everything and this year we are working on making a serious block from the defensive level. There are players who at the offensive level are top in the category. To achieve promotion you need a humble block," he explains, without getting wet about where he prefers to play. "I like to associate, touch the ball, where the coach believes that I can perform better, I will play there. I come to give 100% of myself", expires.
Along with the right-handed winger, Portillo (1990, Málaga) has been presented, who is seeking his third promotion to the elite, after achieving it in 2017 with Getafe de Bordalás and two years with Betis de Mel. "Being here is a big challenge. Almería showed me ambition and that's what I want, to go back to the First Division achieving promotion, that's why I'm here. My teammates help as much as possible because adaptation always costs at the beginning, but they do it everything is easy. It is the ideal club to continue growing and try to return to First Division ", comments the midfielder.
"I feel comfortable on the field because we all like to play, but my natural position is through, it is where I do the most damage. But I am willing where the coach says", the former Getafe, who also lands at zero cost, signing a two-year contract, one less than Curro Sánchez. "I do not feel like a starter, you have to win it on the pitch. There is a huge ambition to achieve promotion, which in the last two years has not been possible, but there is raw material, with a good mix of youth and seniority," says Portillo , who has played 246 matches between First and Second, in addition to eight in Champions Leagu, and with Málaga, and six in Europa League, with Getafe.
Photos from as.com