Buffon, on Donnarumma: "He must aspire to the Ballon d'Or"
The legendary Italian goalkeeper, Gianluigi Buffon, who has signed for Parma from Serie B at the age of 43, was full of praise for his heir in the goal of Italy, recent European champion.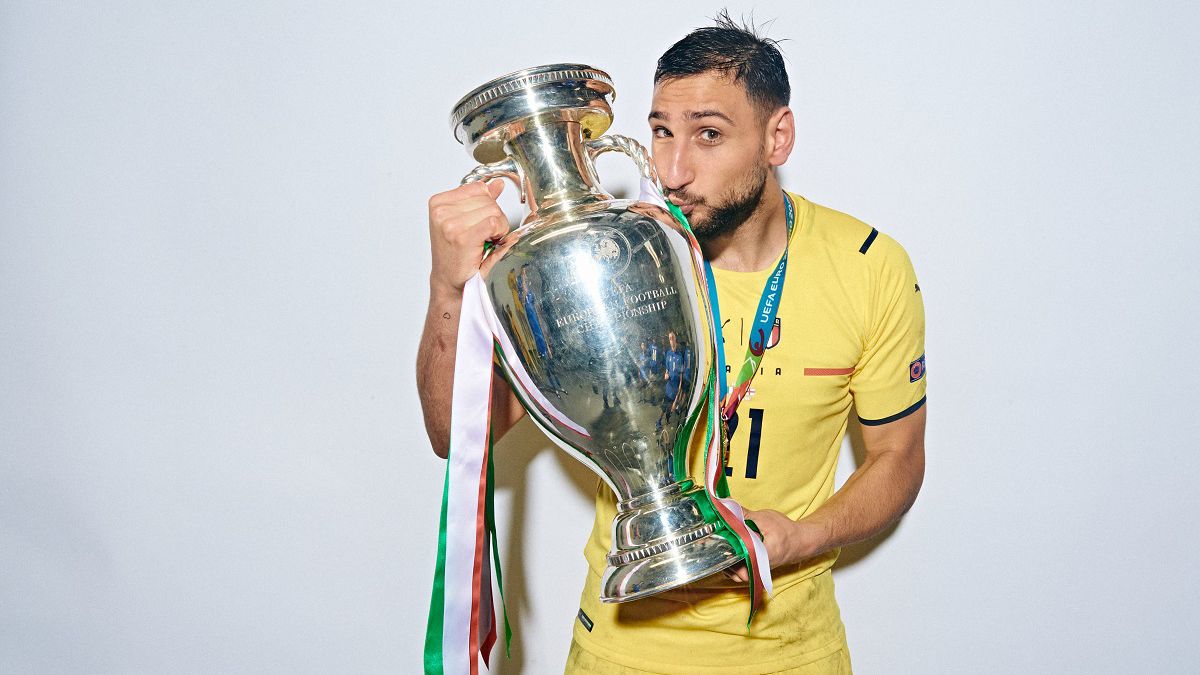 Just a week ago, Italy conquered the second European Championship in its history. Thus, he ended a drought that lasted 53 years, without being crowned as the kings of Europe. Without a doubt, one of the main figures of the Nazionale was its goalkeeper, Gianluigi Donnarumma. So much so that, after stopping two penalties in the shootout against England, he was awarded MVP of the tournament. Which, in addition, was his first big event at 22 years old (he debuted at 16 with Milan). Now, to the new great signing of PSG there are already many who consider him a clear candidate for the Ballon d'Or.
One of his main defenders is his predecessor at the Azzurra goal, the legendary Gianluigi Buffon. His namesake, who has signed at 43 years for Parma from Serie B (recently relegated from Serie A), has been full of praise for Donnarumma. In addition, it encourages him to go for more, not to settle, and to fight for everything. "He must aspire to the Ballon d'Or. When I was young they told me: 'You can be the second best goalkeeper in history after Yashin', to which I replied: 'Why the second? Couldn't I be the first? ' When you are young the goal is not to be satisfied, but to aim for the maximum. Gigio has to do this, "Buffon said in an interview with Sky Sports. "Gigio was very good, beyond the stops, which were decisive, he handled the games very well. They placed him a step above the rest of the goalkeepers ", he added.He also had words for the now considered historic Bonucci-Chiellini duo, the Praetorian Guard that Donnarumma had just ahead. "They don't surprise me. Leo and Giorgio are great references. Any team that wants to win needs experience, certainties and solidity, "said the veteran Italian goalkeeper. Just as he flattered the great architect of this triumph, Roberto Mancini. "It conveyed serenity to a group that came from bitter disappointments. Then he had a tactical idea, exploiting all the qualities of the boys, and he carried it to the end. In terms of management, he was exceptional ", stated Buffon.
On the other hand, Gigi spoke about her new -and second- stage in Parma. It was the team with which he debuted at 16 and left in 2001 to go to Turin to make history. Now, 20 years later, he has returned with the task of helping the crociati to return to Serie A. One of the doubts was how the dressing room received a Calcio legend like him. "Perhaps for young people something strange to see a 43-year-old man and in this context. The ice broke on the second day, I am already experiencing a good atmosphere of friendship and positivity ", confessed a Buffon who continues to be just as motivated as the first day.

Photos from as.com