Public opinion sentenced Giannis, accompanied by a cursed coach. Budenholzer, close to being fired a year ago, redeems himself with the ring.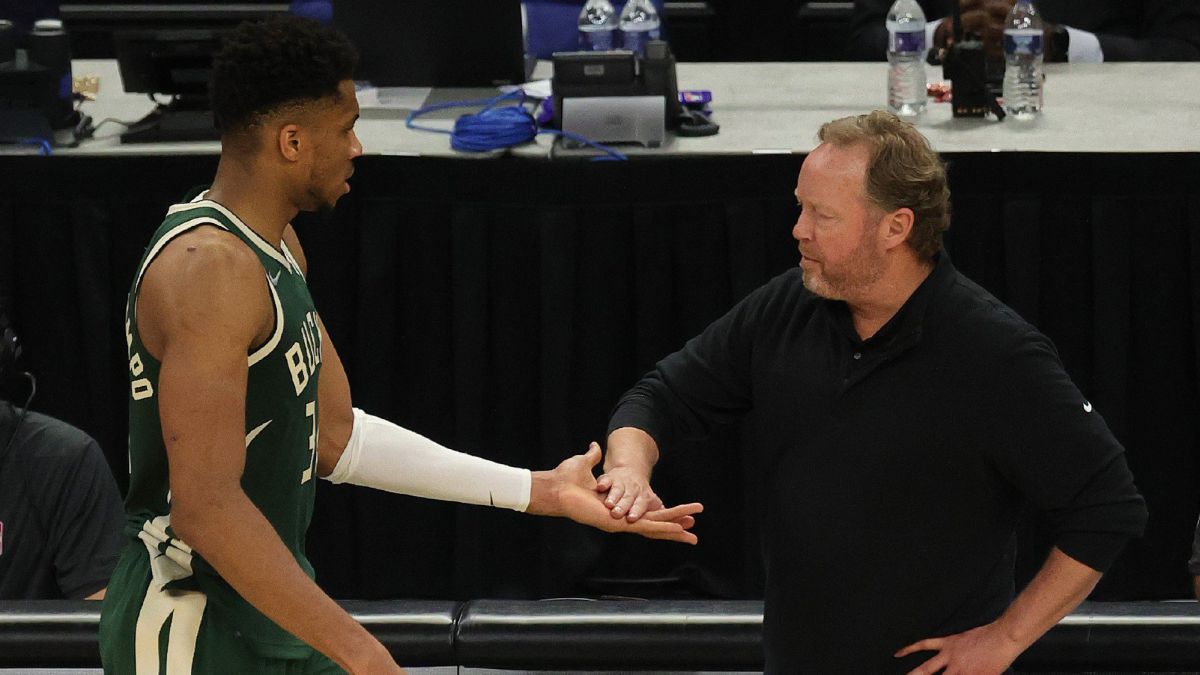 The NBA always walks by very fine lines, as does the public opinion that accompanies it. Opportunity and opportunism often come together, and it is extremely easy to observe how someone goes from being reviled to loved in a matter of variable but easily identifiable time intervals. Nobody has anything insured in a competition that moves through speeches and narratives, that places and removes kings as appropriate and that lives from the constant debate between present and past times, the stars of today and those of yesterday. Between hysteria and history. Being or not being the best, sometimes, depends on something more than oneself, and it is the sovereign public that manages, as a collective, to feed a legend or enhance a curse to extreme levels. Turn a player into a hero, or take him to that dark side where he will always be seen as the eternal villain. Whether or not
Mike Budenholzer has always been subject to the scrutiny of the usual public opinion, that place where the battles that decide wars are fought. Constantly adjective, he has always been a man who has been blamed for a myriad of flaws, as if he were a cursed coach with a very low ceiling. The only plan he displayed was a constant that weighed heavily on the coach in the playoffs, when you have to change things during series that can be eternal, make unexpected adjustments and modify tactics and rotations. Budenholzer was not that kind of creative coach and he ran into his own limitations time and time again. It happened to him in the Hawks, with whom he signed in 2013 after 17 years in the shadow of Gregg Popovich at the Spurs and before the fifth ring of the dynasty, in 2014. And he suffered the farce again in Milwaukee, with Giannis at his side but, again, passed in the final phase.
Budenholzer's trajectory has always been aimed at the benches. It is true that he played for four years at Sagehensdel Pomona College, where he also played golf. But there he already showed signs of his privileged brain, graduating in, no less, political science, philosophy and economics. After graduating, he headed to the Danish Vejle Basketball Klub, where he played a single season averaging 27.5 points per game ... and was responsible for the club's categories. And in 1994, he was already the Spurs' video coordinator, rising to the assistant position in 1996. Yes, the same year that Gregg Popovich fired Bob Hill and switched offices to the benches to start one of the greatest dynasties in the world. the history. First, with a catastrophic season, David Robinson's injuries through, and the No. 1 in the draft with which Tim Duncan arrived. Then with five rings, six Finals and 22 consecutive playoff appearances. 16 of them with Budenholzer on the bench.
Always on the wire
Since he came out of the shelter and protection of that heavenly being named Popovich, Budenholzer has been on the wire. He had 38 victories in his first season in Atlanta and a first round of the playoffs that he knew little by little. He was forgiven for being his debut, at just 44 years old, and he was given a new opportunity that translated into 60 victories and a Conference finals. It was the record for games won by the franchise and also the furthest time they advanced to the playoffs since there were Divisions and not Conferences. But the team, with Horford, Korver and company, received a sweep against the Cavaliers from LeBron with Budenholzer being unable to change anything as a short tie progressed. He insisted on the same rotations, missed the pairings with LeBron and ran out of solutions in tight endings. Of course, the figures for that year and the revolutionary team that entertained the fans that year played in their favor.
Budenholzer left Atlanta three years later, the last of them with 24 wins and no playoffs. At that time, a blanket of criticism hung over him, like that one plan that he was not capable of changing. Curiously, Popovich has been the only one capable of changing, evolving (probably his greatest virtue) and adapting to the new times and the playoff series. And yet, those who have passed by (Mike Brown, Budenholzer himself), have had their own qualities inherited from the legendary Spurs coach (mainly, a great solidity in the regular season), but have been prey to immobility that has tied up any type of option to get hold of key series, with specific errors in hot moments and always identical decision-making, with a unidirectional and unalterable game scheme.
Even in these playoffs Budenholzer moved in that fine line that separates the continuity of the dismissal. There were many voices that bet on his cessation after last year's elimination against the Heat, in the first playoff series in which a fifth in Conference eliminated a first since 1995, when the Rockets did it, never underestimate the heart of a champion. The previous year, the loss to the Raptors in the Eastern finals and with 2-0 up already signaled him. On April 19 of this year, General Manager Jon Horst publicly endorsed Budenholzer after giving in in the summer and betting on his continuity, to the satisfaction of a Giannis who had to be satisfied to sign an extension that he has finally signed. But on May 2, The Athletic published a list of coaches who would be fired if the playoffs were not successful. Some like Terry Stotts have already been. Others like Budenholzer were in it. But the coach, like a titan, endured the onslaught with commendable professionalism and did not get nervous with a 2-0 down against the almighty Nets. Not with that seventh tachycardia in Brooklyn, either. And prevailed.
Budenholzer, a good regular-season coach without aura, has improved ostensibly in a Finals in which he has seen himself, as in his entire career, on the wire. And he has propelled Giannis, a man turned into a superhero by his work and grace, to the first ring of his career, which is also that of the technician as the main one. And, in those fine lines in which the NBA and public opinion always move, the fans have become fond of a good uncle, a sufferer like his team and a person capable of moving forward and making the right changes in the games. key moments. With the best Middleton, Holiday's unquestionable defense, the contribution of the quartermaster and the soul and heart of an off-road Giannis, who counts for and for everything. Budenholzer, once limp, escapes criticism and is crowned NBA champion. And now, regardless of what happens in the future, he has a legacy that no one is going to take away from him. Because, you know, a champion is forever. No wonder.
Photos from as.com