Brown: "Someday when I am old and tired I will return to Bilbao to remember these three years"
The guard, who has signed for Hamburg Towers, has been much loved in Miribilla and is tying with Recker as the longest-lasting North Americans in the club.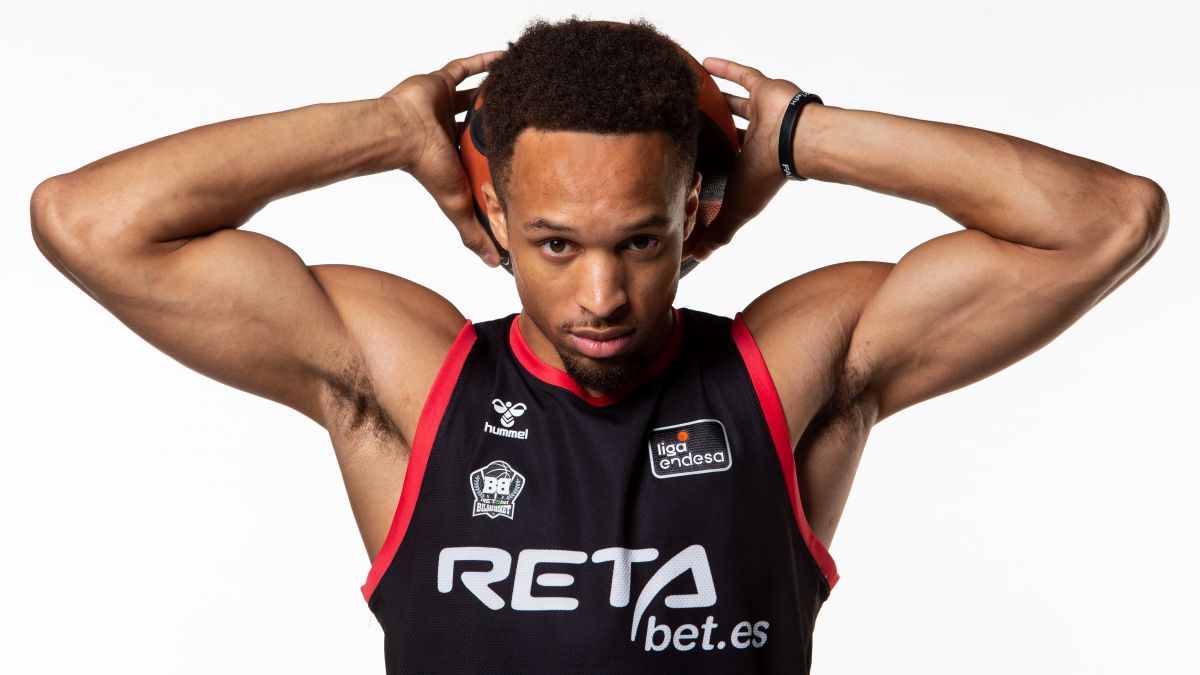 Jaylon Brown has made his mark on Miribilla. It is a topic, but also a reality as great as his humanity. He arrived in Bilbao with the face of not having broken a plate in 2018, amid the uncertainty that caused a bitter decline to the LEB. After closing his university stage, he went through the unknown leagues of Macedonia and Finland. Miribilla began to admire his gliding flights and his enormous audacity facing penetrations towards the basket, rising and defying whatever came upon him. It could already be a 1.90 or a 2.11, there was Jaylon ready to burst the ring, although many times he ended up fired to the stands or with hats larger than those of a cold man in winter. Disciplined guy, he connected with the stands fast. His partnership with Lammers, an interior also debuting in Spain, will remain in the retina for a long time. The Indiana shooting guard propelled to a brilliant promotion and the season of return to the ACB. That mate against Estudiantes leaving everyone behind two seasons ago is the most spectacular thing he remembers in Spain of his game, or the 25 points against Burgos last May. But doom got in his way. He suffered a fracture in the base of the fifth metatarsal of his right foot in Gran Canaria and lost his ticket to a Cup, the 2020 one in Malaga, that they had dreamed of so much and so brilliantly won. The absence was long, terrible, he was caught in confinement. Then a light of hope lit up in him. After weeks of uncertainty, he thought he would reach the Valencia playoff-bubble, but he was only in a testimonial way. A year later, he has closed his stage in Bilbao. He is going to the German Hamburg Towers. Goodbye to the North American who equates with Recker as the most durable in Bilbao. So what honor and glory.
What do you think of everything that has been said in Bilbao after confirming that you are going to Germany? There have been many words of kindness.
The fans and the people in general in Bilbao have made me feel very good this time. When they came to Miribilla during these three years, they have treated me great. I arrived very young and they welcomed me as one of them. And they have accompanied me on this wonderful path to the ACB. I am very grateful to you, to have you by my side through thick and thin, and I hope you continue to cheer on the team in the same way next year.
How would you summarize your time in Bilbao?
These have been my best years in basketball. I have met people who are very worthwhile. I have made friends that will last me a lifetime: the coaches, the players, the fans… they all believed in me. I am very grateful for these three years.
Do you know that you are the American who has been in Bilbao the longest, the same time as Luke Recker, three years?
Someone told me about it. It is very good right? Because in Bilbao there have been great players from my country. That city has a special place in my heart and I hope to be able to return soon, even if it's just visiting.
But it has been a shame to live without an audience your last year here.
Yes. Unfortunately the situation has turned out like this. It is not the best for the players, I have missed my last year with that spectacular atmosphere, it is what hurts me the most, not being able to say goodbye to everyone. With our fans we play with much more confidence, we always do better, we surpass ourselves. I would have liked to continue another year and be together again. I hope to see an audience now in Germany.
Was the most special moment on ascent day?
I cannot choose a time. That day I keep it with great affection. Everything that surrounded the Final Four was incredible and I lived it with a lot of passion. But beating Barcelona on their court and entering the Cup, or entering the playoffs ... was crazy.
And the hardest is the injury?
Yes. The injury was tough. The only good thing is that the COVID came in and gave me more time to recover. He was trying to rush to play in the playoff. I don't know, it was a disgrace, but you always think that everything happens for a reason, it made me stronger.
At least he was in the 'bubble' of La Fonteta and they gave him a while before Unicaja as a prize.
Yes, at first I was very sad. Someone told me that I was ready to play, but I thought they were hesitating. I was recovering from the injury. Joe (Rousselle) bet me a hundred bucks that I wouldn't make a basket. Well, in the 58 seconds that I had against Unicaja I threw and got it. I won! Ha ha ha ha.
Which player has been your best friend here?
Buff! I have many very good ones, don't make me choose one. I've been so happy with them… Kevin (Larsen), Ben (Lammers), Javi (Salgado), Tomeu (Rigo), Joe (Rousselle)…
The connection with Lammers was very special, don't deny it to me, although he was a peculiar type.
Yes. On the court and out. We both played very well together. I love how he plays and it has been an honor to be with him for two years. I would love to face Ben in Germany.
What do you expect from your time in Germany?
The country is very interesting and the League can be a good opportunity for my career. It is a new challenge and I like to face those challenges. I'm going with a lot of desire.
From Finland to LEB and from LEB to ACB. Everything went very fast.
Yes, quite a bit. Everything I have been able to play, including the Champions League, for my career is very important. Being in a European club drives you. Arriving and being trained by Mumbrú and Javi (Salgado) has been my salvation, they have brought out the best in me, they have taught me a lot. It has been a very great effort, but I am very grateful to them.
What does he owe to Mumbrú? He always trusted you.
El and Javi (Salgado) are the favorite coaches of my entire career, they have always believed in me, they have had a lot of confidence in my potential, in my way of training and my game. When I came back from the injury they made me feel even better than before. I never lost faith thanks to these two people, they are very good coaches.
Last year's stay is a miracle, don't tell me
It was quite a challenge, yes, something like a miracle.
Would you have liked to continue another year?
I always enjoy that city, I have enjoyed it throughout this journey, everything I have seen has inspired me, I would have stayed another year, but I have to continue with my career. Someday when I am old and tired I will return to remember these three years, and I will enjoy Bilbao. I am looking forward to going to Hamburg and cannot wait any longer.
Replaced by Goudelock. What do you think of this player?
A good player, I think he will fit into the squad. I'm looking forward to seeing him on TV and hopefully I can meet him in person.
What would you like to say to people by way of farewell?
They have been the best fans I have seen in my entire life, I appreciate all the support and affection that they are giving me in this farewell. I love you, and my teammates, coaches ... I'll see you soon, I promise.
Will the United States win gold at the Beijing Games?
I hope so, in my country there have also been problems with COVID and I hope there are no infections, that the best are there and win. We have a good team and I will be supporting them. I look forward to seeing you.
And what will Spain do?
She is the world champion, so, a lot of respect. He has a good team. I like how they play. I hope he takes the money, ha ha ha.
Photos from as.com