"Going beyond match by match is the beginning of the setback"
The Atlético coach attends AS in the preseason as current League champion. Saúl, Griezmann, Suárez, João, De Paul ... and many proper names.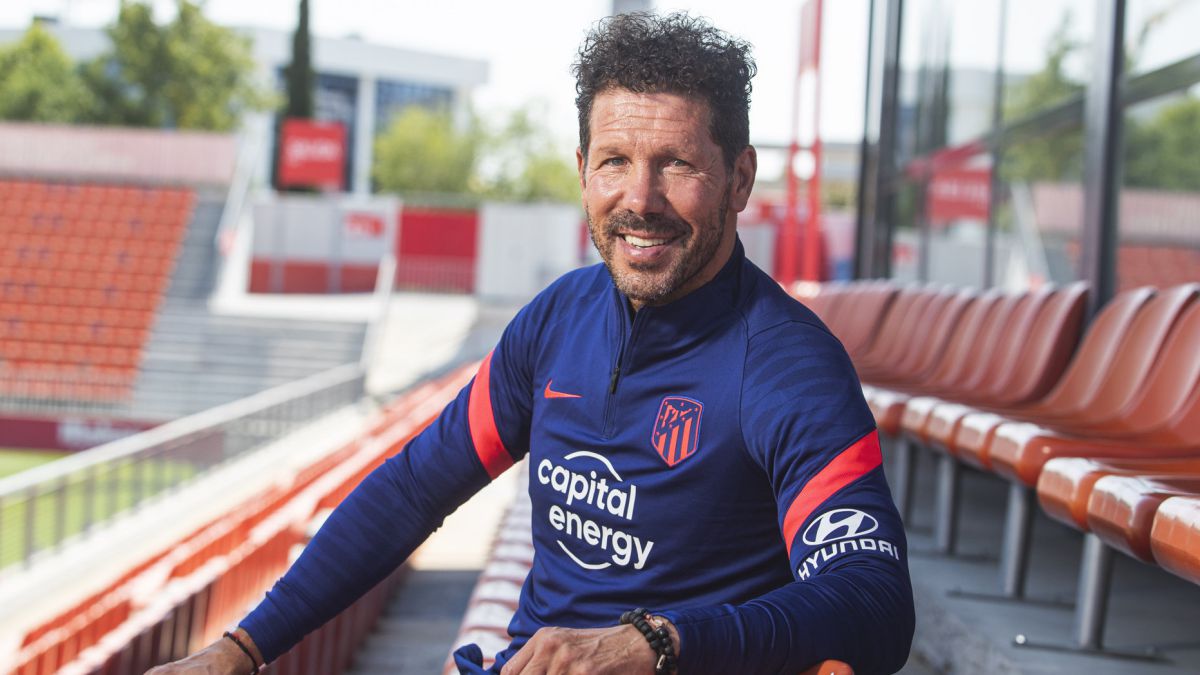 Diego Pablo Simeone (51 years old) is excited about the new season. The challenge is great: repeat the league title. But he remains faithful to his principles: match by match. He spoke about Saúl, Griezmann, Messi and, above all, was excited like a child before the return of the rojiblanca fans to the Wanda Metropolitano. Cholo looks very happy at Atlético.
He has recently renewed, in December he will be ten years old at Atlético, and he will be in charge of the team until 2024. I don't know if that is a miracle, a feat or how he can qualify ...
I don't stop to think about the years, in which we did or in what we have been doing. The worst thing that can happen to me is to stay and watch what happened. I am in the place where I want to be, I am very happy at Atlético, the club seeks to grow, I am excited about the team and last season, having achieved the championship certifies and solidifies all the work of many years to find what is happening .
Where do you get the motivation to continue leading an Atlético with which you have already won many titles?
For me the motivation is daily, I find it is to improve ourselves as coaches. Winning a title is what we all seek, but what really makes us happy is seeing players who grow, who identify with something, who end up having membership with the club. That is not easy. The legacy left to us by the most important ones that I call, the first ones we had, the Juanfran, Filipe Luis, Tiago, Gabi, Godín, Raúl, Miranda ... who pushed you in the best way to definitely install what the others had to remain.
Eight titles, it is the one that has won the most in the history of Atlético, which is the one that made you most excited? 444 444
The other day I was talking about it with the boys ... We started the preseason with five or six professionals and I told them: 'Many of those who participate are going to represent Atlético in the first four friendly matches. And when Atlético plays Atlético plays, the name doesn't matter and you have to represent them in the best way. ' We are excited about the fact that these guys can be important in the history of Atlético at some point. That creates illusion for us. What was the most important title? I have no doubt: the one at the Bernabéu. We had not won for 14 years, there are many, it is a very important weight in the history of the clubs. There was talk of playing on a neutral field, which would generate the conditions that were requested. The Calderón seemed small and they invited us to play at their house, where the cast of fans was not the same. There were more of them than of us and we generated something that started in footballers, the realization that nationally we could start to win. Quique Sánchez Flores had already started to win in Europe and that beautiful decade of the club began. The team played a difficult game and it meant seeing that we could continue to grow and win at the national level.
I ask you for proper names. What can De Paul bring?
I am a Racing fan, I saw him when he debuted, when he was playing in another position, far left, left midfielder, in the position from when he arrived at Valencia. In Italy he had enormous growth, in tactical football he grew a lot, he played on the inside and had a better relationship with the ball. He has a great ball kick. In the central part of the court, only Herrera and Koke, with Lemar, generate play and we need a footballer so that we can have the internal competition that gives us options as De Paul is going to give us.
Vitolo left and Marcos Paulo arrived.
Marcos is a club search. We will watch it in the preseason to see how it evolves. He has not played since February, it is an important time. You see technical conditions, but only with talent here it is not enough. We need personality, belonging and hopefully he can show what the sporting part of the club saw him. As a consequence of what we see, we will do so.
From some who have reached another who could arrive as Griezmann ...
I have a very good relationship, a nice relationship beyond sports, since my daughters play with their sons. Beyond everything he gave Atlético, I want him to do well at Barcelona, he is an extraordinary player. At Barcelona, having seasons without being regular for him, he never falls below twenty goals. They are important numbers and hopefully I can consolidate the player who has been in the Eurocup, in the World Cup, in the five years with us ... I do not expect anything other than that he triumphs in Barcelona.
Have you bet a lot to come to Atlético?
We get to know each other, we talk with the club, there are positions to improve in the team, we need a striker. Another will come if Griezmann does not come. There the club will decide what is best for the entity's economy.
What do you expect from João Félix?
We are all waiting for the regularity of João Félix. It is very unfair to wait for João Félix. He demonstrated in plots, in stages of his first two years, important things. I have no doubt that from August to December he had a very very good season, he had good levels of goals, assists, team play, he is intelligent, he knows what the team needs and what it has to do. The injury appeared, for a player like him it is difficult to be at that level. He lives with dribbling, with contact with the rival, the ankle uses it to play and it is not easy to maintain the situation as he sustained it. He was brave, mind you had to operate. Hopefully I can maintain the regularity it requires.
For what I said, it will not come out.
The club is very clear about what it does. In 2014, Courtois, Filipe, Villa, Diego Costa, Sosa, Diego Ribas left ... there was a replacement of almost ten players. Today the club has the strength to support the players, that is wonderful, and that the fewest possible leave and those who want to look for other airs, because some need to change their airs to remain valid.
Saúl is one of those who seems to need that ...
Last season he spoke with the club, with us about his needs and what he spoke about the option of having a place on the field where he feels more important. And I consider that Saúl became Saúl by playing everywhere. He or many of those around him see it as something negative. He is very important for Atlético because he can play as a lane, right wing, midfielder, as a double middle ... He gives us a lot of situations to be able to count on him. Without doing a season at his best, we count on him. He is a player who, in that version and playing what the coach needs, performs very well.
The exit door has it open and it can also stay.
I have spoken with him and we cannot put aside what is rumored and talked about. If you stay, to work as you have always done and if you leave, the door will be open in the best way. We have been together for eight years, I think we gave him everything we had as a coach and he as a footballer. If he stays, to work without giving anything away in a competition with many people in the midfield and if he has to go out, a big hug, wish him the best with the boys who gave us life and to continue being friends, as always. Either to Barcelona or elsewhere.
What do you expect from Suárez this season?
We spoke with Luis in 2014 and he chose Barcelona. When they called me last summer to ask me about the option of having him and what I thought, I told them what the team needs to win. When we had players who passed 20 goals, Griezmann, Costa, Suárez, the team was close to winning or winning. That role is very difficult. There are few footballers who can pass that average of goals. To be a champion you have to score goals. Goals are not for everyone. And we do not doubt it. When I spoke with him I met a guy who needed to vindicate himself, to show that he was in force and we were going to help him along the line of his entire life.
It has been a difficult summer and it will come later than the others, so your performance may suffer.
Those who score goals always score goals. Surely you are going to find Suárez with 45 or 50 years old with his friends and surely you are going to see Suárez's team win 2-1 or 3-1 with two goals from him because it is not a matter of age. Go through smell, understand the game, it has it all. Age is not a problem, it is hunger and the need to stay current. Suárez will seek to continue like this.
And it needs another tip.
You have to talk to the club and everything will go accordingly with the best you can bring. We speak of various names. Work is being done to find a striker to compensate for the internal competition that is necessary.
How is the matter of the goal and the possibility of Grbic coming out?
He has the need to play and in that situation and if there is something we can bring, we will do it. Do not rush. He is a young boy, who can stay and if there is something that can satisfy both parties, it could be done.
He has many boys working under him.
This preseason is being more for the boys and we are looking for someone to stay. We told you that some of you can stay if you are prepared for it. In the physical and training part there is hope, but what counts is the field and it will speak for itself.
You have a double face with Giuliano as a coach and father ... How do you deal with it?
In a natural way. His growth comes from the minor categories, from youth to Atleti B and that was not managed by me. The growth speaks to what the coaches worked with him. We have decided that he should join us, he is still young, but he has important things to improve and demonstrate. Time will tell if he stays with us or stays at B or wherever the club decides.
He is seen with the same passion as in the beginning.
Since the possibility of directing Atlético appeared, which I always wanted and prepared for it, I came here wanting to make the club grow and to give back to what happened to me as a footballer. Sometimes I review my first press conference, I listen to myself to see the basics of the beginning and speak of the essence of what we wanted: to be a brave, counter-punishing, annoying team that generated illusion among its fans and that does not happen in many places. Today people know what Atlético plays. You may like it more or less, but the team plays something and when a team plays something it has to be respected.
And they have changed that way of playing.
At the beginning we played a 4-4-2 with suffocating pressure, with people who worked more to recover the ball, with players like Juanfran and Filipe who were extreme ... We have improved in the coaching staff the way of training in the The field, and from that improvement that we proposed to the players, Hermoso, Trippier, the continuity of Carrasco appeared ... With Hermoso we looked for something that we already had with Lucas, when we played as center back and winger. The exit of Hermoso allows us to play with the center-back and defend on the side, Carrasco allows us to play at the extreme and at the same time be a lane ... That generates variants.
Y grew with balloon.
Trippier, being a winger, has a very high vision of the game for his position. It is not easy to find a side like that. Savic grew a lot in his personality and in his early game and Koke appeared. Play in the middle because having three center-backs we can have a more offensive midfield in that game exit facet, Lemar was able to develop in the best way on the left wing and the team was able to deploy something that was always from low to high, and waiting for the potential of Llorente, Suárez, Correa, João ... 444 444
From the looks of it, it will continue with that system.
We find that for the boys' games we will play 4-4-2 and when the older ones come we will vary. Having Hermoso, Carrasco, Lemar, who were the ones who played the most, in the same game we can play 4-3-3, a 5-4-1 or a 5-3-2. Depending on the match proposed by the rival, these players, occasionally, have the availability to play differently.
It is a very special season at the group and individual level: you can win your third league as a coach, something that no one has done; Koke can catch up with Adelardo and Oblak win his sixth Zamora Trophy.
The challenges are daily and we are not going to change the game to game. I think it is still our strength and our balance. Wanting to be the best in history, the best goalkeeper, the one with the most games. Thinking about that is the beginning of the regression. That will happen because it has to happen and it has to be natural and you live with the day to day. And for this you have to give everything. My strength and energy is based on that. When I leave the club there will be time to remember this decade that has been wonderful.
It is one of the club's best decades and it can be proud.
When we won the League in Valladolid, the first thing that came to mind was the legacy that those I named above had left, because without them we would not have come to this. If in this last championship everything we have been doing could not be valued. You are the first who, if that triumph did not appear, would talk about the Pupae, the memory of the Pupae that I was lucky enough not to know and it would have changed all the impression that now counts. If we had lost, they would talk about how to get the Pupas out. Boys of twelve, fourteen years do not understand what they are talking about when talking about that topic.
That ambition of victories is what he has transmitted to the younger boys.
When I won the double as a footballer, we won the title 19 years after the last League. So I asked to win a League as a coach. We won the 2014 one. 18 years had passed since the double title. When I won the League as coach they told me how I felt and I said that they could not spend so many years to win another League again. Seven years have passed. I hope they don't have to spend another seven years to repeat.
Madrid has not strengthened much, Barcelona has financial problems and many see Atlético's winning cycle.
Last year we talked about a Real Madrid that had a bad or not so good season and lost the same number of games as us. We won one more. The difference was in a match. I understand that Real Madrid and Barcelona know that today they cannot be wrong. As we show Sevilla, Real Sociedad or Villarreal, that the championship can be fought because the growth of these teams is there. Real Madrid, Barcelona, United, Bayern, Juventus, eternally, will always come out as the best teams in the world.
After a year and a half the fans will be able to return to the Wanda Metropolitano.
We need it. Soccer is a spectacle and footballers at some point are actors. And in the action before the pressure that exists in front of the people, the footballer expresses things on the playing field. And we need it. It is something that amuses people. Release your problems in life, go to the stadium with friends, with family, with children ... that is priceless. It is something popular, very popular, you don't see this amount of people who go to watch football in other sports and all of us who are from football need them to come to the field.
I don't know if you want to highlight anything else, like Correa's great year ...
He managed to have stability, he played all the league games, that speaks very well of him and Koke's growth as captain. It had a very large growth in its maturity. Oblak's strong step in the dressing room. He is no longer just a great goalkeeper, the best in the world, he speaks little, but he is listened to. Savic's growth in the dressing room, Suárez's way of inserting himself into the team, Llorente's explosion for being continuous, for not lowering his arms, beyond being out of the squad a lot of games did not lower his arms. Believing that he could do it well. It has no roof. I am convinced that Llorente has no roof.
The last question. Messi seems that he will continue at Barcelona ... 444 444
The best thing that can happen to those of us in LaLiga is not to lose the best. Cristiano Ronaldo has already been lost and I hope that Spanish society, Spanish football can enjoy Messi in his country. For that, Barcelona will have to make a significant effort and manage in the best way what it has to handle as an institution to compensate for what it takes to have Messi.
Photos from as.com