Barcelona-Madrid transfer: Hanga, imminent announcement
Barça will make official in the next few hours the separation with the forward, who will reinforce Madrid. Like Heurtel. Laprovittola, close to being Barça.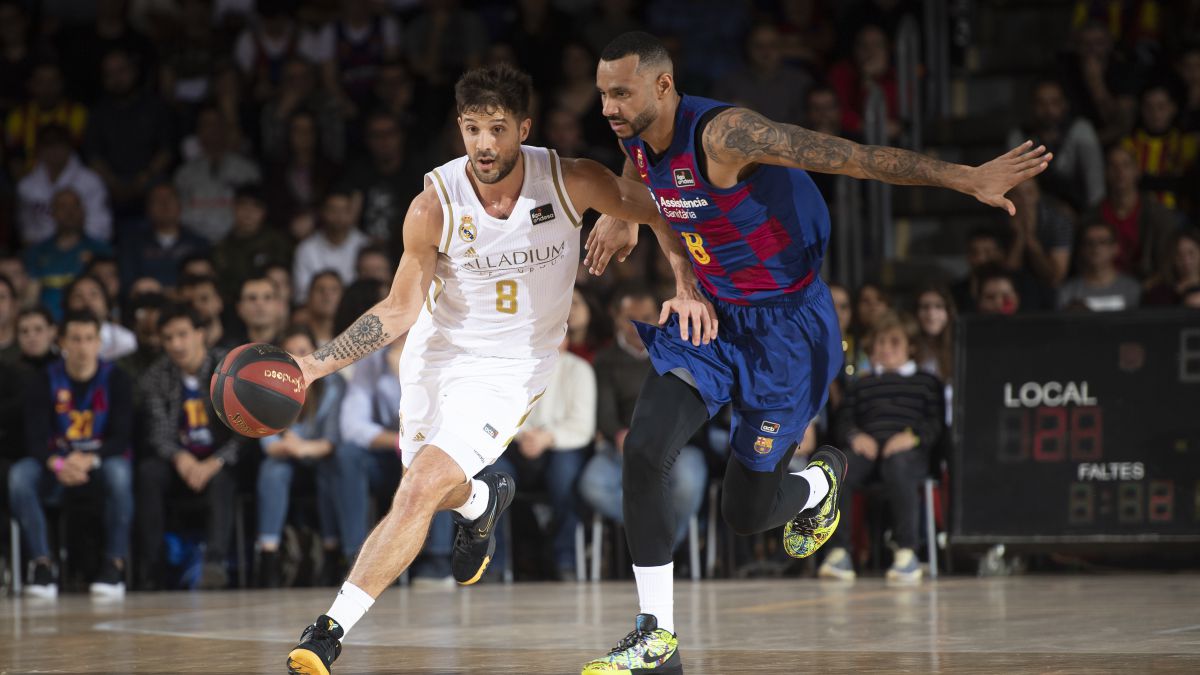 Real Madrid and Barcelona always build their squads with an eye on the rival, even if that look does not change their plans. This summer, however, their movements are closely linked and we will see a triple transfer (without speaking, yes) between the two giants of our basketball who will fight for the League and aspire to sneak into the Final Four in Berlin. Three players will switch from one club to another if the Laprovittola operation is confirmed. Add Thomas Heurtel and Adam Hanga, whose announcement of dissociation from Barça is imminent, a matter of hours.
There is only one precedent for something similar, when Madrid signed Michael Hawkins, Alain Digbeu and Derrick Alston at one stroke in the summer of 2002, although only the second came directly from the Barça club. The first had spent a year in Poland (Slask Wroclaw) and the third came from two seasons at Pamesa Valencia. They were not successful moves and none of the three continued into the following season. Even Hawkins was replaced in November by Mulaomerovic less than two months after the start of the League. Heurtel, a six-month wait
This time there are trips in both directions of the airlift. The French base Thomas Heurtel (1.88 m and 32 years old) has been officially a merengue player since July 6 after leaving Barça last January in the middle of a great controversy, after the Barça club discovered the maneuver of his previous agent, Misko Raznatovic, who tried to get him free to sign for Madrid but implying that he would do so for Fenerbahçe. Barça left Heurtel in Istanbul on the night of December 22 to 23 in the midst of a pandemic by not allowing him to return with the expedition after discovering the deception. "The player was not unattended in any case and he was given all the facilities to be able to travel the next day," argued Barcelona in a statement. Those of Jasikevicius came from facing Efes, Heurtel's former club, and the point guard had requested permission to go with the team to Turkey (he was not called up) and thus be able to close his future, supposedly with Fenerbahçe.
The final separation would not come until almost a month later, on January 19, with the deadline for changing clubs in the Euroleague already closed (the limit was January 6). Barça also demanded that he not sign for Madrid for the remainder of the year, although he could only have participated in the Endesa League. In exchange, of course, he would pay him almost everything that remained of his contract, one that he had renewed in 2019 for two seasons (until June 2021), and an optional third that would no longer be executed, for more than 2.5 million euros. annual euros
On February 24, with the challenge of reaching the Olympic Games with France, he agrees with Asvel Villeurbanne to play the final of the League and also the Cup, titles that he wins as the best point guard in the competition, although he ends up injured and does not dispute the Final Four league. Despite the initial shock, he only suffers a muscle injury, as confirmed by the Madrid medical services in the mandatory examination. So the player, who was out in the two friendlies against Spain, will be, if there are no unforeseen events, in the Olympic event that France will start against the United States on July 25.Laprovittola has the yes of Jasikevicius
Heurtel arrives at Madrid, with a much lower salary than he received as a culé, and Nicolás Laprovittola (1.86 m and 31 years old) leaves, who, if there is no unforeseen turn, will make the reverse trip also accepting a reduction of his salary to dress as a Barça player. The Argentine had good moments in his second season in white, especially when he gained prominence with the departure of Campazzo and in the midst of a barrage of casualties. His style, with a controlled rhythm and a lot of ball dribbling, where his talent shows, which led him to the ACB MVP award in 2019, did not seem the best for the rhythm of Laso's Madrid. His attitude, in any case, ten. We will now see at Barça if it adjusts to what Jasikevicius intends, who has also bet, to give relief to Nick Calathes, for the Lithuanian promise Rokas Jokubaitis, only 20 years old.Hanga, up in the preferences
The other player who will take the airlift will be Adam Hanga (1.99 m and 32 years), whose separation from Barça will be officially announced in the next few hours. The Hungarian forward has a three-season commitment, albeit with the usual clauses. The white leaders are very satisfied with the incorporation, the first on the list since the player ran out of just minutes in the Final Four in Cologne. That Kalinic, Barça goal, has flown to the Red Star does not change the situation at all, because Hanga's march is closed and Jasikevicius bets on other options.The compensation that Barça is going to pay him after four seasons in the entity to finalize the contract in force until 2022 will allow Madrid to sign him for amounts lower than those he had been receiving, between 1.8 and 2 million euros gross until now, and yet, the forward will increase his income next year by that double subscription. Some fans of the Catalans do not understand his early departure (a beloved player at the Palau and one of the captains with Oriola and Mirotic), especially once Víctor Claver has already left for Valencia and, in addition, so that he ends up wearing white .
Hanga has always shown an impeccable attitude and maximum dedication, a very versatile forward, with a great physique and who has been able to act as a point guard without being one during many phases of the last two seasons to cover a team need. It must be remembered that the Hungarian arrived in Barcelona in 2017, after an economic agreement with Baskonia that amounted to around 400,000 euros of transfer and included some added consideration, because the club chaired by Querejeta had matched the culé offer in the score: three years for 2.5 million euros per year gross. In 2019, two years later, the player agreed to sign a new contract until 2022 and another optional campaign in exchange for a significant reduction in his salary that helped the entity undertake reinforcements, for example, those of Mirotic and Higgins that summer.Closed squad
With Hanga, Madrid would have the squad closed waiting for Carroll to continue, even with a new agreement that allows him to continue now with his family and arrive with the season started. Llull, Causeur, Abalde, Rudy and Taylor would complete the guard and forward positions, with some similar profiles and without that unbalancing piece arriving, a scorer and game generator that he has been looking for (and we think he needs) for three years, since Doncic come out. The signing of Nigel Willliams-Goss is the closest thing, although in the base position (he will also act as two), where there was already another gap to cover: the departure of Campazzo.Piculín, Tomic, Djordjevic ...
Barça, for their part, without Hanga or Claver, and without Kalinic, is looking for a forward in a market, that of 2021, which will be remembered for the Barcelona-Madrid transfer and vice versa. Three players days apart. And although it would take almost four hands with their respective fingers to count the players who served in both teams (Bodiroga, Mirotic ...), in reality there have been fewer who have made the jump from one to the other directly, without any intermediate step. We remember them. Piculín Ortiz (1990), Ante Tomic (2012) passed from Madrid to Barça and now Laprovittola is expected. Djordjevic (1999), Digbeu (2002) and Pepe Sánchez (2008) traveled from Barça to Madrid. And in nothing, Hanga. Heurtel too, although with a mini-stage in the Asvel Villeurbanne. We will see who the play comes out better.
Photos from as.com