Audi teaches Sainz hybrid
The brand with the four rings presents the Audi RS Q e-tron with which the Madrilenian will contest the next Dakar together with Peterhansel and Ekstrom.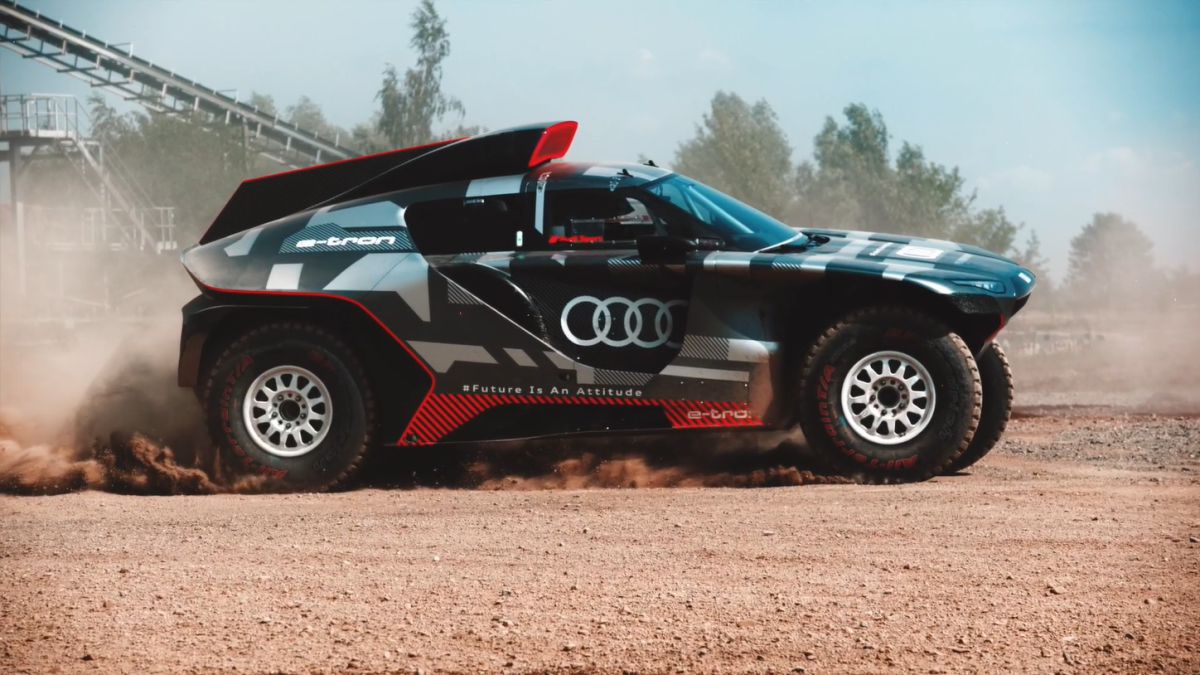 This weekend, the world of raids should be focused exclusively on what happens in Baja Aragón with many of the leading riders in the discipline, but a brand with four rings had other plans and has forced us to turn our heads to Neuburg (Germany), where his high-performance factory is located, to see his new machine, the one that so many eyes have been wanting to see. Because Audi finally unveils its RS Q e-tron, the hybrid 4x4 with which Carlos Sainz will race the Dakar 2022.
With some delay in its plans (its presentation was expected in June), but the prototype with which the German firm will face the toughest rally of all for the first time is already here. We knew a few things about him, that it was going to be an all-wheel drive SUV with four engines (one four-cylinder petrol and three electric MGUs) that would combine his experience gained in Formula E and the DTM, but we lacked everything else, Among these, what is most striking: its appearance. And it doesn't disappoint.
Dressed in elegant Audi black, with silver and red accents and with its four rings stamped on all sides, the RS Q e-tron made an appearance in the arena on Sports Day as the Games opened in Tokyo Olympics At a first glance, it already looks imposing, aggressive, with a construction similar to other Dakar prototypes but with a huge air intake that ends up turning into a shark fin and that gives it a personal touch that will make it unmistakable in the desert. .
The rear part closes a set of clean and futuristic lines that enter through the eyes wherever you look at it, although more than appearance, performance matters, and there the German prototype will not be left behind either because it is capable of offering maximum power 500 kW (670 hp), although it is yet to be defined how much of it they will be able to use in the Dakar. Sainz and his teammates, Peterhansel and Ekstrom, have already had their first sensations behind the wheel in a test at Neuberg last week. "It's like a rallycross car," says the Swede. "One of the most complex cars"
"We want to mark the beginning of a new era in the Dakar", says with ambition Julius Seebach, head of motorsport at Audi, who assures that they have been able to manufacture their new weapon in a "time record ": twelve months. "What we are trying is to make something that has never been done before, it is the last challenge for an electric propeller", adds Andreas Roos, responsible for the project on a car that includes all its identity in the name: the sports car with 'RS', that of the brand's SUV with 'Q' and the electric one with 'e-tron'.
Development Director Stefan Dreyer elaborates on the development of the prototype: "We have already achieved a system efficiency of more than 97% in Formula E, there is not much room for improvement. The greatest potential for development is in the management battery and power ". "I think it is one of the most complex cars I have ever seen," says Sven Quandt, team principal, who focuses on his goal for the coming months: "Reliability is our biggest challenge." There will be time to see how it behaves, but to begin with, Audi arrives at the raids by knocking the door down.

Photos from as.com