Aston Martin hits Red Bull
The Silverstone team has officially signed Dan Fallows and Andrew Alessi as new technical director and head of technical operations.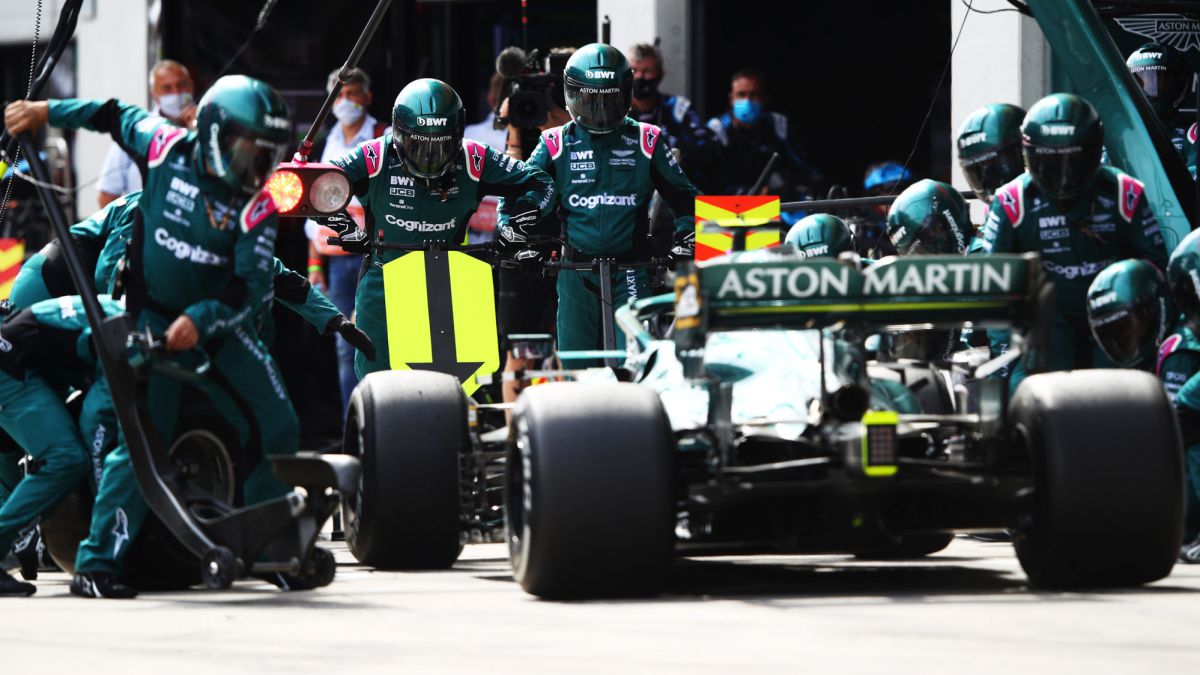 "The 2022 car gets a lot of attention." This is the phrase that is repeated over and over again in the Formula 1 World Championship paddock every time a team leader conducts an interview and is asked whether the car this season will continue to evolve.
With a budget limit of 145 million dollars (133 million euros) or a restriction on the use of CFD (Computational Fluid Dynamics) and wind tunnel depending on your position in the team championship, no team wants to start with the foot changed the new era of the Great Circus where tighter fights are expected on the track thanks to more simplified machines at the aerodynamic level, diffuser or flat bottom.
An arduous challenge that requires the best technicians on the grid. And that is why perhaps, in this edition, the transfer market is just as intense as the battle that Lewis Hamilton and Max Verstappen have on the asphalt for the title. Precisely, the latest movements to be confirmed affect the young Dutchman's team.
Aston Martin has confirmed three signings in a month
Aston Martin has ratified in Austria's double that they have reached an agreement with Dan Fallows and Andrew Alessi to become the new technical director and head of technical operations of the Silverstone formation (United Kingdom ) upon completion of their contracts with Red Bull. A transfer that complements the arrival from Alfa Romeo of Luca Furbatto to occupy the position of director of engineering and is part of the ambitious roadmap designed by Otmar Szafnauer and Lawrence Stroll to promote the work that Tom McCullough and Tom McCullough have been doing to date. Andy Green.
"Everyone at Aston Martin aims to win Grand Prix and World Championships, and this new and improved structure we have created reflects that of the most successful teams in Formula 1 today. Two weeks ago we announced the hiring of Luca Furbatto as our new director of engineering, who will start working for us in due course. Dan Fallows' upcoming arrival as our new technical director was also announced last week. And now we can confirm that Andrew Alessi is added to the impressive roster of our senior technical / engineering signings, as head of technical operations. Ours is a great team, and always has been. This year we have said many times: 'This team has always hit above its weight; now He's got the weight to hit the hardest. '' That's absolutely true, and seasoned and savvy newcomers, like Luca, Dan, and now Andrew, are proof that he is. We are building the in-depth engineering and technical force we need to deliver that biggest blow, "declared an eager Szafnauer.
"It goes without saying that Dan and Alessi will be missed as they have played an important role during their time at Red Bull Racing and I would like to thank them for their contribution to the team's successes. However, we recognize that the opportunity to take on The role of technical director and head of technical operations in a Formula 1 team is an attractive step in your career path. In turn, this move creates exciting opportunities for internal progression as we look to the future and tap into the overall wealth of talent within Our team. Anyway, our situation regarding Dan is very clear. He has worked on this year's car and is working on next season's car. He has a significant period left until his contract expires (mid-2023 ) that he signed at the end of last year ", Christian Horner later assured at the press conference of the Milton Keynes (United Kingdom) team.Aston Martin is considering changing the decoration of the AMR21
On the other hand, the Aston Martin director also confirmed in the Red Bull Ring (Austria) that they are considering using a more striking green color to avoid that in television broadcasts the AMR21 of Sebastian Vettel and Lance Stroll is confused with Lewis Hamilton and Valtteri Bottas' Mercedes W12 and thus satisfy the demands of his sponsors, although he completely ruled out returning to the pink hue of the past: "I think green suits us, that's right. Sure. I think it's a color that looks impressive in the sun and when you look at it in person. But I think we should find a way to make it stand out a little more on television, without losing the green when you look at it from outside. I don't know if We can do it, but it's something we're trying to make sure it sets itself apart on television from other darker cars. It's named after Aston Martin, and being Aston Martin traditionally e green, we are growing the Aston Martin Cognizant F1 team. Seeing all that I think it will continue to be green. Ferrari is red. Aston Martin is green ".
Photos from as.com