One month before the start of the League, the Madrid coach has a task: how to locate Alaba, the role of Marcelo and Isco, what to do with Ceballos and Brahim, the 'Bale case' ...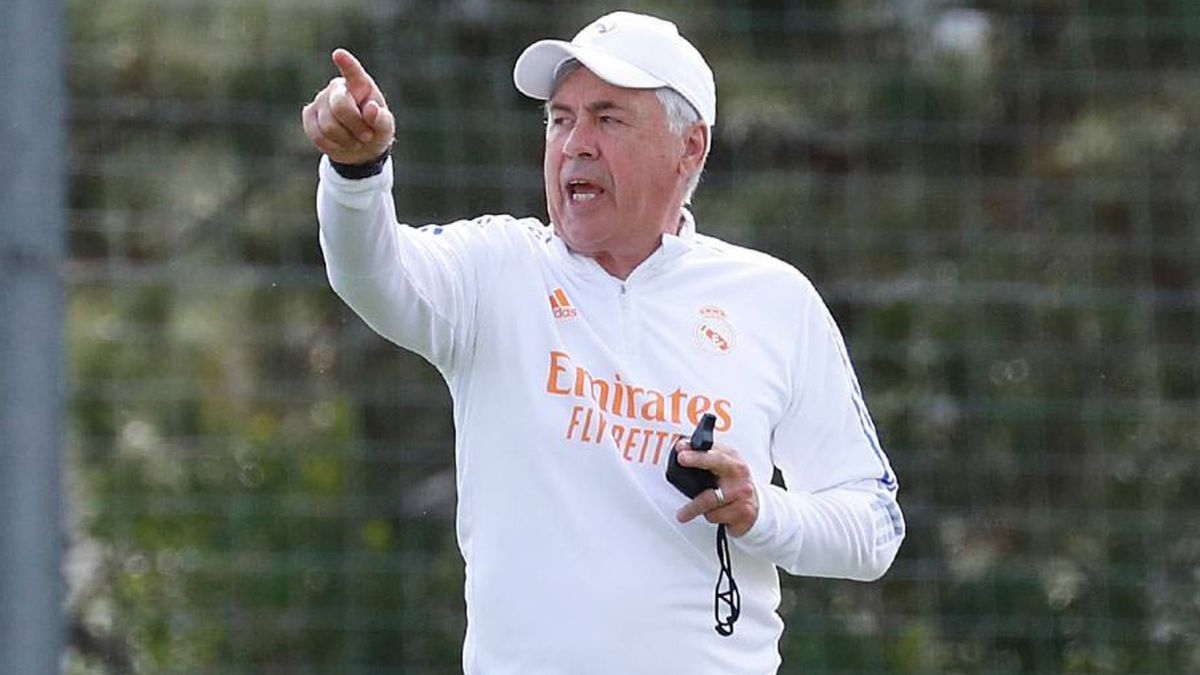 Ancelotti has homework and only one month to complete it. August 14 will be the official start of the season with the league premiere against Alavés and from now to then he will have to outline the fronts he has open, ranging from how to best fit the only signing, Alaba, to take decisions on designated footballers (Marcelo, Isco, Jovic, Mariano ...), stars turned into hot potatoes (Hazard and Bale) and deciding the cases of Ceballos and Brahim ... 444 444The position of Alaba, key
The enormous versatility of the Austrian, the only signing so far in the last two summers, is a relief but at the same time (paradoxically) a condemnation. It came as a pure replacement for Ramos, even his salary is the same, so in theory it will be central. But that means doing without, unless Ancelotti encourages a system of three centrals, Nacho or Militao. The first renewed two weeks ago and the Brazilian was a very pleasant surprise in the last third of last season, when since March he played everything (15 consecutive games) with remarkable performances. If, in order not to break that duo, the Italian coach passes Alaba to the left back, that would mean sending Mendy or Marcelo to the stands and completely blocking Miguel Gutiérrez, the great three-player who stood out last season. The last alternative is that the former Bayern pivot, a position that he also knows, but that possibility only seems feasible if it is as an emergency or rotation of Casemiro ... Alaba comes out of the Eurocup strengthened and fit in in the best possible way is Top priority for Ancelotti.
Marcelo and Isco, the option of being recoverable
Carletto likes to unite veterans to his cause, but both the Brazilian and the Malaga player continue to be highly marked by last season, especially because of their very low physical tone. When both played at the start, the decision exploded in Zidane's face: painful defeats against Cádiz (0-1), Valencia (4-1) and Alcoyanazo (2-1) in the Copa del Rey. Marcelo (33 years old) has been motivated by the fact of becoming first captain with Ramos' goodbye. For this reason and to show the club that although the contract ends in 2022 he can contribute, these first days in Valdebebas he has acted as leader. He has returned in a good physical point to set an example (as Ramos did) and is very much on top of Miguel Gutiérrez, whom he has taken as a pupil. The problem is to reconcile all that with minutes of play (the 2020-21 only 1,339 '). In the case of Isco, it is even more accentuated because last season he was caught at the Camp Nou complaining about Zidane. The return of Odegaard and Ceballos close doors for him. At least, while an offer appears, he has returned to Valdebebas wearing an almost competition silhouette. Ancelotti may be the trigger you need. With the Italian he was the ninth who played the most for Real Madrid 2013-14 and the fifth the following year, adding 15 goals between both courses. If anyone can get Private Isco back, that's Carletto.
Rejuvenating the spinal cord
Isco can bring experience, but that is not lacking with Casemiro, Modric and Kroos. What Madrid needs are fresh legs. Over there the club has recovered Odegaard, but there is another proper name on which Ancelotti has to make a decision: Dani Ceballos (24 years old). As this newspaper reported, the Utrera wants stability: either he stays or he will be traded. If it's for Ancelotti, he keeps it. In fact, he wanted to sign him when he was coaching Napoli. But economic factors weigh. Madrid needs to raise money and Ceballos has a poster, so if there are offers they will be heard. It is up to the Italian to decide whether to get wet so that the Andalusian gamer stays or not ...
'Overbooking' on the right wing
Another footballer who is seeing Ancelotti these days and whose future is in the air is Brahim (21 years old). The best references have come to the Italian from the Milan environment and precisely the rossonero club insists on signing him at all costs, even if it is again via loan. His numbers last year (seven goals and four assists) invite him to give him space, but Asensio, Rodrygo, Lucas Vázquez and Bale also play in his area, if he stays. This coming week will be key to knowing the future of the Malaga winger, something that happens through the plans that Ancelotti offers him for his project.Squeeze 'Vini' and Rodrygo
As long as scorers like Mbappé and Haaland do not arrive, Madrid needs a goal and that its two Brazilian pearls break into something more than specific contributions. Between the two they barely added eight goals last year. Zidane could not get Vini to get used to the right wing and now starts at a disadvantage because he will not return from his vacation until August 2 after having played the Copa América. By then, Madrid will have played their second friendly without him (July 25 against Glasgow Rangers). Ancelotti is also tasked with deciding whether Jovic and Mariano are worth him as substitutes for Benzema. The Serbian did not recover on his return to Frankfurt and Mariano does not want to leave. Another summer in which the figure of the substitute nine is a brown for the owner of the bench.
Hazard, hot potato
It is the great unknown. He has three more years left, the club has stopped seeing him as untouchable and not even the Eurocup has served him as a shock. Zero goals and exit through the back door due to injury. One more. The Belgian conditions the entire attack even though he has only achieved five goals as a Real Madrid player. Hazard had an obvious parapet in the figure of Zidane, but Ancelotti and he have never worked together. There is still no personal feeling.
Bale, yes or no?
If Hazard is a hot potato, Bale's case is even trickier. As reported by AS, he has been considering returning to Madrid this summer once the Eurocup (his priority in 2021) is over, fulfilling the year he has left in any way so as not to forgive a euro and then withdraw. That plan has not changed substantially. It also doesn't help that it is public knowledge that Ancelotti and Bale had fatal disagreements (for the coach) in the past. Despite that, Bale was conciliatory from the concentration of his selection. "Carlo and I get along well, when I come back we will have a talk." A face to face that will help Ancelotti to decide what to do with the attacker. "If Gareth has the motivation to play, he can have a great season, I have no doubt," said the coach in his presentation. There he gave the key. The Welshman will continue to be the highest paid (€ 15m net) while limiting his efforts, as he did last season at Tottenham, where he resisted playing three games a week to avoid possible injuries. A situation that does not seem to be changing because in addition to a bulky medical history, The Cardiff Express, with increasing rust, will be 32 years old this coming Thursday ... 444 444

Photos from as.com