Ancelotti left James in limbo
In England they point out that the Colombian faces an uncertain future. The Athletic points to several replacements that Everton would value. Chukwueze would be among them.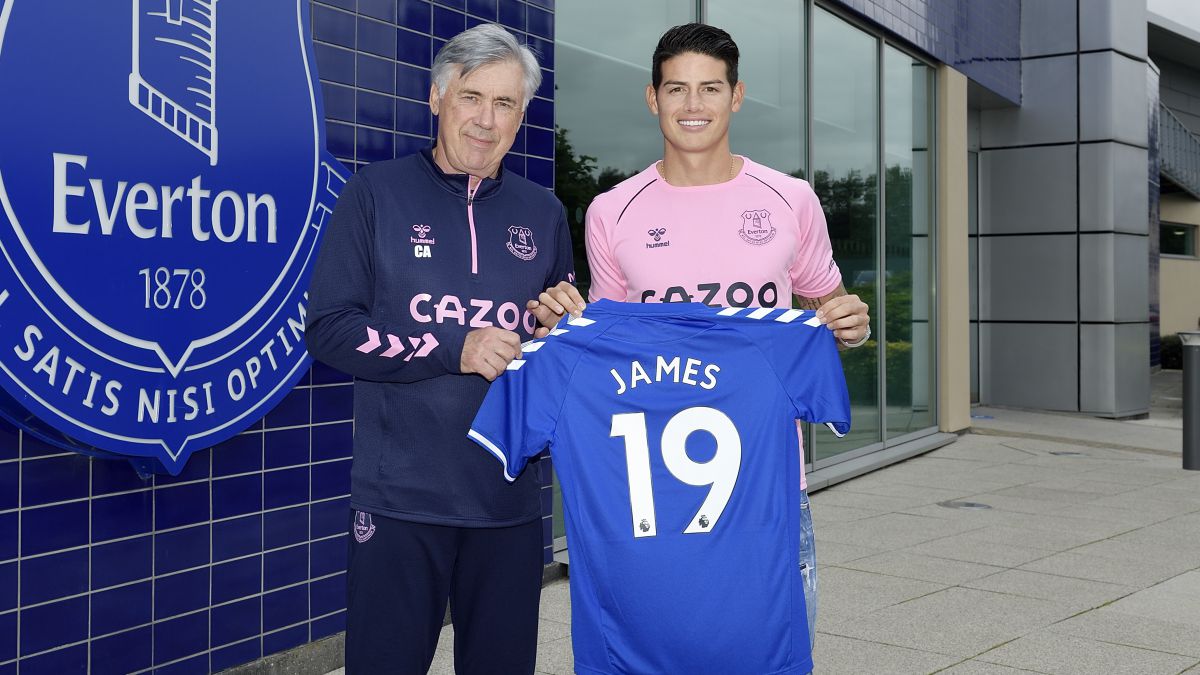 James Rodríguez and Carlo Ancelotti live a curious 'father-son' relationship at the football level. Real Madrid joined them back in 2014 after the Colombian triumphed in Brazil and, then, it was the Italian coach who has taken him from project to project. Football and its inscrutable ways have made James, each time, see how Carletto ends up leaving his new destinations before him. It happened at Bayern and now, also at Everton.
The South American midfielder followed Carlo on this adventure in the Premier, a league that many criticized his arrival for a style of play in which they believed he did not fit. The coach made an almost custom hole in his scheme and defended him in public. His season went from more to less finishing with 26 games, six goals and nine assists. The summer was destined to rest after not being summoned for the Copa América and, upon return, before even considering what the new season would be like, everything had changed. Carletto packed his bags and returned to Madrid. James was staying in Liverpool.
According to The Athletic, the one from Cúcuta faces an uncertain future. This English media assures that Milan had some interest, but not so strong as to be determined by his signing. The Colombian, always according to this information, would be evaluating his future. In addition, adds this medium, Everton is looking for faster band players considering that the team needs to be more effective in transition. James occupied the right with Carletto and, in the absence of seeing his fit with Benítez and the decision he makes about his continuity at Everton, he is already looking for other options for the attack.
On his list are three young players with projection: Leon Bailey, Bayer Leverkusen, Samu Chukwueze (Villarreal) and Hwang Hee-chan (RB Leizpig). All three play on the right wing, although the South Korean can also do it as a forward, just the position in which Carlo placed James in their time together at Goodison Park.James and Benítez: brief match at the Bernabéu
James and Rafa Benítez meet again after the white club hired the Madrid coach to replace Carlo Ancelotti. During the time that the two met at the Bernabéu, a muscle tear in James deprived him of being in up to eleven games between the League and the Champions League. The Colombian fell just after matchday 2 of the domestic championship in which he started against Betis and scored two goals and one assist in Real Madrid's home win against the Verdiblancos.
The midfielder was injured at the end of August and returned in early November in a 3-2 defeat in which he scored against Sevilla. In the Champions League, he barely arrived to close the group stage against Malmöe and in the League he alternated starts and substitutions, leaving his best game in 10-2 at home against Rayo Vallecano, with three assists coming off the bench. Now, with the future of James in the air, it will be necessary to see if Benítez finds him a fit or the Colombian prefers to try his luck away from Liverpool. Either way, you will have to do it without Carlo Ancelotti.
Photos from as.com