The Italian must resolve doubts about the future of several of the players who have worked with him in this first week of preseason.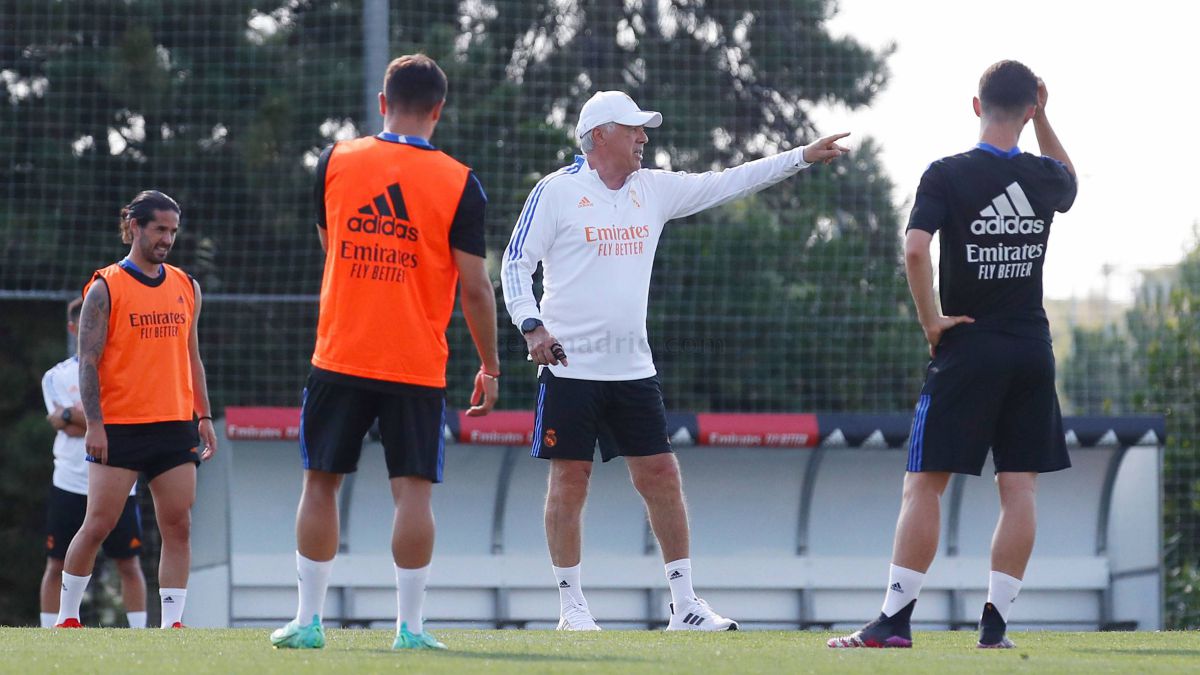 Carlo Ancelotti has completed the first week of preseason of his second spell at the helm of Real Madrid. The Italian has barely been able to work with 13 players from the first team and with Altube, Castilla goalkeeper and third white goalkeeper who has already closed his exit, on loan to Fuenlabrada for one season. So Carletto is staying with Lunin, Odriozola, Carvajal, Lucas Vázquez, Nacho, Mendy, Marcelo, Odegaard, Isco, Brahim, Rodrygo, Mariano and Jovic for the moment. And with several you must define what your plans are.Lunin
The question with the Ukrainian is clear: to know if Ancelotti plans to give him the Copa del Rey or not even that. The precedents are optimistic for Lunin: in 2014-15, Ancelotti gave the Cup to Keylor Navas, while Casillas played everything else; and in addition, the Italian was giving him some league games during the course, intermittently, to keep the tone. Perhaps Lunin will be compensated by a similar arrangement, although at 22 he runs a risk if he continues to miss the trains that allow him to play regularly.Odriozola
The Donostiarra does not plan to leave, he has a salary of around 3.5 million euros net per season that they will hardly pay him anywhere else. He already stayed in 2019-20, although he knew that Zidane did not have him; in January he went to Bayern, where he did not count too much. And in 2020-21, more of the same, he only played regularly when injuries devastated Madrid on defense. Madrid has Carvajal and a Lucas Vázquez who has shown to shine as a lane, Odriozola's path has more and more obstacles, but it remains to be seen if Ancelotti thinks differently and believes that something can be obtained from the former Real.
Odegaard
The Norwegian's case is complicated: it is a clear bet of the club, which has put the poster of non-transferable, but the player does not tolerate well not having a leading role. It already happened last year, in which Zidane gave him few opportunities and in January he got fed up, requesting the loan to Arsenal. Paradoxically, the plague of injuries that the team suffered in the second part of the season would have opened the doors of the eleven, who knows if permanently. Odegaard returns to Madrid with the average one year older, although also with unexpected reinforcements such as Ceballos and with a Valverde who is crying out for a place in the eleven. Ancelotti must spin fine with the Norwegian.
Isco
He has returned in perfect shape, a novelty compared to last year, in which inactivity took a toll on his physique, and he knows that with Ancelotti he has a chance. The Italian already knows him from his previous stage at Madrid and managed to get a version close to the best of Malaga. Isco asked to leave in January 2021 to have minutes and a chance to reach the Eurocup, but Madrid refused (he had already tolerated Odegaard and Jovic leaving) and now the Andalusian knows that it is difficult for him: he charges 15 million gross for course, a figure within the reach of few teams, and offers are scarce. He has one year left on his contract, if he has a good season next summer he will be able to sign a new relationship and get a transfer bonus. But first he must convince Ancelotti, who seems to be on the job.Jovic
It all depends on whether Mbappé comes. If he does, the attack will be dominated by the French, by Benzema, by Hazard and by Bale, with Vinicius and Rodrygo in the chamber and with hardly any space for the Serbian. If in the end Kylian does not manage to be traded, Jovic will be left with the role of Benzema's revulsive, a role in which he did not convince Zidane, it remains to be seen if Ancelotti is worth something more. Mariano is in a similar situation, with an important salary (4.5 million net per year) and who has refused to leave in the last two summers. If the two remain in Madrid, they will fight for the minutes that Carletto wants to save Benzema.
Photos from as.com