Alonso: "From the second, everyone loses"
The Asturian, in a meeting with the Spanish media in Barcelona: "When I'm not with a steering wheel in my hands, I feel a bit empty."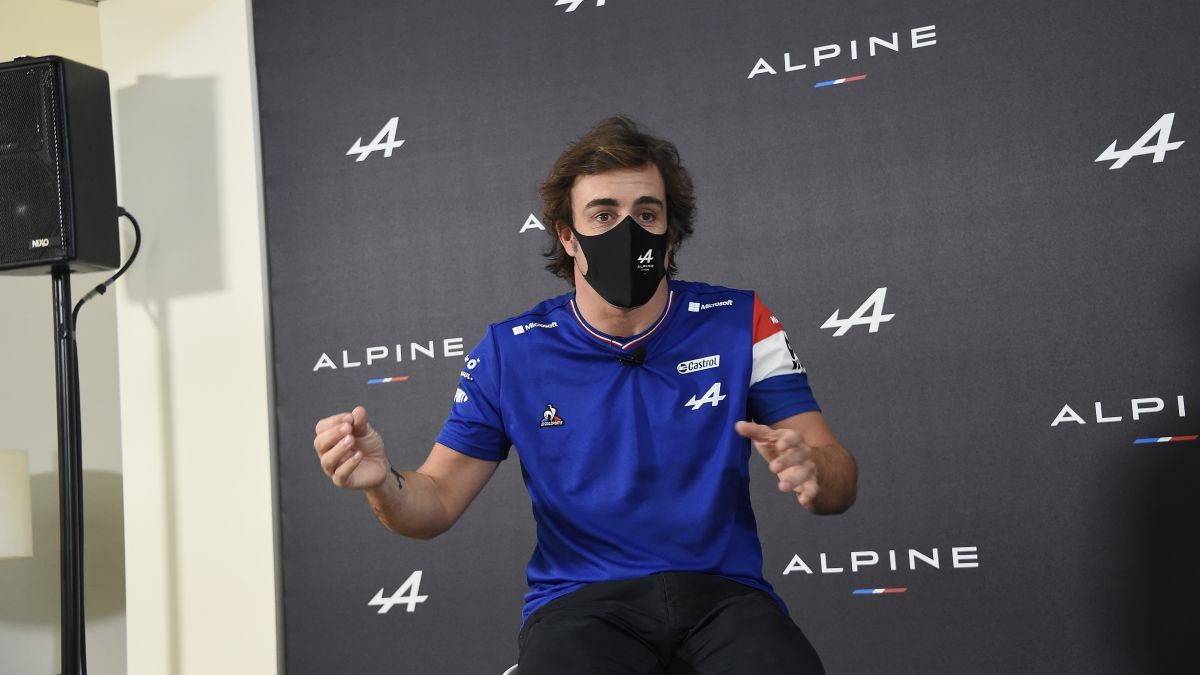 Fernando Alonso (Oviedo, 39 years old) traveled to Barcelona to participate in a Renault Spain convention and met, at the Fira, a group of Spanish media, including AS. A race to expect more from Alpine? "For romanticism, Hungary." The Asturian reviewed the news of Formula 1.
— In line with the Russell-Bottas duel to get on Mercedes. Can a driver, like Hamilton, veto his partner in F1?
— (Clarifies that it does not refer to Mercedes, Hamilton or Russell). Not bad to start with. I think like everyone else, a pilot does not have the option to choose who his partner is. You accept it and there is never a problem in that sense, although I do not know the situation they have in Mercedes, nor am I interested.
— Did you have fun during the duel against Russell in Austria?
— Did I have fun? Yes, it's a rush, Baku's sixth too. But it is a sixth. It is very good to celebrate a sixth, a fifth or a podium, but in sport, as I have said before, you either win or lose. The first one wins and from the second, everyone loses. You cannot focus your achievements on a sixth or tenth place. These are small goals, but the athlete wants to win.
— What happens to Ocon? He was very strong in the early races and is one step behind in the more recent grands prix.
— I don't know. In the first races, Esteban did a very good job and got a great performance out of the car with performance, on Saturday, that I was not enough. It was a bit of adaptation, for my part, I want to think that I was lacking when it came to feeling the tires. But now I am happier and more comfortable and I don't know if it coincided with him being more uncomfortable, or it is a natural progression of all in the first races. You have to remember that it is Tsunoda's first year, that Ricciardo comes and goes in terms of performance, Vettel… I don't know what exactly happens to Esteban, but he will be super competitive soon.
— What do you expect from the sprint races at Silverstone?
— I like to try new things, it is a format that can bring surprises. We'll see how it goes at Silverstone and for sure there will be tinkering for the next two events, even F1 says it's a test. I see the time for improvement, because we still have one hour, Q1, Q2 and Q3, it will be very difficult for me to change the order of the classification a bit. The fastest will start first on Saturday, they will stay that way more or less in that race and then you get to Sunday.
— Can you dream in 2022?
— In 2022, dreaming… is free. I work with that illusion, myself and everyone at Alpine. There can be a mix of cards in sport and why not us? But… I don't want headlines about being world champions in 2022, because then we make fifths, it's very good and it seems like a disappointment (laughs). I wouldn't be here if I thought that next year I'll be at the back of the grid.
— How does a pilot who has already achieved everything motivated himself?
— It comes from doing what I like the most on a day-to-day basis. When I'm not holding a steering wheel, I feel a bit empty. I realized when I left F1 that every weekend I loved to drive. After doing the Dakar, going back to F1 seemed like an interesting challenge. When I left, I had other challenges on my mind, I was struck by or excited about Le Mans, Daytona, Indianapolis or the Dakar. Once these challenges are done, the biggest challenge is to return to Formula 1 and try to win again and be at the highest level. You motivate yourself.
— Are you following the evolution of Álex Palou in IndyCar?
— Yes, of course, he is a phenomenon and this year I see him champion. He is the most constant, the best, and I am very happy because having a young Spaniard who triumphs in IndyCar is good for everyone. Open your eyes to the new generations of karting. F1 is very good, but there are only twenty drivers and not all of them can get there. The IndyCar or the WEC are great too, there's a lot of engine.
Photos from as.com