"He will surely be here in 2024"
Fernando Alonso talks to AS in Austria. "Every time I lower the visor I think I can win," he confesses. And he warns: "Maybe we can dream in 2022."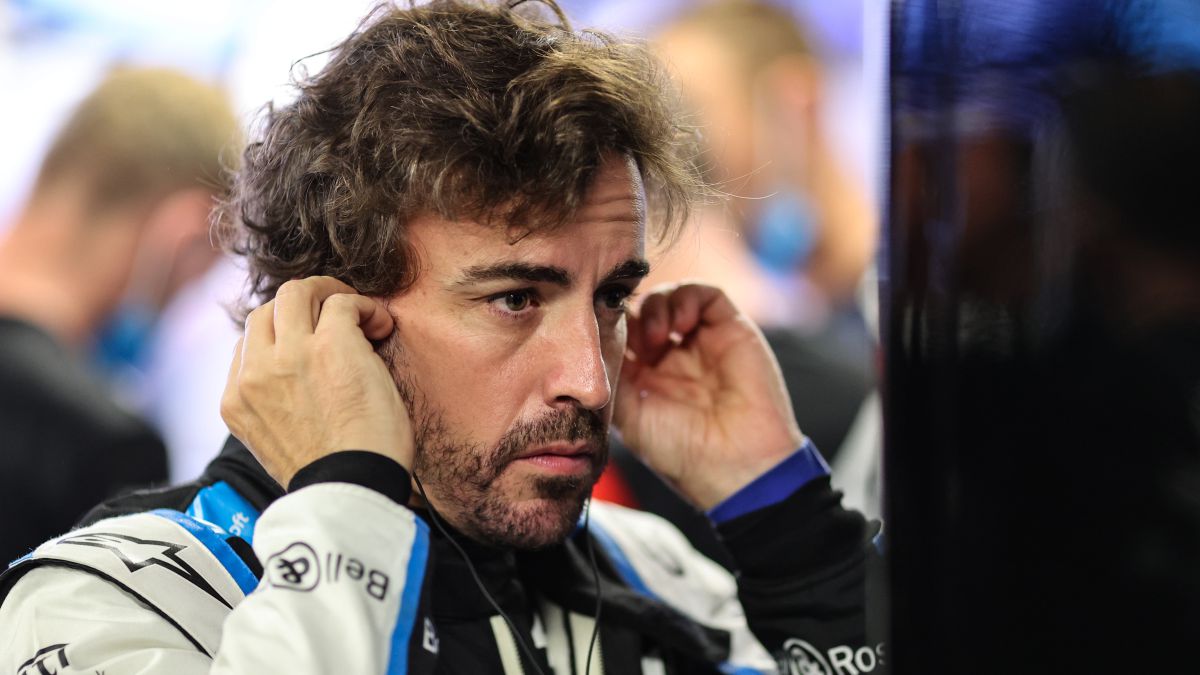 Other world champions who recently passed through these pages asked before about the topics to be discussed. One who specifically asked the questions in advance crossed out several. The third showed up late, although without conditions. The fourth, Fernando Alonso Díaz (Oviedo, 39 years old), just needed the place and time of the appointment. He arrives on time at the door of the Alpine hospitality, it is 2:45 pm in a deserted paddock and under an unbearable sun. As the protocol prevents the journalist from accessing the interior of the motorhome and enjoying the air conditioning, the two-time champion looks for the shade in the street under the truck in which Alpha Tauri keeps his tires. From then on, and for ten minutes, Alonso responds to everything.
— Are you still asked how your adaptation is going and when does the best Fernando come?
— And as I said before from Baku, or in France, the year for me was going well from the beginning. Finishing three times within a second of Ocon in the race was part of my initial plans, but it still became an obsession that I had to be in front of Ocon for it to be a good weekend. And if he was behind, it was a bad weekend. I maintain that the season was heading in the right direction and it continues to be that way now. Although public perception has changed a bit, it has not changed much for me. There are still things to improve, but I am happy with this return.
— If you 'put' Ocon half a second in each lap, will people already recognize you?
— Yes, yes, yes (laughs). But it is not the goal. I come to get the car, the tires, to take advantage of the car and maximize it every weekend to help my team. And at the same time, in parallel, I come to work for 2022. My return to Formula 1 went hand in hand with the new rules, I could return in 2022 or advance it to 2021 and use it as preparation, here in, driving a car. It's what I decided in the end. If the championship can be won in 2021, very good, but we are not in that position. So the rest is to make sure that by 2022 you have ironed out all the little impurities that you see.
— Can you imagine a podium with this Alpine in 2021? Because Renault made several in 2020.
— No. Right now, we would need a very big stroke of luck. Anything other than a Red Bull or Mercedes podium is a huge stroke of luck. If it comes, very good. But the normal thing is that it does not arrive. The podiums that Renault did last year were very good for the team and for everyone's morale, but in those conditions Red Bull had practically only one driver and Ferrari was not there, they were sixth in manufacturers. That situation is not that of 2021, Red Bull has two drivers and Ferrari is strong again. It is much more expensive to make a podium this year.
— How about the Hamilton-Verstappen fight?
— Well, very good, really. After years of monotony from Mercedes, who only fought Hamilton against Bottas until the middle of the year and then it was over, now having two strong rivals is a good thing for the sport. For them, a little more stressful. For those who aren't there, a little more fun.
— Is Lewis Hamilton no longer invincible?
— It never was. But… before he had to beat the teammate and now he has to beat another car that will sometimes be faster, other times slower. They are both at a very high level. When the Mercedes is doing a little better on a weekend, Verstappen still does something out of the ordinary to be in the fight. And when Red Bull is a little better, Hamilton pulls something out of his hat and is fighting. They've both raised the bar and that's interesting.
— Will this title be worth more than others of the hybrid era?
— They are all equal. Then you never remember how they were won and who won them. They are all worth the same, but as I say, everything will be more exciting than other years.
— What do the statistics mean to you?
— They are always important, it is what remains in time. Those of us who live in our time may know the details of each pilot. But when ten or fifteen years pass, only the statistics will remain, we will only be valued for that. They are always important, even if you say no.
— To one day be the driver who disputes the most grand prizes in F1 (he is now third after Raikkonen and Barrichello), are you excited?
— Not especially. Someone will get over it. The riders arrive younger and younger and there are more and more grand prizes per season. When I started there were 16 or 17, now there are 23. It is normal that in fifteen or twenty years, all those statistics of great prizes jump into the air.
— Statistics sometimes say things. For example, you have more wins than poles (as opposed to, for example, Hamilton or Vettel) .
— There must be some interesting statistics. I have also seen some about the percentage of points achieved with respect to the position of the team or partner, and there I am always among the top two or three in history, and I feel proud. In the end, what counts are the victories and the titles, and I have been very lucky to savor it because there are many riders with great talent and a lot of speed who have not been able to savor a podium or a victory. I have been lucky to get two World Cups and on that side, I am happy. And also, the experiences of the last few years have helped me to gain confidence and do a bit of what I like, which is motor sport. Formula 1 is fantastic, it is the best, but it is not everything. It is one of the things I say to the drivers of the karting campus, when I have them there in Asturias. That they aim for Formula 1, the dream we all want to achieve, but there is a funnel of so many drivers and so much talent. So in case you don't get there, there are other categories and motorsport is precious in all of them.
— In your case, does it make sense to return to Formula 1 if it is not to win?
Everyone has moments in life and different circumstances or possibilities. The WEC, in 2021-22, is not at its top moment and perhaps it will be in 2023 or 2024, with the new regulations. The Indy has its ups and downs, plus you must like ovals. You have to put all the categories that interest you on the table and decide which one you want. And Formula 1 for me was the ideal at the moment. Winning, or not winning, was what I wanted the most.
— Do you think you will win a Formula 1 race again?
— I don't know. I have not set it as a fixed goal, as an objective, yes or yes, that I must meet. Every time I lower my visor and go out on Sunday, I think it may be the Sunday that I win. Even now, when I know it would be impossible, I come out with that mindset. Next year, in 2022, if everything comes together a little and is tighter, maybe we can dream more. Not equal. And if it were not like that, it would not be a disappointment either, and would try to improve and evolve by 2023.
— Why is Alpine the right bet in the face of such a huge rule change coming in 2022?
— Well, you have to choose between the bet that you think is correct and the ones that are available. Mercedes, surely, are the favorites next year, but they have Hamilton and Russell as a future project. Red Bull, which revolves around Max, has the future assured and with great benefits. So every time you embark on a new adventure, you see what the possibilities are, the places available. Alpine, knowing them and feeling like a family, being able to work happily, was what called me the most for this adventure.
— I talk to quite a few people on the team who are surprised by his determination in everything he does. Every day. It is a fairly recurring comment from the 'paddock'. How does passing Tsunoda on a curve change his life where no one overtakes to finish sixth and not seventh?
— Whenever I close the visor, I at least want to be competitive and I like to do things well. I like to maintain a high level of discipline and dedication. If it is not here, it will also be playing a tennis match in the afternoon with my friends. My level of dedication and sacrifice is like this. For me, anything I do is one hundred percent. Or I don't.
— His partner Ocon renewed a few days ago with Alpine until the 2024 season, which seems like a long time. Where do you imagine in 2024?
— I will be here, surely ... As his companion.
— Good weekend.
— Thank you very much.
Photos from as.com