Volleyball at Bayern for Haaland
According to Bild, Bayern change their mind on Haaland and are now a transfer target after Lewandowski's latest decisions.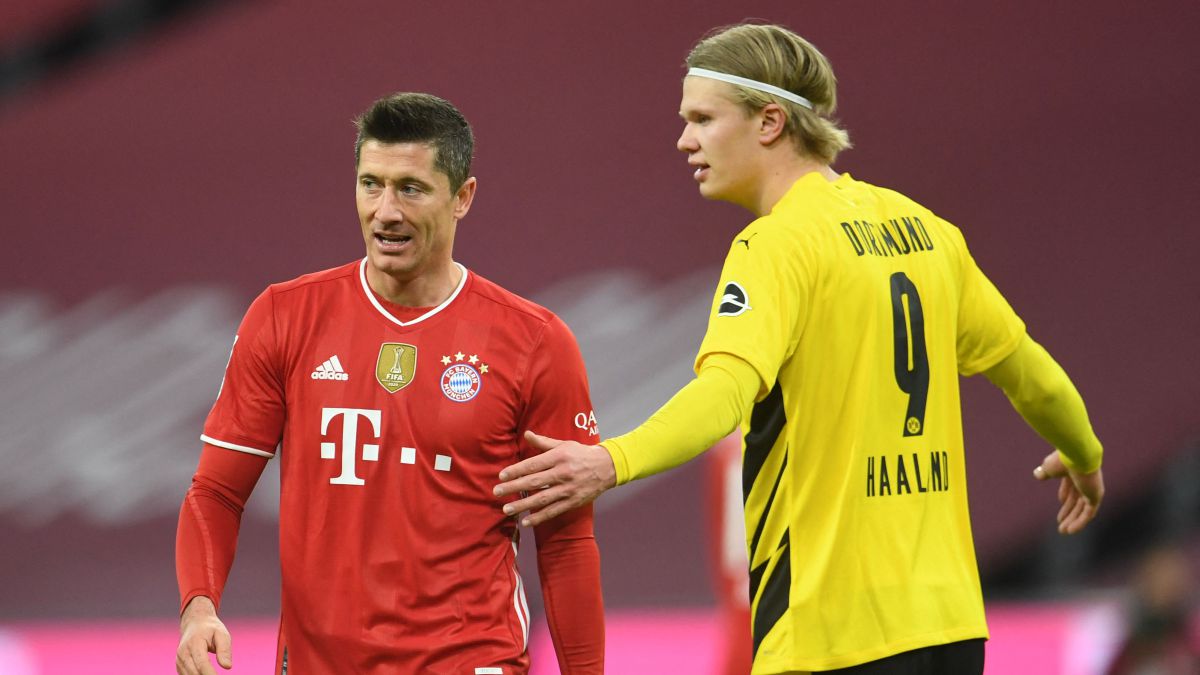 Where I said Lewy, I say Erling. Paraphrasing this saying from, sure, difficult translation into German, serves to explain the change of mind of Bayern Munich regarding Haaland, forward of Borussia Dortmund. As reported by Bild this Wednesday, the Bavarians are now moving in search of signing the Norwegian striker after Lewandowski has decided to test what the market offers him away from Germany.
The change of opinion of the Pole has been what has made Bayern rethink its position. After weeks of denying that they would go after Haaland, with Rummenigge and Kahn, heavyweights in the club, even assuring that it was something "unimaginable", in the offices of Baviera the name begins to sound more strongly although always subject to a condition: they will only attempt to sign him if Lewandowski leaves.
While Haaland is a priority for most interested teams, Bayern are aware of having possibly the best nine of the moment and their primary intention is to try to convince Lewandowski that Munich is the best possible destination. This was expressed publicly by the new president of the entity, Herbert Hainer. "Robert is the best striker in the world. He still has two years left on his contract here and I can imagine keeping him with us longer. I think he can do it all. Robert is a real blessing," he said. Bayern openly declare their love for Lewy and also their reluctance for him to leave. This, as confirmed by AS, is interested in facing new challenges.
"I'm still open-minded. I feel good at Bayern, the city is magnificent, it's a great club. I've always been curious to learn a new language, a new culture. But I don't know if it will be in football or after my career, not even I know it ", declared the Pole weeks ago leaving all the routes open. Before him is Real Madrid, who was close to getting his signing years ago and who is closely following the situation.Haaland's options
Bayern paves a new path for Haaland if his wish is to remain in the Bundesliga, albeit with higher aspirations. The Norwegian has plenty of suitors with Real Madrid, Chelsea and now Bayern on that list as well. Bavarians and whites will match whatever striker they decide to bet on.
Meanwhile, Dortmund are in a difficult situation. The yellows are waiting to close the sales of their two main stars. Jadon Sancho points to Manchester United and Haaland is in an 'impasse' in which the headlines and information about his future are constant, although he has not just made up his mind. The yellows will try to ensure that at least one more season is with them.
Manchester City and Manchester United are also on this list of clubs that want the Leeds giant to slip into his jersey as soon as possible.A super-elite performance
In a short time, Erling Haaland has become one of the best strikers in the world. The Norwegian enters all the pools with Mbappé to compete for the biggest awards in a short time and the numbers more than justify the hope that is deposited in him.
This season, his first full at Borussia Dortmund, Leeds has surpassed 40 goals, scoring 41 goals in 40 games. In addition, he has given ten assists between the Bundesliga, the German Cup, the Super Cup and the Champions League. Europe is his fetish competition and, as he recently recognized, he regularly listens to the Champions League anthem. Now, half of Europe is fighting because he does it in his stadium and playing at home.
Photos from as.com