Upamecano: "My philosophy is to build my career step by step"
The most expensive signing in the current transfer market (42.5 million) attends AS after joining Bayern: "I do not feel pressure to play there and I am sure that Nagelsmann will succeed."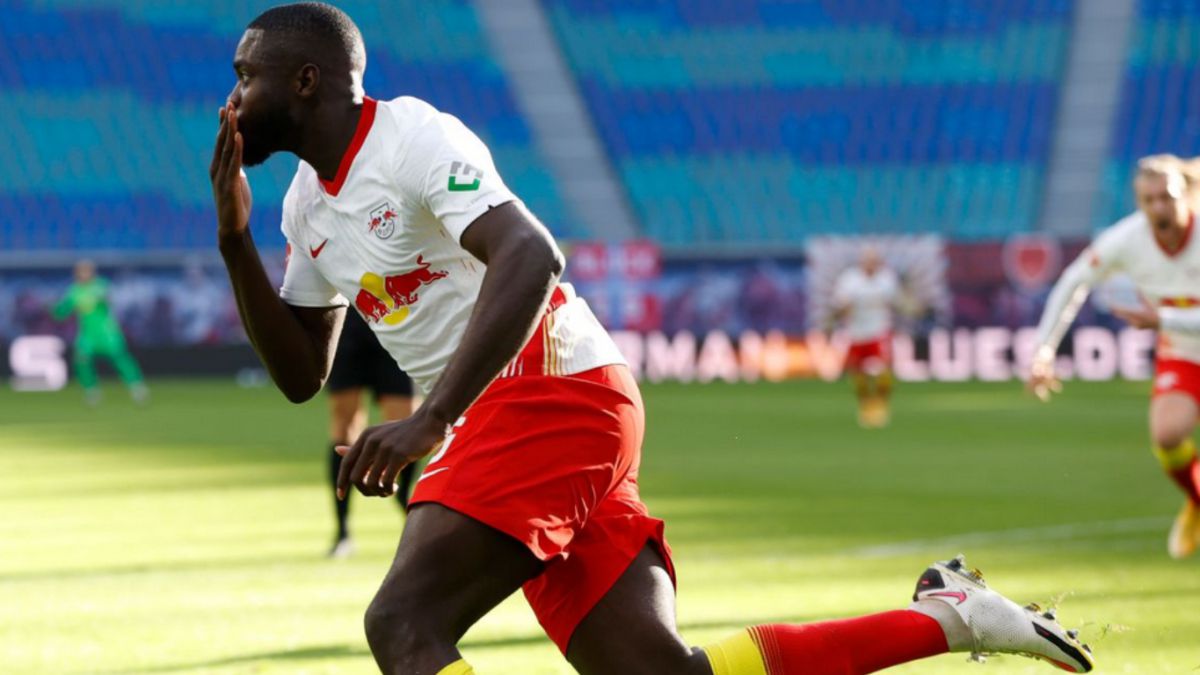 Dayotchanculle Oswald Upamecano (Évreux, 22 years old) is the most expensive signing in the current market after Bayern Munich paid RB Leipzig its termination clause (42.5 million) and signed him for the next five seasons. "It will be a very important element for our team in the coming years," said sporting director Hasan Salihamidzic in what is a firm commitment from the club.
From a humble family, the defender was trained in the French Valenciennes and made the big leap at the age of 16 when he won the U-17 European Championship with France. From that moment on, the greats of Europe wanted to sign him but he opted for the Red Bull Salzburg plan in 2015. The Austrian team paid 2.2 million euros and won both the League and the Cup. In 2017 came his big moment: German RB Leipzig got his transfer in exchange for 10 million euros and began his particular career to stardom. The previous campaign was the brightest, where they remain second in the Bundesliga and reach the semi-finals of the Champions League. Now, Dayot is on vacation and will be very attentive to a European Championship, where he was on the verge of entering the list. He was also one of the proper names last summer when Diario AS revealed the strong interest that Real Madrid showed in him for the future. The white team has not been the only one that has had him on the agenda, but also Barça, United and Liverpool, among others.
After the elimination of France Under-21, now comes the European Championship. Are you disappointed that you are not on the list?
Yes, of course! But I can't focus on the things I don't have. I just think of working harder with Bayern and showing my performance on the field to help the national team in the future.
What do you think of Benzema's return?
He has done a great job at Real Madrid and Didier Deschamps knows what he's doing. We are the reigning world champions. Our players play for the best clubs in Europe and young players are entering the team. There is so much talent in France right now that the competition for places on the national team is enormous.
Now comes the challenge of playing for Bayern Munich. Do you feel pressure? What do you think this new Bayern will be like with Nagelsmann?
Not at all! I don't feel pressure! I have confidence in myself and I know my qualities. I'm glad to be working with him again. He is a great coach who helped me become a better player. I am sure that he will also be successful at Bayern. Here in Leipzig he made all the players grow. I have no doubt that he will also do the same at Bayern.
Will go from defending Lewandowski to playing with him ...
He is an extraordinary striker. You can never keep a man like him completely under control. He has everything a great player can have: he is strong and robust, he is fast, he can score with both feet and his head and he also gives a lot of assists for his teammates. Last but not least, it is never unfair. There was never an elbow drill or anything like that when I played him.
There were many rumors about his possible signing for Real Madrid. Did you have options?
I am very happy that many important clubs wanted to work with me. My philosophy is to build my career step by step. After talking to the Bayern people and having them explain my role in the team, I knew I would be a perfect fit. They told me that I will be a key player for the future, that's a great honor. I am very happy with the choice I made.
Speaking of Real Madrid, did you think that Zidane would stay? Where do you think it will go?
He is a very good coach as could be seen in the past when he won three Champions League titles in a row. I am too far from knowing his future.
Knows Mbappé and Haaland well. How are they as players? Can you imagine them in Spain?
They are both amazing players that I love to play against. They are both very fast and are already goal scoring machines at a very young age. I am excited to see its evolution. I imagine them playing in Spain and in any European championship, they have so many skills and they have not yet reached their limit.
You bet on making a career at RB Leipzig. Now that this stage is over, what evolution does this time make?Looking back, I can say that the move to RB Leipzig was the right decision because the club helped me enormously to become the player I am today. It is a family. The development of the club is amazing. Every year we took another big step in this success story: reaching the Bundesliga, playing the Champions League, reaching the Cup final twice and being among the four best teams in Europe by playing the Champions semi-final is a sample of the great plan that unfolds here.
A sample of this growth was the tie against Atlético in the Champions League, where you were elected MVP.How do you remember?
It was an amazing match. I felt very good playing against Atlético, and the coach also gave me the opportunity to show my quality on the offensive side. We are a young squad and we don't have much experience in the Champions League, but we showed against Atleti the power of the game that we can do.
Finally, what is the limit of this club?
I don't think RB Leipzig has reached its limit yet. The whole club and team are hungry for more and will be a tough candidate for titles in the future.
Photos from as.com